From Generation To Generation

09/25/2014 03:43PM ● Published by Robert Frey
By Michelle Matthews Calloway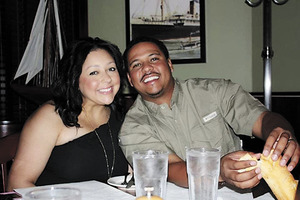 Engage in conversation with Eddie J. Lewis III and you will quickly learn he is a man who is extremely proud of his heritage. A sixth-generation sugarcane farmer and owner of Eddie Lewis Cane Farms, LLC in Youngsville, Lewis recognizes and embraces his pivotal role in upholding his family's traditions.
Historic And Humble Beginnings
The production of sugarcane in Louisiana is now in its third century. Lewis traces the roots of his family tree and corresponding ties to the sugarcane farming industry in Louisiana to the 1800s. "This all began with Linden Lewis, my grandpa's great–grandfather," Lewis says. Lewis' grandpa is Eddie "Boss Man" Lewis Sr., the family patriarch and director of operations. According to Boss Man, the entry of the Lewis family into sugarcane farming originated by way of sharecropping. "We were sharecroppers in the beginning," Lewis says. 
Sharecropping was an agriculturally based system of labor agreements engaged in by blacks and landowners after the Civil War during the period known as Reconstruction. According to the terms of the sharecropping system, blacks who owned no land worked on farms and plots of land owned by others. In some instances, laborers also rented the land. 
In addition to owning the land, the landowners usually supplied farm equipment, fertilizer, seed and other items necessary to grow a crop. At the end of harvest season, the laborers either received or were paid a portion of the crop. "The percentages were much different back then," Lewis explains. "These days when you take into account a farmer's input costs and the payouts to the landowners, you're looking at 85 percent to the farmer and 15 percent to the landowner. Back in those days, we were looking at receiving 7-10 percent to the farmer, and the rest to the landowner." Under the sharecropping system, some black families eventually earned enough money to transition from sharecropping to renting or owning land. Such was the experience of Lewis' family. "As things changed and progressed," Lewis says, "slowly, but surely, the percentages started changing."
The Family Patriarch's Early Start
Life wasn't easy for a sharecropper and the "we have to work hard" ethic was passed down to the Lewis men in each subsequent generation. Born in 1941, Eddie J. Lewis Sr., known far and wide as "Boss Man," grew up hearing the stories of the trials endured by his great-grandfather Linden Lewis, and learning firsthand from his own father Alced Lewis what farming life entailed. Every hand was needed, and everyone's input affected the family's survival. "Childhood" was simply a concept, because the land had to be farmed and a living had to be made. 
According to Lewis, Boss Man received his introduction to farming very early in his childhood. "My grandpa has been farming since he was 2 or 3 years old," Lewis says. "He's worked hard all his life, and that is his life - working." Boss Man represents the fourth generation of Lewis men, and holds the honor as the first of the Lewis men to obtain a bank loan. In his early 20s he and his wife went to borrow money to run the farm. The amount of the loan was $25.
Now at age 73, in addition to farming sugarcane Boss Man plants and harvests okra, corn, bell pepper and other vegetables from his own garden, and raises Black Angus cattle and hogs. "Boss Man knows how to live off the land!" Lewis laughs. In addition to the accolades he receives for his extensive vegetable garden, Boss Man holds a legendary reputation for growing some of the best sweet potatoes in Louisiana. "People come from all over the country to buy them," Lewis says proudly. Despite his grandfather's seeming self-sufficiency, Lewis says Boss Man is careful to invoke God as his source. "He bred this in me, 'Everything is up to God. You just have to put the work in, and leave the rest to him.' That's what Boss Man believes, and that's what Boss Man teaches me," Lewis says.   
When speaking of his grandfather's acumen, Lewis is careful to mention the contributions made by the matriarch of the Lewis clan. "My grandmother, Lilly Mae Boudreaux Lewis, was an integral part of our family and a big part of this business," Lewis says somberly. "We were able to accomplish a lot because of her." 
Lilly Mae kept the books until the time of her death in 2014. Lewis says his grandmother taught him how to manage the finances, and instilled in him the importance of paying the laborers first, before he paid himself.  Lewis says,  "Grandmamma would say, 'If anybody comes up short, you come up short. But you make sure you pay your people.' " Lilly Mae and Boss Man were married for more than 50 years until her death. Her daughter, who Lewis refers to affectionately as "Aunt Karen," became the farm secretary and assumed the bookkeeping responsibilities in her mother's stead.
The "Early Start" Continues
Lewis easily traces his own earliest memories and understanding of his life as a member of a sugarcane family to his father, Eddie "Boo-Boo" Lewis Jr. and Boss Man. Eddie himself bears a nickname that is a riff of his father's nickname. "They call me 'Boo,' " he says laughingly. "To this day, they still call me that."
Boss Man saw to it that his son shared in his claim to an "early start" in farming.
Lewis says that during planting season, 3-year-old Boo-Boo was placed on the tractor. "He would hold the wheel until he got to the row end," Lewis recounts. "He ran all the gears, and somebody would come from the back and help him turn the tractor."  
Though Lewis didn't begin his farming career quite that early, he began soon enough. "They kept me in the house until I was about 8 years old," he reminisces. When he reached the age of 8, his father and Boss Man put the young Lewis in the fields "laying cane" side-by-side with farm hands and migrant workers. "That was my first job," Lewis recalls. When other boys his age were in summer leagues playing baseball, Lewis says he worked 12-13 hours a day in the hot Louisiana sun. "I worked on the farm until I was in high school and even through my first year of college."
College – Or The Cane Field?
Lewis became the first member of his family to attend college. He says he originally had no plans to attend, because his heart was in the cane fields. His father wanted him to go to college, learn more about business and obtain a degree. Boss Man thought little of the notion of Lewis leaving the family farm to go to college. "Learn business? We are a business!" Lewis recalls him snorting.
Fate intervened, because in his senior year of high school Lewis attended a party given by the UL chapter of Kappa Alpha Psi. Being at the party and seeing what the fraternity represented caused him to change his mind overnight. He shifted from blowing off college to consciously deciding he wanted to go. After graduating from Comeaux High School in 2001, Lewis enrolled in UL majoring in kinesiology. He belonged to the sixth-generation of Lewis men – and he was the first in his family to go to college.
"My father couldn't have been happier," Lewis says smiling. Though Lewis had not selected a business major, he says. Boo believed the higher education his son would gain from being in college would one day be useful to running the family farm. His belief would eventually turn out to be prophetic – yet not in the way he, Lewis, Boss Man or anyone else in the family could then imagine.
From Farming – To Banking
Lewis became a rising star at UL and he seemed to possess the "Midas touch" because he excelled at every endeavor. He pledged and became a member of the Kappa Alpha Psi he so admired, eventually becoming the Fraternity's Chapter Polemarch, or president. He was also elected president of the general studies Student Government Association. In his sophomore year Lewis began working at Chase Bank, and entered the world of "business" his father longed for him to participate in. 
Lewis' star continued to rise and after graduating in 2005 he continued to work his way up Chase's banking hierarchy. In 2006 he married Krystal Papillion, a Lawtell native he met in high school. 
After being promoted to a personal banker, in 2007 he became Chase's number-one Personal Banker in the nation, selling more bank products than any other personal banker. "I was number 1 out of 18,000," Lewis says. His achievement was particularly exemplary because he worked out of a branch located in an Albertson's grocery store on Ambassador Caffery. Lewis served as the keynote speaker at Chase's national sales conference that same year. 
Lewis and his wife purchased their first home and looked forward to beginning a family. He worked an additional four years for Chase Bank and left to became a stockbroker at Morgan Stanley, managing millions in retirement funds. He earned the finance world's coveted Series 6, Series 7 and Series 666 securities licenses, as well as Life, Health & Accident Insurance License. He and Krystal were a power couple living the American dream – until tragedy struck.   
A Tragic Turning Point
Lewis says in hindsight, he often wondered why his father was so insistent on his son going to college and learning as much as he could "about business." Lewis' mother, Mrs. Cynthia Lewis, was in full agreement with her husband. In the tradition of her mother-in-law Lilly Mae, she also worked with managing her husband's books. "My dad was very humble, loving and witty," Lewis says. "He and my mother were a perfect pair, and she stood behind him 300 percent." Of his father, Lewis continues, "My dad worked from sun up to sundown – he would go in the shop at 4 a.m. to make sure he got there before Boss Man. He was the first one there and the last one to leave – and this was seven days a week."  
Lewis thought many a time of leaving college because he felt his place was in the cane fields with his father. At his father's insistence he continued with his banking career, even though in his heart he was always looking back. On the fateful day of Aug. 25, 2011 he finally understood why. His father died suddenly and completely unexpectedly. He had been in the cab of his tractor, in the fields farming just as he had done since he was a toddler. He was only 49 years old. "I quit my job as a stockbroker the very same day," Lewis says. His wife Krystal fully supported his decision. "I knew when I met and married him that in his heart he wanted to be a cane farmer. I understood what he did, and more important, WHY he did it and I was completely OK with that."
Reclaiming the Family Tradition
Lewis was devastated by his father's death, and he says his younger brother Hunter, who was 13 at the time, was the stabilizing force for he and his middle brother Jordan, then 23 years old. "Hunter got in my father's tractor the very next day. He told Jordan and me, 'Let's get to work,' and he made us get moving. We snapped to it. We could have never done it without him."
Also guided by Boss Man, Lewis, Jordan and Hunter brought in the 2011 harvest – a recording-breaking year for the family farm producing some of the best sugarcane they had ever farmed. 
Leveraging and Lobbying
Lewis now leverages all the "business" his father sent him away to college to learn. He has expanded the family operations, making loans and banking transactions that make Boss Man's $25 loan pale in comparison. The lists of boards, clubs and committees he serves on and belongs to are too numerous to mention – Leadership Lafayette, Rotary Club, American Sugar Cane League, American Sugar Alliance, the705 Young Leaders of Acadiana, USDA Farm Services Agency and more. In February, 2013, Lewis added "lobbyist" to his impressive resume, traveling to Washington D.C. along with other sugarcane farmers to lobby Congress for policies favoring the sugar industry in Louisiana and other parts of the country. "It's crystal clear to me now why my father wanted me to go to college, and why he was thrilled when I got into banking," Lewis smiles. "I couldn't see it then, but I believe he could. He did see it, and it's evident now." 
Raising Up The Next Generation
Lewis and his wife Krystal have two children, Eddie IV, known as "EJ" who is now 4 and Chloe, 3. Lewis and his wife are proud of the advantages they can offer their children. He fully intends to send both children to college to "learn business." When asked if he continued the family tradition of putting EJ on a tractor at an early age, Lewis laughs and exclaims, "Of course! He's a Lewis man, and we're going to keep this tradition going."
If the previous six generations are indication of the Lewis family's longevity and preeminence in sugarcane farming, the Lewis name will stand strong for generations to come. 
In Print
Eddie J. Lewis III
Sugar Cane Farmer