Football Preview

09/08/2014 08:33AM ● Published by Robert Frey
By Travis Webb


New Orleans Saints
Before the 2009 season, Drew Brees often referred to "a window" the franchise had to win a Super Bowl title.  Not since that championship season have the Saints come close to partying with the Lombardi.  Heading into 2014, only seven players remain from the Super bunch, but thanks to a few key offseason moves, the Black and Gold may have the pieces in place to make another championship run.
Offense
The Saints took care of offseason priority number one at the 11th hour.  New Orleans signed all-pro tight end Jimmy Graham to a four-year $40 million deal making him the highest paid tight end in league history.  The move ensured the Saints would have the most feared offense in the NFL for at least a few more seasons.
Brees joked this offseason that, even at the age of 35, he is getting better and sees himself playing until he's 45.  The numbers back him up.  Brees tossed for 5,162 yards with 39 touchdowns and a quarterback rating of 104.7, the fourth best of his 13-year career.  He has four 5,000-yard seasons to his credit; three more than any other quarterback in the NFL record books.
The Saints parted ways with jack-of-all-trades running back Darren Sproles, but may have gotten a younger, faster version.  New Orleans traded up in this year's NFL Draft to select Oregon State wide receiver Brandin Cooks.  Cooks has arguably had the most impressive camp of any Saint. His speed on screens and the quick throws could make the Biletnikoff Award winner a breakout star in the Saints weapon-heavy attack.
Joining Graham and Cooks in the passing game is the ever-consistent Marques Colston.  Entering his ninth season in the NFL, Colston has broken essentially every Saints passing record and will continue to be Brees' most reliable target.  Second-year pro Kenny Stills will look to stretch the field as the Saints' main downfield threat with Nick Toon, Robert Meachem and Joe Morgan rounding out the receiving corp.
Many of the same faces are back in the run game.  While his stats may not show it, Mark Ingram looks to build on what was an impressive late season stretch last year.  Ingram showed glimpses of what could be, including a 145-yard performance against the Cowboys.  All signs point to Ingram building on that success.
If there's a wild card among the running backs it's Khiry Robinson.  The undrafted free agent from a year ago has continued to turn heads and has risen above veteran Pierre Thomas in the depth chart.   
The offensive line will welcome two new starters to the fold.  2013 third round pick Terron Armstead took over the left tackle duties in Week 16 of last year and will become Drew Brees' blindside protector for the foreseeable future.  The Saints parted ways with center Brian de la Puente and have an ongoing battle with Tim Lelito and Jonathan Goodwin; Goodwin is in his second tour with the Black and Gold.
Pro Bowl guards Jahri Evans and Ben Grubbs, and veteran tackle Zach Strief make the line a formidable group.
Defense
If you thought this group was a new-look bunch last year, the Saints defense got a whole lot younger in the offseason.  New Orleans parted ways with Will Smith, Jonathan Vilma, Jabari Greer, Roman Harper and Malcolm Jenkins signaling a clear shift among the "old guard".  
That doesn't mean the Saints are anywhere near reassembling a "Dome Patrol" type defense.
The Saints went out and signed All-Pro safety Jairus Byrd of Buffalo to a six-year, $56 million contract making him the highest paid safety in the league.  The team also went out and signed future Hall of Famer Champ Bailey to provide invaluable leadership to a younger side.
Alongside Byrd and Bailey is an All-Pro in the making — second-year pro Kenny Vaccaro.  The Saints' first-round pick from a year ago, Vaccaro was an All-Rookie team member after registering 79 tackles and an interception.  New Orleans native Keenan Lewis and Patrick Robinson round out the first unit in the secondary.  Corey White and Rafael Bush should also see ample playing time.
The Saints made a huge jump in defensive stats last year under first-year coordinator Rob Ryan.  New Orleans finished top five in both total defense (305.7 yards/game) and scoring defense (19 points/game).  That was thanks in large part to a blossoming defensive line.
Cameron Jordan has become an elite pass rusher, helping the Saints rank fourth in sacks (49) last season.  Akiem Hicks, Brodrick Bunkley, Tyrunn Walker, John Jenkins and Glenn Foster give the Saints a number of options at line in the Saints' 3-4 alignment.
Alongside Jordan, outside linebacker Junior Galette has become a force in the passing game.  The fifth-year pro totaled 12 sacks last season and is on record of wanting to go for 20 this season.  Parys Haralson, David Hawthorne and Curtis Lofton round out the linebacking corp.
Special Teams
The Saints will have the same specialty unit from a year ago.  Veteran Shayne Graham was signed in mid-December last year after Garrett Hartley battled inconsistency.  Graham solidified his job for this season after going 4-for-4 including a 32-yard game winner against Philadelphia in the NFC Playoffs.  Thomas Morstead enters his sixth year punting for the Saints.
Schedule
With what's become somewhat of a tradition in recent years, the Saints will once again open up the 2014 season against archrival Atlanta on the road.  New Orleans then possibly gets to play two rookie quarterbacks with a road date at Cleveland (Johnny Manziel) and the home opener against Minnesota (Teddy Bridgewater).   The Saints have five primetime games this year, the first on Sept. 28 at Dallas on Sunday Night Football. 
After a week-six bye, the Saints trudge through a difficult stretch with the Packers on Sunday night followed by a Thursday night showcase at Carolina.  The Saints then play three straight home games entertaining San Francisco, Cincinnati and Baltimore before traveling to play Pittsburgh. 
The Saints close out the slate with three NFC south contests with a Monday Night Football tilt at Chicago sandwiched between on Dec. 15.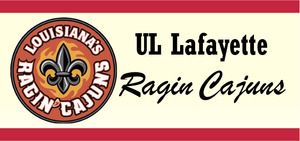 UL Lafayette Ragin Cajuns
Sometime in the future, the newly renovated Cajun Field may be referred to as the "House That Hud Built."  The south-side construction at the Swamp can be considered as a metaphor for what head coach Mark Hudspeth has done in his three years in Lafayette: making a dream a reality. 
Once a "wouldn't it be cool if…" talking piece, Hudspeth has made Cajuns fans' wildest dreams come true.  UL is now not only a perennial bowl team that is always on the hunt for a Sun Belt Championship, but on the cusp of becoming one of the premier mid-major teams in all of college football.
After three straight New Orleans Bowl victories, a Sun Belt conference championship and a newly signed six-year, $6.45 million contract for Coach Hud, the Cajuns have their sights set on greater heights in 2014. Simply put, Hudspeth has the right pieces and schedule to make a legitimate run at a perfect regular season and a possible New Year's Day bowl berth.
Offense
Any hope of a possible major bowl game appearance starts and ends with Terrance Broadway.  The preseason Sun Belt offensive player of the year enters his third year at the helm of the Cajuns attack.  Broadway was the most efficient quarterback in the Sun Belt last season (153.3 rating), but will try to piece together consistency on the big stage.
All of the burden of the offense won't fall on Broadway.  Louisiana benefits from having two all-Sun Belt running backs return with Alonzo Harris and Elijah McGuire back into the fold.  The duo combined for more than 2,000 all-purpose yards and 25 touchdowns.  
During the Hudspeth era, the Cajuns have enjoyed little turnover every year on the offensive line; this year is no different. Louisiana welcomes back four starters from a unit that helped the offense finish second in the conference in rushing (204.5 yards/game) and fourth in total offense (416.8 yards/game).  The biggest hole is the departure of three-year starter Andre Huval. Senior Terry Johnson is slated to move from left guard to center, replacing Huval with junior college transfer Donovan Williams filling in at guard. Brothers Daniel and Mykhael Quave as well as Octravian Anderson make this unit one of the most experienced on the squad.
Experience is also a theme with receivers. All-Sun Belt performer Jamal Robinson spearheads a group that returns three of the top four pass catches from a year ago. Robinson has caught the eye of the NFL scouts thanks to his size (6-4, 205) and is poised for a possible breakout senior campaign after career-high 54 receptions and finishing fifth in the SBC in receiving yards per game (66.3). He'll be joined by fellow senior James Butler and converted defensive back Al Riles in the first unit.  JUCO transfer CJ Bates and Catholic's Gabe Fuselier are two names to watch as possible newcomers to make an impact.
Senior Larry Pettis will man tight end duties after the departure of the duo of Jacob Maxwell and Ian Thompson.  Sophomore Nick Byrne and St. Thomas Moore's Evan Tatford will provide depth to the position.
 Defense
After flirting with the opportunity to become an assistant at National Champion Florida State, James Willis had a change of heart and is back in Cajun Country. The defensive coordinator has the luxury of welcoming back 14 players with at least one start to their credit.
The most experienced group in the defense is the secondary.  Three defensive backs return from last year's Sun Belt leader in interceptions and total takeaways.  Corey Trim aims to become the next great Cajuns corner after a New Orleans Bowl record 82-yard interception return for a touchdown.  Breaux Bridge's Trev Patt slides from corner up to safety where returning starter Sean Thomas joins him. Sophomore Dominick Jones rounds out the quartet with Antoinne Adkins, Tracey Walker and TJ Worthy is expected to make contributions.
The linebacking corp is a very crowded bunch.  The inside linebacker positions will probably be up for grabs late into camp. LSU transfer Trey Granier, Trae Johnson, Chris Hill and Comeaux's Kevin Fouquier are all gunning for the two open spots with all four projected to see time.  
If there's a star-in-the-making on the defensive side it may be Dominique Tovell. The bulky 6-2, 248-pound strong-side linebacker has the strength to play on the line and speed to play out in coverage. The junior finished second on the team last year with 67 tackles, but expect that number to jump drastically in 2014.  Notre Dame's Jake Molbert, pegged to start at the "Bandit" position, rounds out the four-linebacker rotation.
Aside from Tovell, the stars of the defensive are in the line.  Justin Hamilton and Christian Ringo have been dependable contributors since their freshman year and were the lynchpins behind the Cajuns finishing second in the SBC in rush defense (150.7 yards/game) and third in total defense (393.5 yards/game).  Marquis White is a big presence (6-5, 315) that will provide added bulk up front. Miami transfer Jacoby Briscoe of Carencro High, Remaine Douglas, Marvin Martin and towering Sherrard Johnson (6-8 383) should all see time in a unit that deploys "hockey style" lines.
Special Teams
The Cajuns have the benefit of both kicking specialists returning from last year.  Notre Dame's Hunter Stover made quite the impression in his first-ever collegiate kick.  Stover booted the go-ahead 27-yard field goal in the fourth quarter in last year's New Orleans Bowl win. The Abbeville native also averaged nearly 61 yards on kickoffs and recorded 26 touchbacks.  Australian punter Daniel Cadona, who finished fifth in the SBC with 11 kicks of more than 50 yards, joins him.
Schedule
The new south endzone renovations of Cajun Field will be put to good use in the regular season opener.  Southern returns to Cajun Field after helping draw a stadium record 41,357 fans in 2009.  The in-state rivalries continue the following week with Louisiana Tech at Lafayette for their first meeting since 2004.
Louisiana will have two opportunities to possibly draw into the Top 25 with dates at Mississippi and Boise State.  
As has been the case the last few years, the Cajuns will have an October that is anything but normal.  UL opens the Sun Belt at home with Georgia State before playing two back-to-back mid weeks against Texas State and hosting Arkansas State on national television.
UL opens November at home with South Alabama before hitting the road to face New Mexico State and ULM.  The Cajuns close out the season at Troy, but not before welcoming SBC newcomer Appalachian State to the Swamp.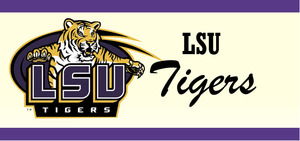 LSU Tigers
A solid core of returning starters. A talented class of incoming freshman. And an intriguing quarterback battle in summer camp.
Sound familiar? It should. Every time LSU has made the BCS National Championship game (2003, 2007 and 2011) those were prominent storylines to begin the season. While viewed as a "maybe next year" team for many national pundits, the pieces are certainly in place to be in the inaugural College Football Playoff.
Les Miles enters his 10th season atop the helm in Tiger Town.  The "Mad Hatter" is just five wins shy of reaching 100 for his LSU career and will become the third Tiger head coach to reach the decade plateau (Charles McClendon and Bernie Moore).  
LSU will enjoy Tiger Stadium's facelift.  The expanded south end zone will make Death Valley reach a capacity of more than 100,000 for the first time.  Two new jumbotrons and 70 suites give the old stadium a new look.
Offense
Miles is charged with deciding on one of the most interesting quarterback battles Baton Rouge has seen in sometime.  Sophomore Anthony Jennings made his case for the job late last year, guiding LSU to a game-winning touchdown drive against Arkansas and then an Outback Bowl victory. Jennings is trying to fend off highly touted freshman Brandon Harris.  The Parkway High product enrolled last spring, played well in the Spring Game and is by all accounts arguably ahead of Jennings for the starting role.  
While quarterback controversy is never exactly a good thing, LSU does have one positive going forward.  Both are dual-threat type quarterbacks, allowing the team to keep the same offensive game plan regardless of who is in.
If Leonard Fournette were any other freshman, LSU would still feel great about the running back position. Seniors Terrence Magee and Kenny Hilliard provide an inside-outside threat that complement each other and give the Tigers their always potent ground attack. 
Fournette, however, is not your typical freshman.  
The consensus overall number one recruit comes to Baton Rouge with sky-high expectations after rushing for 7,619 yards and 88 touchdowns at St. Augustine in New Orleans.  Not since the days of Carencro's Kevin Faulk have the Tigers had such a difference maker at that position.  A legitimate Heisman contender from the start, it's not a matter of if LSU will use him this year, but how much.
Replacing three NFL Draft picks at wide receiver is never easy. But thanks to an influx of freshmen, LSU just might be able to do it.  Trey Quinn joins Malachi Dupre, the top-rated receiver in the nation; the two pass catchers will make an immediate impact. Breaux Bridge's Travin Dural becomes the veteran at that position and is poised to become the next great downfield threat. Redshirt freshmen John Diarse, Avery Peterson and Kevin Spears give this unit an embarrassment of riches.
While youth is served throughout the offense, that isn't the case on the line. The Tigers return four starters from last year's unit, which is spearheaded by All-SEC tackle La'el Collins.  West St. Mary's Jerald Hawkins returns for another year at right tackle and is backed up by Westgate alum Josh Boutte.
Defense
Over the years one phrase has come to describe LSU's defense: DBU or Defensive Back University.  From Corey Webster to Morris Claiborne, the Tigers have enjoyed several All-Americans in the secondary for the better part of the last decade.  That tradition will continue in 2014. 
Sophomore Tre'Davious White is poised to become the next great corner in LSU's proud history.  It was the freshman All-American team's best with seven pass breakups last year. Fellow sophomore Rashard Robinson, flanking White, gives LSU arguably the best young cornerback tandem in the country. 
The veteran trio of Ronald Martin, Corey Thompson and Rickey Jefferson will man the safety position.  
After an up-and-down junior campaign, Notre Dame's DJ Welter is set to become the leader for the Tiger defense in 2014.  The senior middle linebacker is the team's top returning tackler from last year and will try to build on his breakout Outback Bowl game where he registered six tackles and a sack.  Welter will be relied upon to set the defense up and become a stabilizing force in the middle during an always-rugged SEC schedule.
Breaux Bridge's Lamar Louis and junior Kwon Alexander will flank Welter.
Experienced ends Danielle Hunter and Jermauria Rasco lead the defensive line.  They'll need to help stabilize an interior front that's looking to replace a pair of NFL-bound linemen.  Breaux Bridge's Quentin Thomas and sophomore Christian LaCouture are tabbed to start at tackle with several freshmen vying for playing time behind them. 
Special Teams
Colby Delahoussaye is back to man placekicking duties.  The New Iberia native converted 13-of-14 field goals and 56-of-57 point-after-touchdowns in his first year and could be an All-SEC caliber kicker this fall.  Jamie Keehn is back to man punting duties.  The Australian averaged 41 yards a punt last fall.
The biggest question marks among the specialists is trying to replace Odell Beckham, Jr.  The LSU all-purpose record holder will pass the torch to either Dural or Magee.
Schedule
Another year, another big game at a neutral site will open the calendar for the Tigers.  The Bayou Bengals make the 271-mile jaunt west to play a prime tilt in NRG Stadium against Big 10 power Wisconsin.  
LSU will then enjoy the comforts of home with its next four games inside Tiger Stadium with easy contests against Sam Houston State, ULM and New Mexico State.  The Tigers open SEC play Sept. 20 against Mississippi State.
October could be difficult with road dates at Auburn and Florida before a final home stretch featuring tilts against Kentucky, Ole Miss and the always highly anticipated showdown with Alabama.
The Tigers close the year with road dates at Arkansas and a Thanksgiving Day clash with Texas A&M.
Read More...
Read more of Travis Webb's football preview of teams like McNeese, Southern, Grambling and more in this month's issue of Acadiana LifeStyle.
Sports
Travis Webb
Football Preview
New Orleans Saints
UL-L Ragin Cajuns