Family Man, Fireman And Coach

06/13/2014 01:18PM ● Published by Aimee Cormier
By Bill Levy
Growing up in New Iberia, Marc McAnally knew a couple of things: that he wanted to help people and that he liked kids. "I used to work with the retreat team," the 1988 graduate of New Iberia Senior High school says. "I loved kids."
After thinking he may want to put those skills to use in a career in criminal justice, his plans changed during the summer of 1998, when he was taking a break from his coursework at the University of Louisiana at Lafayette. While working for his family business, Dale McNally, Inc., then Chief Howard Fridley of the New Iberia Fire Department happened to stop by. "He said that if I wanted to work with the government, that he could get me in with the fire department," McAnally reminisces. "I went to work with the department on July 1, 1998."
And he has never left.
"I love the job," says McAnally, who recently got promoted to Captain. I love the camaraderie of the guys. I love helping people."
Finding A Life Partner
It was that friendship with the department that led him on a blind date with a young lady, Madeleine, who turned out to be his future wife. "One of the guys told me I should call her." McAnally says. "I don't think I did right away. I may have backed out.  We eventually went on a blind date, and she ended up becoming my wife."
"He is a lot of fun," Madeleine laughs. "He is very humble but loves to be the center of attention." After getting married in 2003, McAnally moved with Madeleine to Broussard, where they established roots.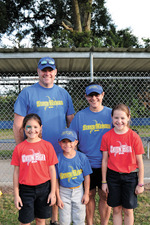 Starting A Family
After settling in their new home, the McAnally's were eagerly awaiting the birth of their first child, Morgan. Unfortunately, she passed away when Madeleine was 37 weeks pregnant. One year later, Mallory, now nine, was born.  After another year, Emily, now eight, arrived and the birth of their son, Luke, now five, came three years later.
"That was tough," McAnally says quietly, when speaking about Morgan. "I often look at Mallory and wonder what Morgan would be doing now, as they were close in age.
McAnally definitely cherishes the moments he has for spending time with his kids. "My dad died when he was 64," he says. "I had kids later in life and I'm 44. That makes me think about trying to spend as much time as possible with them, and it's part of the reason I spend so much time with them now. I treasure those moments."
Connecting Through Sports
As his children developed an interest in sports, McAnally wanted to be a part of it. "I am away from home 1/3 of the time with my job," he says.  "I want to spend as much time with my children as I can. I want to be an active part of their lives." 
That led to him coaching his daughters' softball teams in the Broussard Youngsville Sports Association, commonly known as the BYSA, which he has been doing for five years. He jokes that he got "snookered" into coaching his son's t-ball team.
Because his job does take a good bit of his time, McAnally relies on his assistant coaches, including his wife, to "pinch hit for him." He says, "I could not do it without Madeleine and the other assistant coaches." 
Coaching is something Madeleine, a teacher at Katherine Drexel Elementary School, also enjoys. "Like Marc says, it is a chance to spend time with family," she notes. "We both come from families that placed an importance on spending time together."
An athlete herself who loves sports, Madeleine, who also coaches her daughters' soccer teams, says coaching and teaching are compatible. "It is about corralling kids, and getting them to do their thing."
Coaching Philosophy
Although McAnally says he enjoys sports, he also noted he did not play a lot of sports growing up. He likes to let parents know what they can expect. "I tell them I am not a professional coach," he says. "I don't know everything and I welcome their input. The main thing is to make it fun."
McAnally says that he tries to make it fun by doing a couple of things. "I am a big believer in positive reinforcement," he enthuses. "I like giving out 'high fives.' I also like to try to know the strengths of each player." His daughter Emily seems to agree, who answers "fun" when McAnally asked what she likes best about playing for him. `"He knows where I like to play," she says, "and he puts me in."
McAnally admits he enjoys spending time with his kids, but he also knows he is responsible for the entire team. "I tell my kids that before the game, I am their dad," he says, "and I am your dad after the game. I am not your dad during the game. I am your coach. My biggest fear is that a parent will call me and say I am not being fair. I will go the extra mile to make sure I am, even if that means creating charts at home to see how much playing time each team member has."
Same Philosophy As A Dad
Off the field, McAnally tries to take that approach when raising his kids. "I try to be as consistent and as fair as I can for all of them," he says. "With my job, I sometimes have to miss one thing for one kid so that I can be there for another kid." McAnally says that he tries to find different ways to make it up to his children if work forces him to miss a big event.
Devotion To His Profession
Even though McAnally says he "has a lot going on" with his life, he still is able to put in extra time for the betterment of the firefighters in the state. The fruit of his efforts was evident as he recently got awarded the Eddie Fouts Memorial Distinguished Award by the Professional Firefighters Association of Louisiana. "The annual award is given to a firefighter who shows devotion to not only their own department but to the entire state," McAnally explains.
"They say it was one of their bigger awards," he says. "I was very surprised. Because I am so busy, I am not able to spend as much time working for the Association as I would like. It is nice though when others recognize what you are doing. It is a credit to everyone in membership."
Staying Busy
As if he doesn't have enough on his plate already, McAnally still works a couple days a week for Dale McAnally, Inc., a fabrication business, where he workes in sales. "I enjoy it," he says. "I enjoy meeting people. I enjoy staying in touch with them and seeing how everything is going."
It is a lifestyle his wife Madeleine has come to accept and embrace. "Marc is not one to sit still," she says. The two of them are occasionally able to spend an evening together without the kids, where they may meet up with some friends for dinner and enjoy "couple time."
The Future
Marc is very happy with how his career and family are developing, and would like that to continue. "I plan on working at the fire department for anywhere from six to 14 years before I retire," he says, while adding that there is a chance for future promotions.
As far as his coaching goes, he knows that if his children advance to higher leagues, it may mean he won't be able to be their coach, as they will receive more specialized training.
The thought does not deter him in the least. "I will enjoy seeing them progress," he says. "I will be at the games. There may be other supportive roles I can do. Either way, I will still be involved."
Today
,
In Print
Acadiana LifeStyle