Kickstarting A Little Free Library!
06/10/2014 09:45AM ● By Aimee Cormier
By Rachel Gulotta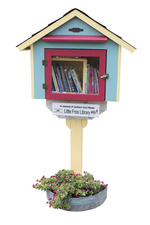 "Crowd-funding," "Kickstarter," "Crowd-Tilt" and "Indie Go-Go" are words that did not exist in our vernacular 20 years ago, or even five years ago, really. Internet crowd funding, through campaign sites such as Kickstarter and Indie Go-Go, makes creative endeavors an affordable reality for everyday thinkers. In order to demonstrate the power of crowd funding and the sense of ownership that goes along with contributing to a community campaign, Acadiana LifeStyle has decided to Kickstart a Little Free Library. 
What is Kickstarter and what is a Little Free Library, you ask? Well, 5.8 million friends, fans and inspired strangers have pledged over $1 billion to projects on Kickstarter, funding everything from homemade postcards to Oscar-winning documentaries. According to littlefreelibrary.org, a Little Free Library is "a 'take a book, return a book' gathering place where neighbors share their favorite literature and stories. In its most basic form, a Little Free Library is a box full of books where anyone may stop by and pick up a book (or two) and bring back another book to share. You can, too!" 
As of January 15 of this year, littlefreelibrary.org estimates that over 15,000 Little Free Libraries dot neighborhoods and town centers in 56 countries. Individual Little Free Libraries usually cycle through 25 books per month. If that number holds true throughout 2014, over 4.5 million books will be exchanged through the Little Free Library's international network this year. We would like to extend that network into the Acadiana area with your help, dear readers. 
Not one penny of the proceeds gained from this Kickstarter goes to Acadiana LifeStyle because this is not a commercial endeavor. Rather, the purpose of the Kickstarter is to benefit each one of our readers, residents and visitors to the Acadiana area. We are simply putting this idea, this campaign, out into the community to give back to the parishes we cover, giving you the chance to participate in and ultimately drive this endeavor. 
All-or-nothing funding drives Kickstarter, whereas Crowd Tilt and Indie Go Go allow campaign starters to keep all the money they raise, regardless of whether or not their goal is met. In order for us to receive the funding necessary to build and supply a Little Free Library through Kickstarter, we must receive enough pledges to reach our minimum campaign goal amount– $300– or the pledges will not be turned into funding. 
Here's Where You Come In: 
A Kickstarter pledge can range from $1 to thousands, depending on the project. We have close to 5,000 Facebook likes and distribute over 25,000 Acadiana LifeStyle magazines to five Acadiana parishes. If each of our Facebook friends and just a portion of our readers donated $1 we would have enough money to build a Little Free Library in each of the five parishes, with additional funds left over to decorate and stock the libraries. 
To contribute to this project, go to kickstarter.com and type in Acadiana LifeStyle Little Free Library Campaign. Every dollar is important and your pledges are deserving of thanks. Tokens of appreciation will range from our eternal gratitude to a dedicated nameplate in one of the pilot books. A pledge of $50 or more will qualify you or your company as a sponsor, and your name will be listed on the Little Free Library itself. 
Help Acadiana LifeStyle in our quest to promote literacy and community involvement by pledging your support, anytime from June 2 to June 20 on kickstarter.com. Visit our Facebook and Twitter feeds for updates and look forward to seeing a Little Free Library in a community near you!