Books: Louisiana Literature
05/19/2014 08:23AM ● By Aimee Cormier
By Ray Saadi - Book Editor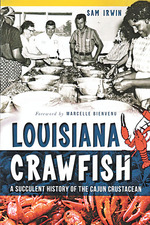 LOUISIANA CRAWFISH By Sam Irwin, Foreword by Marcelle Bienvenu, History Press, $19.99
My taste buds are all on alert! What's that smell in the air? It's that wonderful aroma of crawfish boiling. While I can't wait to dig in, suck the heads (I don't really) and pinch the tails, I'd like to know more about this delicious delicacy and I've found it, in this succulent history of the why, where and how to find, boil, cook and mainly, eat these crawdads. With lots of photos and recipes, this is the one book every Cajun, French or not, must have and give to visitors.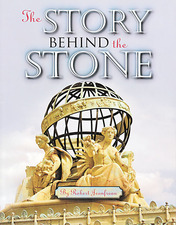 THE STORY BEHIND THE STONE By Robert Jeanfreau, Pelican, $19.95

If you visit New Orleans you may perhaps have wondered who and what the more than 40 statues around the city represent. Now, there's this friendly guide by Dr. Jeanfreau whose own curiosity prompted him to photograph and identify each. From the beautiful Joan of Arc in the French Quarter to Molly Marine, a tribute to the women in the Marine Corps in 1943, each monument presents a noteworthy moment in history. With this book in hand, you could spend several days visiting and enjoying them all.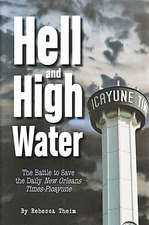 HELL AND HIGH WATER: The Battle to Save the Daily New Orleans Times-Picayune  By Rebecca Theim, Pelican Books, $26.95
Are daily newspapers going out of business or just out of favor? Some like New Orleans Times Picayune which, while still publishing, reduced its' publication to three days a week, only subsequently adding newsstand-only editions to fill the gap. That action was undoubtedly in response to the sale of the Baton Rouge Morning Advocate to New Orleans billionaire, John Georges, who immediately began publishing a daily New Orleans Advocate edition. From its heroics following Hurricane Katrina, the Picayune reduced itself to "has been" status.