TABASCO®'s Upcoming Attractions

05/05/2014 08:58AM ● Published by Aimee Cormier
By Rachel Gulotta
Over 125,000 visitors from "down the road" and around the world make the 12-mile drive down LA 329 to visit Avery Island, home of McIlhenny Company and its renowned  TABASCO® brand Pepper Sauce. Avery Island's current Visitors Center first treats guests to an 8-minute video, detailing TABASCO® production. Guests then view the factory's production line, a pepper mash vat, artifacts and an interactive 3D topographical map of Avery Island, among other features. 
TABASCO®  is second in popularity only to New Orleans among Louisiana-bound tourists. To encourage current, former and future visitors to return to the Island– and to learn more about the McIlhenny family, the TABASCO®  brand and new TABASCO®  products– McIlhenny Company will expand and renovate its TABASCO® Visitors Center.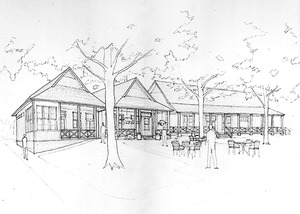 New Visitors Center
When completed next fall, the new TABASCO® Visitor Center will invite guests to follow the creation of TABASCO® sauce from the harvest of ripe red tabasco peppers to the shipment of finished sauce to markets worldwide. "Everything will be labeled to keep visitors on path and in step with the normal pepper sauce's process from seeds to processing to bottling to shipping," says Angie Schaubert, Senior Manager of Brand Sales.
An entirely new building, the Visitors Center will be the first stop on the enhanced TABASCO® factory tour. The Center will display a range of artifacts pertaining to McIlhenny Company, the McIlhenny family and its world-famous products. Several video kiosks will permit guests to learn about TABASCO® history at their leisure. Among other topics, these short videos will feature TABASCO® inventor E. McIlhenny, sons John Avery McIlhenny (one of Theodore Roosevelt's Rough Riders) and Edward Avery McIlhenny (arctic explorer and conservationist), as well as Edmund's grandson Walter S. McIlhenny (war hero and Marine Corps brigadier general). These "interest stations" will be interactive, inviting visitors to customize their TABASCO® experience. Artifacts will include memorabilia, such as a hood from the company's NASCAR racer or a TABASCO® bottle-shaped bass guitar weilded by rock group Van Halen. The new Visitors Center will also emphasize TABASCO®'s relationship with the environment, from coastal protection to using every part of a tabasco pepper. 
Greenhouse
After this introduction, guests will visit a newly constructed greenhouse. "Tourists want to go in the pepper fields and see the pepper plants," explains Schaubert. Instead of busing guests to the fields, TABASCO® will scale down the pepper-growing experience. A video explaining the peppers' journey from delicate seedlings to ripened pods to ground mash will greet visitors as they enter the greenhouse. Visitors will also see actual pepper seedlings and mature plants year-round in this tropical greenhouse.
Mash Warehouse
"There are thousands of barrels of aging mash sitting in the warehouse. It's phenomenal to see the huge barrels with tags, dates and country of origin. Now tourists will get to see this," Schaubert emphasizes. The mash that goes into  making the original red TABASCO® sauce ages for up to three years in white oak barrels (recycled from the Jack Daniels® distillery) and is personally inspected for color and aroma by a member of the McIlhenny family before final production. Visitors will also see the barrel restoration process, which involves scraping charred wood out of the former whiskey barrels. As often as possible TABASCO®'s master cooper, one of only a handful in the U.S., will  explain his craft and  demonstrate barrel restoration. When he is unavailable, a life-sized projection will fill in and guide visitors through the barrel "recoopering" process. In addition, vintage tools once  used by mash warehouse workers will be on exhibit. 
Processing
Next, in the processing warehouse, pepper mash and vinegar are stirred together in 2,000 gallon vats to produce the finished product– TABASCO® brand Pepper Sauce. This part of the tour is a sensory overload that visitors crave. "People really want to see the process up close, smell the pungent sauce," says Schaubert. "You'll be able to look out over the vats and see them being stirred, then a video will explain how it happens and what our highly trained workers look for during the process." The current processing warehouse will undergo extensive renovation to include a second-story observation deck, which will afford guests a bird's eye view of the processing floor. 
Factory Foyer
The final stop on the new tour will be the current factory foyer. "You'll still get to see the production line," Schaubert reassures, "but it will be a much more informative experience. Each machine will be labeled and its purpose explained." The production line viewing hall will also feature TABASCO®  labels in many different languages. 
This stop will retain some elements of the current factory tour, like the 3D topographical map of Avery Island, but will also feature many new items, such as  family-related memorabilia, old advertisements, social media kiosks, fun photo-booth style picture stations and perhaps even a wall of salt from the Island's salt mine. 
Finally, guests can visit the new TABASCO® restaurant and the current  TABASCO® Country Store gift shop. 
Restaurant
A Creole-cottage cafeteria-style restaurant will cater to large crowds with palate-pleasing Louisiana favorites such as crawfish étoufée, boudin, corn maque choux, gumbo and jambalaya, as well as chili, nachos, hot dogs and "messy mac" (pulled chicken spiked with TABASCO® Sweet & Spicy sauce). Each dish will incorporate a different flavor TABASCO® sauce, providing guests with new ideas for including TABASCO® sauce in every meal. To ensure freshness, McIlhenny Company will locally source as many ingredients as possible. 
Located adjacent to the Country Store, the TABASCO® restaurant will seat about 100 inside. Additional seating will be available on fanned porches and in  a covered pavilion with  picnic tables, ideal for school groups and other large tour groups. The restaurant's walls will be covered with memorabilia, and, of course, diners will be able to chose from a variety of TABASCO®  sauces to spice up their meals. 
Impact
Many visitors have explained to McIlhenny Company that they wanted to experience the entire TABASCO® making process, eye-watering tastes, smells and all. After considering this  feedback, the company reimagined a Visitors Center that would permit guests to interact with the factory, explore McIlhenny family history and taste TABASCO® sauces in new and traditional dishes. 
McIlhenny Company hopes to double its number of visitors within the next five years and even triple that numer in seven years. "Our best advertisement is word of mouth," says Schaubert. The majority of tourists come to Avery Island from New Orleans, she explains, and the TABASCO® tour is often visitors' initial stop outside the big city. TABASCO®'s ability to draw tourists from all over the country and world positively impacts not only Avery Island, but also Iberia Parish, the Acadiana region, the state of Louisiana and the greater Gulf Coast region. 
Visitors Center enhancements break ground this month with a projected finish date of early to mid-fall 2015. "We visited the Top 5 tourist attractions in the U.S.," explains Schaubert, "and even compared to Coca Cola®, this will be huge, maybe a Top 3 attraction." See the transformation for yourself by visiting Avery Island, and plan to visit Louisiana's hottest new attraction when it opens next year.  
Today
,
In Print
acadiana lifestle
tabasco®