Cooper Street Offers Coffee and More
04/15/2014 08:39AM ● Published by Gail Garcia
Cooper Street Coffee opens in Jeanerette with big city taste, small town appeal.
While coffee houses are traditionally located in college cities or larger towns, Cooper Street Coffee is offering specialized coffee with down home small city charm. Cooper Street Coffee owned by Jennifer and Anatole Larroque is the newest business to open in Jeanerette. Located at 214 Cooper Street, this coffee house takes advantage of a charming environment in an old building built in 1925. Housed in the historic Louisiana Public Service Company building, the owners were careful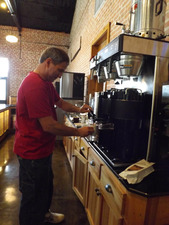 to lovingly restore the details of the building while adding the modern touches of a commercial kitchen and coffee brewing station.
"We like coffee," Anatole explained. "We're doing this for us just as much as everyone else."
After researching coffee houses, the Larroques wanted to do something that would bring premium coffee to the public but also fit the small town feel of the community. Copper Street Coffee serves fresh brewed coffee, cappuccino, latte, mocha, espresso, tea, and home baked biscuits pastries and even ice cream. The coffee is always fresh ground from beans from all over the world received from small batch roasters.
Cooper Street Coffee has quickly become a place where people can gather at the handcrafted cypress wood tables to tell stories of the past and present keeping the closeness of the community alive.
The coffee house is open seven days a week for breakfast and plans to add more activities and gathering opportunities for the public in the future.