Laissez les Festivals Rouler!!
03/10/2014 08:09AM ● By Aimee Cormier
Compiled By Michelle Matthews Calloway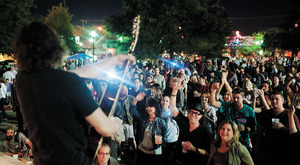 Downtown Alive!Every Friday in the SpringParc International or Parc Sans SouciDowntown Lafayette
Downtown Alive! will kick-off their Spring 2014 lineup on Friday, March 7 and continue into the Spring every Friday following. The gates of either Parc International or Parc Sans Souci in Downtown Lafayette open at 5:30 p.m. with food and beverage concessions. Musical performances begin at 6 p.m. and go until 8:30 p.m., unless otherwise noted. Concession sales help keep DTA! free, so please leave your ice chests at home with your pets. For more information and to see this season's band list, visit downtownlafayette.org or DTA!'s Facebook page.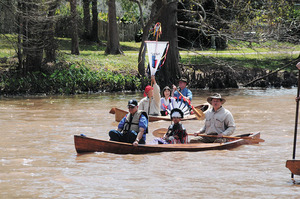 Acadian Memorial Heritage Festival & Wooden Boat CongrésSaturday, March 15Evangeline Oak Park121 South New Market StreetSt. Martinville, LA
   Each year on the third Saturday in March organizers of the Acadian Memorial Heritage Festival invite one and all to attend their museum style festival highlighting Cajun traditions and music.
Festival attendees are treated to a cornucopia of events including dancing, theatre, storytelling, films and readings. Cajun arts and crafts, free boat rides on the Bayou, an antique car show and antique wooden boat displays along with rifle, musket and cannon fire demonstrations present a unique aspect of the Festival. The food will not disappoint because Cajun delicacies abound, and festival goers will also enjoy boudin and cracklin' cooking demonstrations throughout the day,
   The Wooden Boat Congrès was created by Director Eddie Bienvenu for the purpose of honoring and displaying traditional South Louisiana vessels, especially those indigenous to the Atchafalaya Swamp region like pirogues, dugout canoes and chalons, referred to by locals as "putt-putt" boats. Each year boat enthusiasts come from all over Louisiana and other states around the country to display their antique boats. A re-enactment of the Arrival of the Acadians, complete with historic costumes worn by designated family members is a main attraction of the Festival, with costumed Acadians paddling pirogues.
   Admission to the Festival is free. Visit the website at acadianmemorial.org or call 394-2258 for information or to volunteer.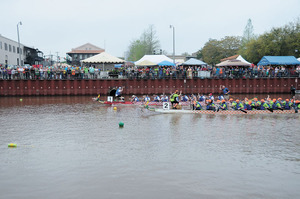 Acadiana Dragon Boat FestivalSaturday, April 5 at 9 a.m.100 West Main Street, Bouligny Plaza, New Iberia, LA
   If you want to see dragons gliding down the Bayou Teche, come to the Acadiana Dragon Boat Festival in New Iberia! This community event engages hundreds of participants competing in team races in authentic Hong Kong style dragon boats.
   In addition to the unique racing experience in the Bayou Teche on the day of the event, each team will have predetermined practice sessions where all ages, skill levels and physiques perfect their rowing strokes and timing for the ultimate teamwork experience.  Having these sessions is not only great practice but is FUN and builds a healthy competitive drive for the day of the race.
Teams participating in the race can set up tents in Bouligny Plaza and along Fulton Street, which will allow an area for participants to prepare, rest and watch the other teams race throughout the day.  For the convenience of the teams, vendors will also be set up in this area, allowing easy access to food, drinks and entertainment.
   Teams will enter the boats at the PJ Allain Waterfront Development and paddle towards the bridge at Indest Street (by the old Pelican's) where the starting line will be located.  Once signaled, the two teams will race back down the Bayou towards the Bridge Street Bridge.  Each boat is led by a drummer tasked with keeping the rowing rhythm for the team. The traditional Hong Kong drum sound guides each team and fills the air with the vibe and excitement that only the Dragon Boat Festival can provide.  This 2,300-year-old Hong Kong tradition is guaranteed to bring about excitement, friendly competition and community spirit.
   In addition to enjoying the spectacular sight of the race, participants and viewers will be able to partake of the music, food, beverages and other family friendly activities.  You are encouraged to come and enjoy a bounty of entertainment and excitement designed for every member of the family.
The awards ceremony will be held in the Steamboat Pavilion in Bouligny Plaza following the completion of all the races.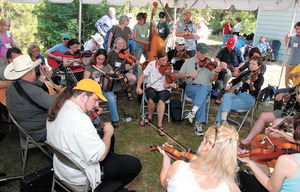 Dewey Balfa Cajun & Creole Heritage Week (Balfa Week)Saturday – Thursday, April 5 – 10Vermilionville Living History Museum and Folklife Park300 Fisher Road, Lafayette, LA 70508
For the past 14 years, Louisiana Folk Roots' flagship event has been the acclaimed Dewey Balfa Cajun and Creole Heritage Week (Balfa Week), Louisiana's own immersive cultural event. Balfa Week is an entirely unique venue for cultural engagement that provides students and participants an inside view of Louisiana's rich folklife traditions. Students have the opportunity to interact with and learn alongside many of the most accomplished master artists in Cajun and Creole culture in a variety of settings where traditions, especially musical traditions, are learned in much the same way they have been for generations. Through the years, participants from across the state,  region, country and from many foreign countries have enjoyed Balfa Week, many of whom return year after year to experience this exciting event.
   The 15th annual Balfa Week will be held in Lafayette for the very first time April 5-10, and will be hosted by Vermilionville Living History Museum and Folklife Park. Prior to the move to Lafayette, Balfa Week was held at Lake Fausse Pointe State Park and most recently at Chicot State Park.
 The week consists of daily intensive classes taught by renowned Louisiana musicians, band labs, featured artist presentations, workshops, dance classes, nightly dances and music jam sessions. Registration can be full-time, which includes all activities for the week, including meals. Lodging options are available for full-time participants who come from outside the area. Part-time registration is also available and encouraged, with a wide range of options from which to choose.
   The following nightly dances are open to the public; they begin at 7:30 p.m. and will be held at the Vermilionville Performance Center:
Saturday, April 5: Balfa Toujours opens a double bill with Soul Creole featuring Corey "Lil' Pop" Ledet and Louis Michot;
Sunday, April 6: Free Superjam des Amis hosted by Yvette Landry, Brazos Huval, Mitch Reed and Jimmy Breaux;
Monday, April 7: Steve Riley & The Mamou Playboys;
Tuesday, April 8: Geno Delafose & French Rockin' Boogie;
Wednesday, April 9: Ray Abshire & Friends;
Thursday, April 10: The Revelers
   Information on Balfa Week's lineup of full-time classes and instructors, as well as part-time options, lodging and much more can be found on the Louisiana Folk Roots' website at lafolkroots.org, by contacting LFR at info@lafolkroots.org or by calling 234-8360.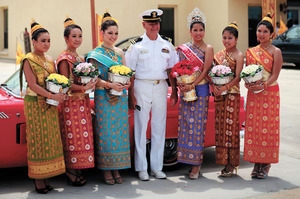 Laotian New Year CelebrationFriday–Sunday, April 18–20Wat Thammarattanaram TempleLanexang Village, Coteau
   The Laotian New Year generally coincides with the Easter weekend and is celebrated by approximately 2,000 Laotians living in the Acadiana area. The observance begins Friday morning with a Buddhist ceremony in preparation for the Miss Songkran Pageant held at night. Laotian teens and young women ranging in age from 15-20 years old participate in the pageant and wear traditional clothing representing the different ethnic groups of Laos.
   Attendees can purchase food, Laotian garments, toys and other goods from vendors who set up booths for the occasion. Delight your taste buds by sampling papaya salad, a traditional Laotian dish, and barbeque beef, chicken and sausage seasoned Laotian style. Desserts are greatly enjoyed in Laos, and you are encouraged to try mak-ka-lam, a sweet rice dessert placed in a wooden tube and cooked on a pit – crack the tube open to eat the tasty treat inside.
   The parade on Saturday beginning at the Wat Thammarattanaram Templeat at 1 p.m., is a highlight of the weekend, culminating with a sandcastle building ritual. For more information about this unique celebration call
335-3106 or 380-3979.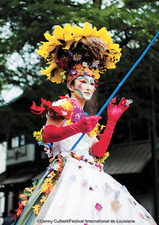 Festival International de LouisianeWednesday–Sunday, April 23–27DOWNTOWN, Lafayette, LA
Organizers of Festival International de Louisiane created the Festival with a three-pronged mission designed to: 
• Enrich the community by organizing a celebration of its native cultures through music and other arts
• Educate the public to the historical achievements and artistic expressions of related global cultures while developing an appreciation for the arts
• Develop culture and tourism, as well as enhance economic development by expanding Louisiana's reputation as an arts center and a destination for artistic events
   International in scope, the Festival has the reputation of bringing a variety of unique and emerging music artists on a variety of stages to Southwest Louisiana, all within a free, community supported environment. Southwest Louisiana's French cultural heritage is celebrated by embracing a unique combination of African, Caribbean, French and Latin influences. The family-oriented event is held each year in Downtown Lafayette, Louisiana on multiple permanent as well as temporary stages.
In addition to the musical offerings, the event also features workshops, dance and theater as well as other artistic disciplines. 
   Stay tuned to the Festival website at festivalinternational.com for updates on the schedule of musical guests, vendors and information on downloading the 2014 mobile app. You can also follow the Festival on Twitter and Facebook, or call 232.8086 for more information.