An Acadiana Tribute To A Cajun Painter
03/06/2014 10:42AM ● Published by Aimee Cormier
By Rachel Gulotta  |  Photos From George Rodrigue's Estate, Jacques Rodrigue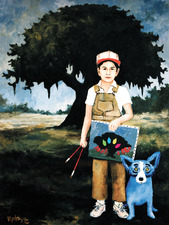 New Iberia has been covered in blue ribbons of late. Children's drawings of the "Blue Dog" lined the gates at the Shadows-on-the-Teche, and homes and businesses across the city draped and pinned blue ribbons for all to see. Acadiana is washed over with blue in mourning for the loss of a great Cajun life– that of George Rodrigue.
Rodrigue's artistic legacy and rich life have been eulogized by numerous publications all over the country, each with a different take on the artist's career. As an Acadiana-based publication, we feel drawn to Rodrigue's roots in New Iberia and to the contributions he made to the Cajun community. Like the towering oak trees in Rodrigue's swamp scenes, this tribute focuses on what hides beneath the success and grand growth- the roots and lingering ghosts of the collective past of both the Cajun people and Rodrigue's imagination.
Early Life And Family
Born in 1944, Rodrigue grew up in an Acadiana hostile to Cajun French; he was discouraged from speaking French at home and in school. Although Rodrigue did not learn to speak the language, his representation of the Cajun culture eventually expressed his sentiments where words could not.
Rodrigue's father, "Big George," was of Cajun descent, and his mother, originally Marie Courregé, traced her ancestry directly to France. "Big George" was one of 13 and Marie was one of 11, so family figured largely into Rodrigue's upbringing and later paintings even though he was an only child.
George Godfrey Rodrigue was a bricklayer and all-around businessman, but really more of an artist in his own right. He built the Rodrigue family home on St. Peter Street– where young George painted his earliest works in the attic– complete with a wishing well for his wife. The well later served as inspiration for one of Rodrigue's interpretations of Longfellow's "Evangeline." Rodrigue the elder also dabbled in the tomb business, which seeped into little George's imagination and onto his canvases later in life. "Big George" did not want little George to touch a brick; instead, both parents wanted a stable job for him at the local phone company. Rodrigue, however, insisted on becoming a professional artist from a young age.
Formative Years
Today, New Iberia is home to numerous artists and their studios. Rodrigue, however, grew up in an art desert with little other than his own imagination and local artist Mrs. Keene for instruction.  To further his interest in art, Rodrigue's parents signed him up for a mail-correspondence course based in Minneapolis. His only other locally based interaction with art was at downtown New Iberia's Compton LeBauve's Jewelry Store exhibit featuring True West Magazine's cover artist, Joe Grandee.
Rodrigue's high school years served to further convince him that he should live by his painter's palate, in spite of his teachers' remonstrance. Acadiana LifeStyle's own Art Suberbielle witnessed the blossoming of Rodrigue's career as the two journeyed through grammar school, at St. Peter's College, all the way through high school at Catholic High School in New Iberia. Suberbielle remembers a teacher catching young George fervently doodling during History class. "He would spend a lot of time– while one of the Christian Brothers was lecturing– doodling in the back of class. In particular," says Suberbielle, "I can remember one of the history teachers walking down the aisles while George was busily drawing something…He
(the Brother) stopped, looked down and said, 'Rodrigue, if you don't start mastering these subjects, you'll never amount to anything.' Of course, that was one of the biggest understatements ever made." Rodrigue graduated from Catholic High in 1962. After four months in the art department at what was then the University of Southwestern Louisiana, now known as the University of Louisiana-Lafayette, he applied to what he later found out was a graduate school– the Art Center College of Design in Los Angeles– and was accepted despite his lack of undergraduate degree. After the long train ride from New Iberia to the West Coast, Rodrigue found a home in L.A. renting from two retired vaudeville dancers and relished the educational experience. Again without an official degree, Rodrigue left the Art Center and journeyed back to New Iberia upon his father's death in 1967.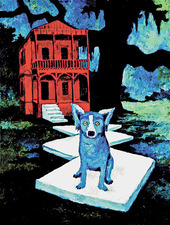 Highlighting Cajun Culture
Starting in 1968, Rodrigue began his career as a full-time painter. His first exhibition was at the Arts Center for Southwest Louisiana in Lafayette. Rodrigue worked with photographs later in his career to paint the Cajuns. He crafted his early style, the oak tree paintings, from his mind's eye and time spent observing the Louisiana landscape in contrast with the vast West and its big open sky. Massive oaks dripping with moss– whose tops you rarely see, dark colors, repetitive scenes and sunlight shining in from beneath the trees gave Rodrigue's paintings a new edge on the well-developed landscape genre.
Although Rodrigue was now Acadiana's prodigal son, Acadiana did not take well to the young artist. After his first show, the Sunday Advocate wrote, "Painter Makes Bayou Country Dreary, Monotonous Place." In the beginning, Rodrigue knocked on doors, placed ads in the paper– for the "artist du pays Acadian (the artist from Cajun country)," sold finished canvases from his trunk and painted from his house on Duclos Street in Lafayette. He eventually moved into a small gallery space on Pinhook Road, across from his present-day Jolie's Louisiana Bistro.  Next, he moved into a home on Jefferson Street, which remained his only gallery space until 1989 when his work was displayed in New Orleans at the Reilly Gallery on Royal Street.
The Cajun people and culture have long been sheltered from the outside world, which, until the 20th century, kept the language intact, food ways strong and family ties stronger. Rodrigue's paintings were not well received in his home region at first because they were considered dark and gloomy, and Cajuns are a fun-loving bunch. Perhaps unrepresentative to the Cajun eye, Rodrigue's paintings of the Cajuns were hauntingly touching to the outside observer. As Rodrigue traveled to nearby states and towns, his work garnered recognition and praise.
Rodrigue added figures into his paintings in the 1970s, keeping the dark backdrop of the oak tree but adding starkly white Cajuns, horses and other motifs into their mossy embrace. The bright colors of Rodrigue's figures contrasted against the swampy darkness allowed for the Cajun people, and their traditions, to finally stand out from their surroundings and enter onto a national stage.
Rodrigue released the closely guarded Cajun people from their secluded lives among the trees. The bright figures and happy scenes represent a sense of hope we Cajuns have despite our displacement to Southwest Louisiana, a land far from Nova Scotia. At the same time, Rodrigue's Cajuns are forever trapped by the past– a bright moment frozen in time, now a
ghost-like presence in our ever-changing world. Rodrigue literally highlighted Cajun culture– fais do-dos, Oak Alley legends, jolie blondes, Evangeline, traiteurs, big family gatherings, his own big family, pirogues, farmer's markets and the Cajun Mardi Gras– with stark whites and timeless figures that the viewer cannot ignore.      
Legacy
Anyone who knows his or her modern art knows Rodrigue, especially his Blue Dog. I relate to his earlier Cajun paintings because they remind me of home– the big family, late night dancing, festival posters and our general joie de vivre. I also feel a sense of sadness, regret and longing for the recent past of Acadiana's history, when we were trapped beneath our oaks, sheltered from the world's eyes and shining bright from the joy of our own traditions.
Rodrigue's Cajun series of the 1970s corresponded beautifully with this area's cultural Renaissance and the creation of the Council For The Development Of French In Louisiana, popularly known as CODOFIL. In 1971, he decided to "graphically interpret Southwest Louisiana and the Cajuns," and he became the first artist to really do so on a national and even international level. Today, the word "Cajun" is recognized worldwide due to the work of Rodrigue and his contemporaries– some of whom he painted, like Chef Paul Prudhomme.
With the Blue Dog in the 80s, Rodrigue gave the world a popular icon on which to attach their own meaning. The Blue Dog is consistent yet changeable; he constantly sought new direction under the skillful hand of Rodrigue.  The Blue Dog has taken many forms: a salesman for Absolut Vodka, a Saint's fan, a marquee poster for the New Orleans Jazz and Heritage Festival alongside Pete Fountain and a major fundraiser after disastrous events. The blue ghost of Rodrigue's pet dog Tiffany even appeared in former President Bill Clinton's official inauguration poster in 1996.
In 2009, Rodrigue created the George Rodrigue Foundation of the Arts to use his Blue Dog fame to fund projects close to his heart. The Foundation's website states, "GRFA has its roots in Blue Dog Relief.  Blue Dog Relief began on September 11th, 2001, when Rodrigue created God Bless America in response to the tragic events of that day. The edition of one thousand prints sold out within weeks, raising $500,000 for the American Red Cross. This experience clarified for Rodrigue how he could sell his artwork to benefit causes important to him. To date, George Rodrigue's relief efforts, combined with the enthusiasm and generosity of his collectors, have raised $2.5 million towards helping our world. With the GRFA, Rodrigue embarks on a new mission to focus primarily on child development through the visual arts."
Home Town Remembrances
The name of New Iberia's prodigal son is in the air. Early morning French table goers and breakfast lovers at Victor's Cafeteria are always greeted with posters of Rodrigue's Jolie Blonde and other Cajun scenes. Those scenes strike a chord with almost everyone who passes through, especially now. Who better to ask about Rodrigue's influence on Cajun culture than Cajuns themselves?
Local residents each have their own opinions about the artist, all glowing portraits of his character– befitting the creator of glowing Cajun paintings. Rogers Romero of Coteau, a former leader of Rodrigue's National Guard platoon, says of Rodrigue, "C'était un bonhomme. Il n'a pas causé de fracas (He was a good man. He didn't cause any trouble)." Rogers tells the story that Rodrigue once offered to paint a Blue Dog for the National Guard, in the Blue Dog's lesser-known years. Rogers said "thanks, but no thanks," and regrets it to this day. Preston Guilotte, on the other hand, was able to purchase an early landscape Cajun scene from Rodrigue many years after first meeting the artist. "Je suis bien content de l'avoir (I'm very happy to have the painting)," Guilotte says.
Andy Ringle attended Catholic High a few years behind Rodrigue and speaks to his national influence saying,"Tu as entendu à Washington, de la classe des Democrats conservatifs? On les a appellés les 'Blue Dog Democrats' après le Blue Dog (Have you heard of the class of conservative Democrats in Washington? They're called the 'Blue Dog Democrats' after the Blue Dog)." Loretta Gonsoulin was one year older than Rodrigue, but her brother was in the Catholic High class of 1962. "He was very generous with his classmates," Loretta says. "He came to all of their reunions. He even hosted them at his restaurant." Loretta's husband Harvey Gonsoulin chimes in, "His classmates considered him a friend…a true friend, who never forgot them even when he became famous. They all said that; not one had a bad thing to say of him."
Sitting with the Gonsoulins at breakfast, Juanita Gulotta says "I remembered when he was doing the darker paintings, always with the oak tree behind it. To me, that depicted the 'Cajuns' and this area. He captured scenes that were unique to us– family
get-togethers, food and such." Her husband Paul Gulotta Sr. agrees, "When he first started off with paintings of the Cajun family and their gatherings (like the Aoili
Dinner, 1971)…that really struck a note. I have good memories of similar family picnics, so I can relate to that. You can see the same family connections and family ties…the good times you would have when the family got together. He captured that."
Lastly, when asked about Rodrigue's character, LifeStyle's Publisher Art
Suberbielle says, "George was a genteel character… he enjoyed his surroundings, and I think it was reflected in his paintings. He laughed often and long."
New Iberians are proud to call
Rodrigue one of our own and we are humbled by the gift he has given the Cajun culture. May he rest in peace beneath the shade of the oaks, his legacy glowing bright. 
Editor's Note: Wendy Rodrigue's extensive coverage of her husband's life and work were a primary resource used in writing this article. To learn more about George Rodrigue's paintings and biographical information visit wendyrodrigue.com.