Children's Mardi Gras In Acadiana
02/14/2014 01:01PM ● By Aimee Cormier
By Paris Brewster
The value we place on tradition and culture is reflected in our reverence for Mardi Gras. Future generations of Acadiana residents are heir to the custom beloved by many worldwide. In Acadiana, we honor and celebrate this area's Mardi Gras heritage by including and educating its future leaders and participants. Lafayette honors the spirit of childhood– with clean, family oriented parades and events– and celebrates the tradition of Carnival with cultural history in mind.

The Children's Parade
The Children's Parade in Lafayette ranks as one of the largest in the city, with close to four hundred children participating each year. There are six children's krewes expected to participate in this year's revelry, and they are as follows: Krewe of Oberon, Krewe of Camelot, Krewe of Versailles, Krewe des Jeunes Amis, Krewe d'Amusement and Royal Order of the Troubadours.
In 1928, the Catholic Daughters of Saint John's Cathedral Parish established the Children's Carnival in an effort to provide a wholesome environment for children during Carnival. The Krewe of Oberon Children's Carnival became an independent krewe in 1975 and celebrates its eighty-fifth year. Oberon is recognized as the oldest children's carnival group in the state of Louisiana.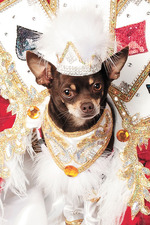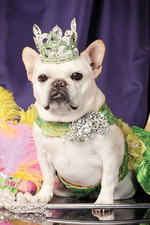 The Canine Parade
In 1999, Lafayette honored its royal canine residents with a krewe of their very own. Animal lovers hoped to assist local shelters and to provide awareness and education to area residents the importance and benefits of spaying and nurturing– by raising funds during Mardi Gras.
The Krewe des Chiens (Krewe of Dogs) parade is a family friendly, fun and festive way to show off your furry family members and celebrate the season while helping less fortunate animals.
The day's events include a costume contest, parade and pet inspired vendor memorabilia, such as t-shirts, dog beads, flags and lapel pins. Registration is open to the public for a fee of $25 ($35 on parade day) and parade attendance is free. Costumes will be judged before the parade, and winners will be ushered to the front of lineup. Children and grownups are encouraged to dress up alongside their furry friends. Registration entitles each dog to be accompanied by their owner and one guest. This opportunity presents a fun and exciting opportunity for children to proudly present their beloved pet to spectators. Contest participants must be registered and proof of rabies vaccination must be presented. All breeds and sizes of dogs are welcome. A good temperament and the desire to help the less fortunate animal population is all it takes to get started on this fun–loving experience!
Stay tuned to 97.3 The Dawg for local weather forecasts on parade day. In the event of weather related cancelations, the parade will not be rescheduled and registration fees will be considered a donation. This year's parade theme is Las Vegas Casino des Chiens!
Children's Activities 
(Surrounding Areas)
Rural communities, such as Gueydan, engage children in the Courir de Mardi Gras tradition, while educating them about their cultural heritage. Children are encouraged to dress in traditional masks (capunchons) and homemade patchwork costumes while participating in a traditional Courir (Mardi Gras chicken run) and parade.
Education
The Village of Vermilionville prides itself on educating visitors, re-enacting historical traditions and events and honoring the Acadian heritage. All festivities are family friendly and presented in a safe and structured environment.
Although most festivities within Lafayette are designed with the family in mind, special events– specifically directed toward the children– create an excellent source of education, cherished memories and an instilled value of pride in regards to culture and heritage.
Families are encouraged to introduce their children to the ghost of Acadians past, while establishing knowledge of their ancestral roots. A strong cultural foundation, beginning with the tradition of Mardi Gras, opens doors to an historical appreciation which will carry on into the future.