Romancing Your Valentine

02/04/2014 08:34AM ● Published by Aimee Cormier
Text & Photos By Curt Guillory, Acadiana LifeStyle Food Blogger
All it takes is a little planning and some effort on your part to make this Valentine's Day one she will never forget.
The Countdown Begins

Tick tock, tick tock…did you hear that?  Yes, that's the Valentine's Day clock counting down the minutes you have to plan an incredible evening for the special person in your life.  Starting to plan now and paying attention, real attention, to the object of your affection will all but guarantee that she will be telling her grandchildren about this Valentine's Day.
Or you can just do like you did last year and wait until the last minute, go down to the flower shop and wait for hours to buy whatever is left and pair that with a box of drug store chocolates like every other man with no imagination. Yeah, that'll work (NOT!).
The Excuse Train Stops Here

Before we get started, for all of you guys out there who say, "I can't do that" or "That's not me," go try to sell that somewhere else will you?  You plan out an entire season of hunting (including building and maintaining stands and blinds), football watching (including fantasy league involvement), or weeks of building that dream car in your shop; a golf vacation or two; but you can't take the time to plan a single night for the person closest to you?  See, not even you believe that.
Ambience Required

Here are a few pointers to get you started. The space needs to be warmly lit, with soft music playing and inviting scents in the air.
A woman has to feel that you are taking care of her. Show that you have thought about and planned this night very carefully with her in mind.
A carefully planned meal adds to the idea that you have taken something as ordinary as supper and transformed it into an event just for her.
Letting her choose how the evening progresses serves to reinforce her sense of authority and importance in your relationship.
All of these things relay a tremendous amount of information to a woman, telling her that you capable of providing, taking care of and respecting her.  
How Does Valentine's Day Work?

As a man, I've often found it easiest to do anything if I understand how it works; the nuts and bolts of it in other words.  Once I have the knowledge of the mechanics the rest is simply execution, and that makes any task easier.  Now let's take a look at what we will need to do.
Come Bearing A Gift

The first thing to consider is what to select as a suitable gift for your lady love. The gesture of all of your efforts in planning this evening is a wonderful way to woo her. If you will be buying a gift, then by all means get to it, Man! 
Clothes are always tricky because of the size issue, but what you can do is find out where she shops for clothes and get her a gift card to that store.  What's that?  You say you don't know where she clothes shops?  Then do a little detective work.  Looking at the online bank statement, or ask her Mom and friends for this valuable information.  
If jewelry is her thing, don't wait.  Go to the jewelry store right now and reserve the piece you want for her.  Because just as sure as you are reading this someone else will snatch that bracelet, ring or necklace up before you know it.  If you don't know what to buy, take a couple of pieces of her present jewelry with you to the store.  The staff will take it from there.
Flowers . . . A "Yay" Or A "Nay?"

Flowers are a mainstay for Valentine's Day, and most women are from one of two camps.  Either Camp A: fresh flowers are beautiful, fragrant and make me feel special; or Camp B: fresh flowers are too expensive around Valentine's Day and are dead within a week.  Now if you don't know if your lady is expecting flowers or not for Valentine's Day then please stop reading this and head on out to the deer stand right now.  You should already know what camp your lady is in.
If you are planning to give flowers, once again, order them now so that they are reserved.  Don't know what kind of flowers to get?  Notice the color purse your lady has most often.  Take a good look at the colors she wears.  Pay attention to her makeup choices.  Have a look around the house at the color of the décor, and tell all of this to your florist.  They, in turn, will ask you some questions about her personality. If you don't know the answers, you should be off slaying something.
Location, Location!

After the gift(s) are sorted out location should be next on the agenda.  Where will you be celebrating Valentine's Day?  Will you be going to a special restaurant?  Perhaps a weekend getaway (Valentine's Day is on a Friday this year) would be nice.  Maybe you could cook a nice meal for her at home (more on that later).  
Wherever you plan to celebrate, make sure you set the mood.  It's not enough just to show up guys.  It's all about romance.  Make sure the kids have some place to go for the night if you have little ones.  Make sure the house is clean if you are going to be home for the evening.  Make sure the restaurant and hotel reservations are confirmed.  Make sure you have everything you need to cook that incredible meal.  Make sure you have time to make it to the florist.  In short, make sure.
If you are staying home here are a couple of additional ideas:  
• Plan to take a walk after supper. A leisurely stroll down the street or in a nearby park will be great way to extend the intimacy of dinner and keep you both from napping after you've eaten. 
• Hand her the remote and let her switch it from ESPN to Oxygen, Lifetime or whatever channel she chooses.  Even better, Redbox her favorite romantic movies, sit back and enjoy.
• Have Pandora playing her favorite music, not yours.
• Keep her out of the dining room until the meal is served, turn off all of the lights and light a lot (50-100 or more) of small, unscented candles around the room.
• Make it crystal clear that the night is all about her.
The Way To A Woman's Heart

At this point things are coming together.  We have our evening planned, our gifts selected, and now we just need an incredible meal to tie it all together.   Women love a man who knows his way around a kitchen, and this meal looks so impressive she will surely think you have been taking cooking classes.  Don't worry, it's easy and it has steak in it, so we're all going to be happy in the end.  Also, this meal is pretty light so nobody is going to have that post-Thanksgiving feeling after supper.
VALENTINE'S DAY MENU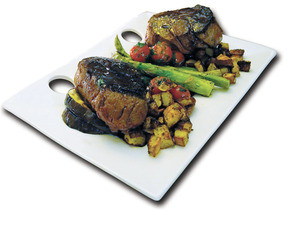 Seared Filet With Grilled Eggplant
Though this recipe calls for beef tenderloin, a good cut of top sirloin could also be used. Traditional large purple eggplant work best here as their bitterness accentuates the richness of the beef. A nice pan sauce ties the dish together perfectly.
Ingredients:
16 ounces beef tenderloin (cleaned and cut into two 8 ounce steaks)
1 large eggplant
1 lemon
8 ounces unsalted butter (cubed and chilled)
1 cup dry red wine
Olive oil for pan searing and to coat eggplant for grilling
Kosher salt and fresh ground black pepper to taste
Italian seasoning to taste
Method:
• Preheat the oven to 450°.
• Cut the lemon in half and squeeze the juice from one half into a large bowl half filled with
  cold  water.
• Slice the eggplant into ½ inch thick rounds, and then pass the slices through the water and 
   lemon mixture. Remove  them to a sheet pan.
• Brush each side of the eggplant slices with olive  oil and season with salt and black
   pepper.
• Grill the eggplant on a  hot contact grill until soft, and remove  to a plate.
• Place a heavy skillet over medium-high heat, and add the olive oil.
• Season both sides of both steaks  with salt and black pepper. Once the oil is fragrant and 
   shimmering, place the steaks near the center.
• Cook the steaks for 3 minutes on each side then place then on a sheet pan and into the oven 
   for an additional 6 minutes for rare, 8 minutes for medium-rare, and 10 minutes for medium.
• Remove the steaks to a plate and immediately season with Italian Seasoning.
• Tent with foil, and allow to  rest.
• Add the wine and mushrooms to the pan, being sure to scrape then bottom of the pan.
• Whisk in the chilled butter one piece at a time.
• Reduce the heat to simmer. The sauce should have a dark, rich  color as well as a sheen.
• Season the sauce with salt and black pepper.
• Assemble the plate by placing two slices of eggplant on the bottom, then place a steak on top 
   of them, and finish with the sauce.
Roasted New Potatoes
Cooking these little starchy gems could not be easier. Just like the name suggests, they are roasted.So all we need is a little olive oil, some seasoning, and a hot oven. What could be easier? People flock to these. As the potatoes roast, they develop a crust on all sides. So the person eating them tastes a crunchy, caramelized crust that gives way to a tender, rich inside. Yes, they're that good.
These potatoes also double as a great side dish to many entrées.
Ingredients:
3 pounds Fresh new potatoes (skins intact)
½ cup Olive oil
Kosher salt to taste
Italian blend seasoning to taste
All-purpose seasoning to taste
Method:
• Preheat oven to 425°.
• Cut the potatoes into 4 or 6 pieces depending on the size of the potato.
• Place potatoes on a sheet pan.
• Coat with olive oil.
• Season with salt, all-purpose seasoning, Italian blend seasoning, and toss to distribute.
• Roast for 20-25 minutes stirring once midway through the cooking time.
• Potatoes are done when a knife can be inserted with no resistance.
Roasted Asparagus
Roasting should be done at a high temperature for a relatively short amount of time, and then finished under the broiler.
Ingredients:
2 pounds fresh asparagus
4 tablespoons extra virgin olive oil
All-purpose seasoning to taste
Italian blend seasoning to taste
Kosher salt to taste
Fresh ground black pepper to taste
Method:
• Preheat oven to 425°.
Note: You will notice that the recipe calls for four seasoning types. The idea is to use a little of
   each in order to obtain your desired flavor.  Remember that the flavor of the  asparagus 
   should be at the forefront.
• Cut 2 inches off the bottom of the stalks.
• Lay the asparagus out on a sheet pan making only one layer.
• Distribute the olive oil and the seasonings.
• Toss to combine, and then lay flat  so that the asparagus makes only  one layer.
• Roast for 8-10 minutes.
Note: Roast only until the middle of  the stalk just barely gives when pinched.
• Switch the oven to the broiler,  and set on high.
• Broil until the tips are crispy.
Blistered Cherry Tomatoes
Ingredients:
2 tablespoons olive oil
10-12 ounces cherry tomatoes
1 bunch flat leaf parsley (chopped)
Salt and ground black pepper to taste
Method:
• Place a 10 inch skillet over high heat and add the olive oil.
• Once lightly smoking, add the tomatoes and move the skillet so that the tomatoes are coated
   with oil and start to blister.
• Add the parsley, salt, pepper, and then toss.
• Remove before the tomatoes turn soft and serve.
A Valentine's Day To Remember
There, you did it!  You observed, planned, and executed a memorable Valentine's Day.  You "built" it from start to finish, and it was a custom job built only for two.  That's right, smile proudly.  You've earned it. 
One last thing.  If you are doing all of this to show the person across from you just how much she means to you and that she is the most important person in your life, then it's going to be a great night that you will talk about for some time. Let me know how it went.  Leave a comment or post a photo on the LifeStyle Facebook page, or drop us a line at editor@acadianalifestyle.com.
Stay hungry.
Today
,
In Print
Acadiana LifeStyle
curt guillory