Super Bowl Party Foods

01/21/2014 07:46AM ● Published by Aimee Cormier
Text & Photos By Curt Guillory, Acadiana LifeStyle Food Blogger
Great food makes for a great football party. So make these recipes and have a great time.

The time of year is upon us when it is all things football. College bowl games are in full swing, and the Super Bowl is near. Stories of games past, players of old, and what might have been will fill the air between plays. Keep your fans well fed and happy with these easy to prepare and delicious party dishes.  
Break Away From The Ordinary

Everyone knows what to expect food wise at a football party don't they?  Chips and dip, hot wings, finger sandwiches, and Uncle Joe's special queso are always on the menu. It's time to mix things up.  How about you serve some deliciously different, restaurant quality dishes that are so good they will forget about the game?  Yeah, they're that good, and don't be intimidated.  These recipes are dead easy.
The recipes are: BLT Flatbread, Southwestern Eggrolls, Muffuletta Empanadas, Asian Inspired Wings, Garlic-Herb Roasted Potatoes, Loaded Potato Skins, and Shrimp and Tasso Wontons.
Prepare In Advance

The best part about these recipes is that most of them can be made well in advance so that the day of the big game is stress free and steady as she goes.For example the Southwestern Eggrolls, Muffuletta Empanadas, and Shrimp and Tasso Wontons can be made days, or even weeks in advance and frozen.  They are then fried, or baked straight from the freezer.  Nice right? The sauce for the Asian Inspired Wings can be made up to a week in advance and stored in the refrigerator, then simply reheated and used.  Just a little heads up, there's no way you are going to be able to keep that sauce around for a week.  Trust me, you'll be putting that stuff on your ice cream before all is said and done.
Remember Food Safety

Remember to play it safe.  Food safe, that is.  If you are going to keep these foods at room temperature, and there is nothing saying that you can't, please do not leave them out for more than 4 hours.  The last thing you want is to give one of your guests a case of food poisoning.  However, if you want to keep something hot like the Asian Inspired Wings, then please use a chafing dish.  Chafing dishes use a burnable fuel source and steam to keep hot foods at a safe temperature for an extended time.  They can be purchased or rented, or borrowed if you happen to know someone who has one…obviously.  If you use one of these, just remember to stir the food in them once in a while.  
Note:  I've also seen an electric heating pad wrapped in a towel used to keep dips and such hot.  This is NOT an effective method for keeping hot foods safe.  The heating pad simply does not get hot enough to keep the food above 140°.  
Planning Makes Perfect
So do yourself a favor and plan this thing out a bit.  Decide which dishes you are going to serve. Prep and freeze what you can, get the right equipment to keep foods hot, and save the day of the event for set up and cooking.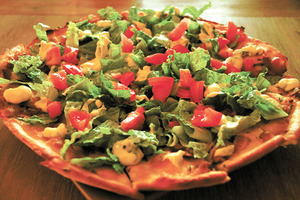 BLT Flatbread
Note:  Most pizza ovens cook at well above 500°, so set yours to 500° and have no fear.
Ingredients for dough:
6½ cups unbleached, all-purpose flour
2 teaspoons granulated sugar
2 packages Fleischmann's Pizza Crust Yeast®
2 tablespoons Kosher salt
2½ cups warm water (110°F)
1 tablespoon Olive oil
Yield:  3 flatbreads
Ingredients:
1 recipe pizza dough *See below
1 cup herbed garlic aioli
1 head Romaine lettuce
4 Roma tomatoes (chopped)
1 pound bacon (cooked until crispy)
Method:
• Preheat oven to 500° or highest setting
• Roll out 1 pound pizza dough to about one-eighth inch thickness
• Spread 2-3 tablespoons aioli on the dough and bake for 10-12 minutes or until very crispy and
   slightly charred
• Remove from oven and top evenly with lettuce, bacon, and tomatoes
• Finish with small dollops of aioli
Herbed-garlic Aioli:
Note: I use Classico Olive Oil® for my aioli, not extra virgin. Use whatever flavor oil you prefer.
Note: The eggs must be room temperature.
Yield: 1 cup
Ingredients:
1 cup olive oil
1 egg yolk (room temperature)
1 whole egg (room temperature)
1 tablespoon fresh lemon juice
1 teaspoon fresh garlic (chopped)
Kosher salt to taste
1 tablespoon fresh basil (chopped)
1 teaspoon fresh oregano (chopped)
1 teaspoon fresh thyme or marjoram
Method:
• Place the whole egg and egg yolk in a suitable bowl and blend with a stick blender until pale
  yellow and thickened, about 30 seconds.
• Add the salt, lemon juice, garlic, and start to drizzle in the oil moving the blender up and down
   as the emulsion forms, about 2-3 minutes.
• Once all of the oil is incorporated, remove the blender and stir in the herbs.
• Chill until ready for use.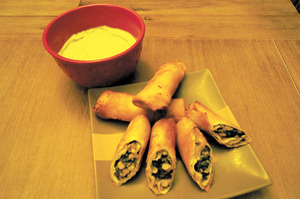 Southwestern Eggrolls
Yield: About 25 Eggrolls
Ingredients for eggrolls:
2 large chicken breasts (boneless, skinless)
Kosher salt, cayenne pepper, cumin, fajita seasoning
2 tablespoons olive oil
1 medium white onion (chopped)
4-5 cloves garlic (chopped)
1 large jalapeno (chopped)
10 ounces fresh baby spinach
1 can black beans (rinsed)
10 ounces frozen corn (whole kernel)
1 lemon (juiced)
1 lime (juiced)
¼ cup fresh cilantro (chopped)
8 ounces Monterey Jack cheese (shredded)
25-30 flour tortillas
1 egg beaten (with 2 tablespoons
   water)
Method:
• Preheat gas or barbecue grill, or sauté pan.
• Tip: Split the chicken breasts length ways and season all four sides. Not only will they cook
    much faster, you can introduce twice the amount of flavor.
• Season the chicken breast with salt and spices on both sides.
• Grill or sauté the chicken until just done, and remove to a plate to cool.
• Put the oil in a 5-7 quart Dutch oven over medium-high heat.
• Once the oil is hot and shimmering, sauté the onions and jalapenos until soft.
• Add the garlic and cook for 1-2 minutes.
• Add the spinach and cook until completely wilted.
• Dice the chicken breasts into small cubes.
• Add the chicken, beans, corn, and cook until thoroughly heated, stirring frequently.
• Remove from the heat and add the cheese, lemon and lime juice.
• Stir until completely incorporated.
• Taste and adjust seasoning.
• Allow to completely cool.
• Tip: Transfer the filling to a cookie sheet or sheet pan.  It will cool in no time.
• Place the tortillas in a damp cloth and microwave for 1-1½ minutes so that they are soft
   and pliable.
• Fill each tortilla with 1-1½ tablespoons filling and fold into a traditional eggroll using the egg 
   and water mixture to seal.
• Once filled and rolled, place on a sheet pan and cover with plastic wrap and freeze for
   2-4 hours.
• Fry at 325º until golden brown, about 12 minutes.
• Remove to a paper towel lined pan and serve.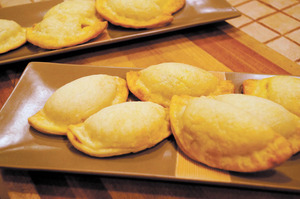 Muffuletta Empanadas
Note: Using a dumpling maker, or perogi press, makes filling the empanadas a snap.
Yield: Depends on size. One recipe of pie dough made 2 large, 2 medium and 1 small.
Ingredients for Pie Dough:
3 ounces (6 tablespoons) butter, chilled
1 ounce (2 tablespoons) lard, chilled
6 ounces (approximately 1 cup) all-purpose flour, plus extra for rolling dough
1/2 teaspoon table salt
1/4 cup ice water, in spritz bottle
Approximately 32 ounces of dried beans, for blind baking
Directions:
Place butter and lard in freezer for 15 minutes. When ready to use, remove and cut both into small pieces. In the bowl of a food processor, combine flour and salt by pulsing 3 to 4 times. Add butter and pulse 5 to 6 times until texture looks mealy. Add lard and pulse another 3 to 4 times. Remove lid of food  processor and spritz surface of mixture thoroughly with water. Replace lid and pulse 5 times. Add more water and pulse again until mixture holds together when squeezed. Place mixture in large zip-top bag, squeeze together until it forms a ball, and then press into a rounded disk and refrigerate for 30 minutes.
Ingredients:
½ pound Salami
½ pound Italian boiled ham
½ pound Prosciutto
1 cup Boscoli Olive Salad® (drained of excess oil)
1 recipe pie dough *See above
½ pound provolone cheese
½ pound mozzarella cheese
1 egg beaten with 2 T. of water
2T cold water for sealing
Method:
• Preheat oven to 375°
• Pulse 2 slices of each of the meats and 2 tablespoons of olive salad in a food processor until
  finely chopped, but not a paste.
• Working on a lightly floured surface, roll pie dough out to less than ¼ inch thickness, and cut
   out rounds for filling reusing the dough scraps no more than twice.
Note: The general rule of thumb for filling using a dumpling maker is Small-1 teaspoon,
   Medium-2 teaspoons and Large-3 teaspoons. Do not over fill or the dough will tear.
• Place the dough round in the dumpling maker, fill with the proper amount of filling, add
   a small amount of the two cheeses, brush the edges with cold water and press to close
   and fill.
• Place the empanadas on a lightly greased sheet pan or cookie sheet.
• Brush each empanada with the egg mixture.
• Bake for 20-22 minutes until golden brown.
• Allow to cool for 5-10 minutes… yeah like that's going to happen.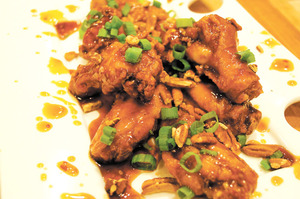 Asian Inspired Wings
Ingredients:
1 cup pecans (chopped)
4-5 pounds chicken wings (split at joint and tips saved for making chicken stock)
All-purpose seasoning to taste
¾ cup soy sauce
1 teaspoon corn starch
1 cup granulated sugar
2 cups chicken stock
3 tablespoons honey
1 teaspoon crushed red pepper flakes (or to taste)
1 bunch green onions (chopped)
1-2 quarts canola oil for frying
Candy thermometer
3-4 cups all-purpose flour
Method:
• Place a heavy skillet over medium-high heat and add pecan pieces.
• Stir frequently until slightly darkened and fragrant, about 5 minutes.
• Remove to a bowl, and set aside.
• Add the cornstarch to room temperature soy sauce and stir to dissolve.
• Place a heavy saucepan over medium-high heat and add the soy sauce, sugar, chicken stock,
   honey, red pepper flakes, and a little all-purpose seasoning.
• Allow to come to a boil and then reduce heat to medium.
• Cook the sauce stirring occasionally until a reading of 210° can be read on a candy
   thermometer, or until the sauce coats the back of a spoon.
Note: As the sauce cooks and thickens it will want to boil over.  
Note: The desired consistency is like  syrup, but while the sauce is hot it will be thin.
• Taste and adjust seasoning.
• Place 2-3 inches of oil in a large heavy skillet, or an electric fryer.
• Pat dry the chicken wings, and season with all-purpose seasoning to taste.
• Season the flour well with all-purpose seasoning.
• Dredge the wings in the flour, shaking well to remove excess.
• Fry the wings for 13-15 minutes in 3 batches.
• Toss immediately with the sauce,  drain, and then remove to a platter or chafing dish.
• Sprinkle with some of the toasted  pecans and green onions, and toss  to distribute.
Loaded Potato Skins
When cutting the potatoes, cut off the ends so that the potato is stable. Stand the potato on one end, and cut slices about ¼" thick keeping only the slices that have skins. Save the rest of the potato for something else like, French fries, hash browns, etc. You should get about four skins per potato.
Yield: 24 potato skins
Ingredients:
6 large russet potatoes (washed)
1½ pounds black pepper bacon
16 ounces sour cream
1 pound Colby jack cheese (finely shredded)
1 bunch green onions (chopped)
3 tablespoons Italian blend seasoning
All-purpose Cajun seasoning to taste.
Method:
• Preheat oven to 400°.
• Cook the bacon until crisp. Drain on paper towels, and reserve the fat.
• Brush both sides of the skins with  the reserved bacon fat, and place  on a sheet pan.
• Season with all-purpose seasoning to taste.
• Roast for 15-20 minutes, or until the potatoes are tender.
• Top with cheese, crumbled bacon bits, green onions, and bake for an  additional 5 minutes.
• Combine the Italian blend seasoning with the sour cream.
• Serve with the herbed sour cream alongside.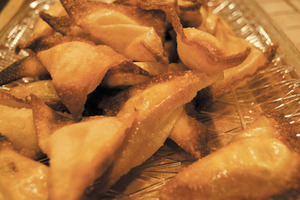 Shrimp and Tasso Wontons
Ingredients:
½ pound small shrimp (140-160 count, peeled)
8 ounces Cajun tasso (finely diced)
1 pint heavy whipping cream
4 ounces butter (1 stick)
2 tablespoons all-purpose flour
4 ounces cream cheese (room temperature cut into 4 pieces)
1 cup Colby Jack cheese (shredded)
1 small yellow onion (finely chopped)
2 cloves garlic (finely chopped)
1 cup dry white wine
1 cup green onions (chopped)
1 package wonton wrappers (50ct)
Paul Prudhomme's Seafood Magic® to taste
Method:
• Place a medium heavy pot over medium heat and melt the butter.
• Whisk in the flour and cook for 2-3 minutes.
• Stir in the wine, onions, and garlic, being careful not to let the  mixture brown.
• Add the cream and bring to a boil.
• Add the shrimp and tasso cooking until the shrimp are just pink, about 3-5 minutes.
• Reduce the heat to a simmer and add the seafood magic seasoning  to taste.
• Stir in the cream cheese.
• Add the Colby Jack cheese and stir to melt.
• The mixture should be quite thick,  but not quite a paste in consistency.
• Add in the green onions and stir.
• Taste and adjust seasoning.
• Remove from heat and cool completely. It is also a good idea  to make the filling a day prior
   and refrigerate.
• Fill and fold the wontons with  ½-1 teaspoons of the filling.
• The recipe should yield 100  wontons. Remaining filling can be  frozen for up to 6 months.
• Fry the wontons in 375° oil until  golden, and remove to a draining  screen placed over a
   sheet pan.
• Serve hot or room temperature.
• Party Food Aplenty
Make one or make them all, no matter which you choose your guests will agree that not all of the scoring was done on TV.
Stay hungry.
Shop+Eat+Drink
,
Today
,
In Print
Acadiana LifeStyle