And All Shall Be Well

12/20/2013 02:41PM ● Published by Aimee Cormier
By Diane Marquart Moore  |  Illustrations By Paul Schexnayder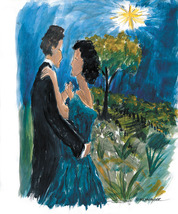 Editor's Note: We are delighted to present this Christmas piece written exclusively for Acadiana LifeStyle's young adult readers by renowned author Diane Marquart Moore
Rain was falling again. Heavy gray clouds had overhung Nueva Iberia, Louisiana for two days, and the murky waters of Rio Teche had begun to rise. Antonio Romero knew that his family was safe on higher ground because since the age of 17 he had been responsible for settling the Romero family on a vacherie near Lac Flammand, just out of Nueva Iberia. However, he couldn't help feeling twinges of anxiety. Only last night, two days before Christmas, he had a nightmare about the flood that had inundated the Malagueños' first settlement near Charenton, Louisiana. 
"It is next to a small site of the Chitimachas whose beautiful location and excellent soil seems to me very favorable to the settlement of this population, for the cultivation and for raising all sorts of animals. In my judgment, it would be difficult to find a site that has as many advantages," Lt. Col. Francisco Bouligny had written to Governor Galvez in February, 1779, and a few months later, Antonio's father Juan, his mother Francisca, and sister Maria had crossed the ocean with a few other Malagueño families to help Bouligny form a settlement near Charenton. 
"A lot Bouligny knew," Antonio thought bitterly. His thoughts this Christmas Eve had been clouded by last night's dream of the flood that had almost destroyed the band of Malagueños who had set out with Bouligny. In April, 1779, the water had washed into the palmetto huts they had built on the land, and six to eight feet of water stood in the inadequate houses. The King's warehouses had been relocated several times due to the incessant flooding rains. The water rose 15 and 16 inches a day, and in one day, the flood had almost covered the huts of the Chitimacha Indians who had enjoyed living in their village near Charenton for most of their lives. Bouligny had been forced to move his  settlement further upstream, eight leagues north of Charenton to a high bluff on Rio Teche. The Romeros had attempted to raise wheat for awhile before Juan, Antonio's father, began talking about going to war. 
Antonio went outdoors and sat on the galerie of the cabin that he and two Acadian men, Alphonse Boudreaux and Pierre Guidry, and his Indian friend Aktu had built. They had squared the hand-sawed wood in the forest before they brought it to the site near the lake, and the walls and chimneys were made of bousillage, a mix of mud and Spanish moss. The house stood on piers three feet above the ground, with chimneys at both ends. The galeries ran along the front and rear of the cottage, and the entire house was very long according to the French pattern of building a home one room deep and many rooms wide. Antonio had whitewashed the cottage and it stood out sharply against the gray landscape. 
 "We're not going back to Málaga yet," he muttered aloud. "My father will come home from the War soon, and he'll find us high and dry. The surface of the lake is eight feet above bayou level. It can rain all it wants to, but it isn't going to drown my swamp cattle. They're  hearty, having been bred in Spain, and my father will be proud that I made enough money to buy and raise them."  
Antonio's father Juan had joined Lt. Col. Bouligny when Bouligny went off to the U.S. War of Independence in August after they had moved to their second settlement in Nueva Iberia. He had been with Bouligny when the intrepid Colonel had won the siege at Baton Rouge and when he had been victorious at Mobile in 1780. However, Juan hadn't written to his family since the conquest of Pensacola in 1781. Antonio anticipated that his father would return when he heard that Antonio had moved the Romero family to the vacherie, but Juan lingered at Bouligny's side. What was he fighting for? Antonio wondered. Didn't he realize he had a family? 
Antonio couldn't help thinking about Christmas in Málaga. It was true he'd go to midnight Mass celebrated by Fr. Grumeaux, just as he had attended Mass on Christmas Eve in Málaga, and tonight there'd be a feast with shrimp, seafood, chicken, paella, sweet breads filled with cream, crumble cakes and turrones. The Malagueños had taught the Acadians how to dance the Verdiales, one of the fandangos de Málaga, so he'd feel at home among his French neighbors...but he kept thinking about how the sun shone most of the time in Málaga, and people were probably decorating the Square. Vendors would be selling mantecados (lemon and chocolate sweets) and turrones (nougat candy made from almonds) on the streets. A cone of poinsettias would have been placed in all the little plazas and along the streets, and the fountains would have been decorated with flaming red poinsettias. Candles would be lighted in every home, and light would illuminate all the streets and the main Square. The ambience of the place would be magical. Antonio felt overcome with homesickness. 
He sighed. He would go to the barn and feed his criolle cattle. They were fine specimens and had heartened him after he had watched his field of wheat in Nueva Iberia rot because of the oppressive humidity during the hot summer. Antonio had bought five head of cattle to graze on the prairie extending west from the Rio Teche near Lac Flammand. He felt that the cattle symbolized good fortune, and he was moving on to a better life in the New World. Now, he looked out at the lake, a large mirror in the middle of the prairie and felt a little ashamed of "boudaying," as the Acadians called pouting. 
However, he was still frowning when Félicité came around the corner and ran up to the galerie. Her black face glistened with raindrops, and she shook herself like a dog shaking off water before she sat down on the cypress bench that stood against one wall of the galerie. Félicité, a woman who had been smuggled into the port at New Orleans, Louisiana from the West Indies, had been nursed back to health by Antonio when he had taken his mother to New Orleans and had been forced to stay at the Ursuline Academy where his mother contracted smallpox. Antonio had brought Félicité with him when the family returned to Nueva Iberia. He had also built her one of the maison de poteaux en terre (a house of posts in the ground) near the Romero cottage. Félicité knew home remedies for illness and had saved the lives of many of the colonists. She was also a seer. 
"Why are you such a master of gloom this morning?" she asked Antonio, speaking in French.  
"Is rain falling and the bayou rising at Nueva Iberia?" Antonio scoffed. "Is it Christmas Eve and is my father still at war?" he asked. 
"Soulier Rouge, chief of the Chitimacha, has predicted the rain will stop. He knows about such things. And are your feet dry? I don't see a drop of water on this galerie. Are your mother and sister well and your mother finally recovered from all her sicknesses — malaria, smallpox, and her malaise from when you first came here? Do you see any water moccasins on this high ground? Did the old Ursuline nun tell you all would be well?" 
"Yes, but..." 
Félicité stood and looked down at him. "My grumbling friend, I thought you had become a man by now," she said disapprovingly. She turned and went into the cottage, and as she opened the door, Antonio glimpsed the Lady of Lourdes statue on the shelf he had made for his mother for the small parlor. On the floor before the shrine, Francisca had placed a Nativity scene that he had carved for her to duplicate the one she had left in Málaga. It was part of the Christmas celebrations on Christmas Eve in Málaga, but gifts wouldn't be exchanged until January 6 during the Feast of the Epiphany. Shame suffused Antonio's face as he thought about how his mother had renewed her faith since settling at the vacherie. 
Antonio looked at the gleaming lake unblemished by fog and suddenly realized that the rain had stopped falling. In the distance, he could hear fiddlers tuning up in anticipation of the dance he'd enjoy that night. Claire would be there — Claire with her curly black ringlets and those deep hazel eyes. Antonio smiled at the thought of her dancing both the Acadian Waltz and the Verdiales in her bare feet. His heart missed a beat.  
He heard a horse whinnying and looked down the rutted road that led to the Romero vacherie. Peering into the distance, he tried to identify the rider. Who was the man with the heavy growth of beard and long, uncombed black hair? Surely it wasn't... it couldn't be the man who had left them to fend for themselves on the swampy land that they had finally been forced to desert. The rider reined in his horse at the side of the galerie, and Antonio stared in disbelief. It was his father! 
"My son," Juan said, leaping from the horse onto the galerie and enfolding him in his long arms. "Did you build this place?" He waved a large hand to include the cottage, a barn, and the expanse of prairie. 
"I did," Antonio said simply. "I knew you'd want a home if you ever returned." 
Juan winced and bowed his head. "Bouligny is a good man and a great leader, but he's a military man," he said. "He really likes to fight battles, and I joined him in his campaign because I felt we owed him for giving us a place in the New World. But I've been plagued with guilt about not taking care of my family since I left Nueva Iberia. I must talk with your mother. Is she still angry with me?" 
"She's been fought over by Malagueños and Acadian men ever since you left," Antonio said mischievously. "Right now, she and Félicité are preparing for tonight's feast. We'll celebrate it with the Acadians who have helped us survive. They're hard working people, but they also like to 'pass a good time,' as they say. You'll see. And you'll meet the girl who'll become my bride as soon as she reaches her sixteenth birthday." 
Juan smiled. "You're too young to marry." 
"I've been old enough to take care of this family and build this vacherie, while you followed Bouligny," Antonio retorted. 
"I can't argue with that," Juan said. He turned to go indoors, and Antonio couldn't resist telling him what the old nun at the Ursuline Academy had said when he left New Orleans: "Julian of Norwich said that all shall be well and all shall be well. I hope you'll come to believe that." 
Antonio wondered how he could "bouday" all day and then suddenly reverse his mood enough to blurt out the next words: "We've not only survived, but we've thrived." He wondered if his father heard him as he had already entered the cottage, but Antonio suddenly realized that he felt pride in what he had accomplished during his father's absence.  
That night Antonio watched his tall, handsome father dance a slow Acadian waltz with Francisca. Juan had shaved his beard, and Félicité had cut his long black hair because Francisca refused to touch the greasy, matted strands. When Antonio and Claire stopped dancing, they walked down to the lakeside, and he felt an exuberance he hadn't felt all day.  
 Perhaps it was the presence of Claire beside him... or perhaps it was the Christmas gift of his father's return home. Perhaps it was just the sight of a clear night with a large, brilliant star winking overhead as it had before the birth of the infant Christ... but in that moment of exuberance, Antonio understood what the Acadians meant by joie de vivre (joy of living). Seeing the star, he also experienced a revelation: despite floods, wild animals, mosquitoes, failed crops, the diseases of the New World, and the stifling curtain of heat, the settlers of Nueva Iberia would always be blessed... because they were part of a divine plan that would endure.  
Editor's Note: The character, Antonio Romero, appears in the author's young adult novel entitled Flood on the Rio Teche, along with salient facts from the same novel. 
Today
,
In Print
Acadiana LifeStyle
paul schexnayder
diane marquart moore