Sports Apps
10/08/2013 11:23AM ● Published by Christy Quebedeaux
Acadiana LifeStyle Takes The Guesswork Out Of App Selection
By Gail Suberbielle
With thousands of apps out there for your smartphone or tablet, it can be hard to make a choice without cluttering up your phone or cutting into your wallet with apps you'll never use. To take some of the guesswork out of app selection, we've highlighted a few of our favorites. Most are available for iPhone or iPad, although some also are offered for Android or other smartphones. 
Sports Apps
Watch ESPN®
Away from your television for the big Monday night game? With the Watch ESPN app, viewers can stay connected to live sports and shows from all the ESPN networks – ESPN, ESPN2, U, News, Deportes, and Goal Line. Watch live events, such as college football/basketball, all four Grand Slam tennis events, major league baseball, NBA regular season and playoff games, and much more. Select viewers also have access to ESPN3 (U.S. college students and military personnel, and fans who subscribe to participating high speed internet providers). The app features an easy-to-use search menu and a live toolbar featuring live scores and stats. Cost: Free.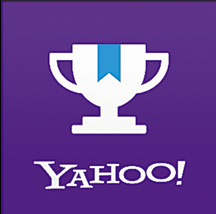 Yahoo Fantasy Sports Football®
With football season upon us, it's time to get your fantasy league up and running, if you're taking your fan experience to another level. Yahoo's app has been newly redesigned to rave reviews and features mobile drafting that allows you to pick players (in live and mock drafts) and chat with other managers in an easy-to-use interface. The app features player stats, real-time scores, news and more, and users even receive post-draft report cards grading their drafts, further enhancing the fan experience. Got an injured player? This app lets you smoothly replace him with your backup and head back into the game! Cost: Free.