Advocate Of Heritage And Culture

09/27/2013 01:58PM ● Published by Aimee Cormier
By Michelle Matthews Calloway
Converse with Luis Mora and you experience first-hand the warmth of "Old World" charm and grace. A soft-spoken, genteel man, Mora is currently the operations manager of SynerITG, a company founded and run by his two sons and a board member of the International Trade Development Group, part of the International Center of Lafayette city government. 

His illustrious career in architecture, and oil and gas spans service as a field superintendent of production and work overs for the former Esso Corporation, now known as Exxon-Mobile. Mora's tenure with Exxon also included a 10 1/2 year stint in Malaysia, South East Asia where he managed, built and improved offshore facilities, trained personnel, established budgets and supervised as a team leader for the construction of Exxon's largest gas facility. 
Mora's diverse professional and personal background reveals a man who has traveled and lived on four continents around the world. His love of diversity and culture led him to become a co-founder of the Asociación Cultural Latino-Acadiana, sponsor of the widely acclaimed Latin Music Festival held annually in Lafayette and to serve on the steering committee for the El Festival Español de Nueva Iberia which will be held this year for the second time in New Iberia.
Early Influences 
A resident of Lafayette for over 50 years, Mora is a quiet, yet passionate advocate of the preservation, immersion and fusion of Latin heritage and culture in the Louisiana landscape. Born the eldest of five and raised in Bogata, Columbia, Mora says that his father, a civil engineer, was an early influence on determining what would become his future life's work. Some of Mora's German relatives on his Mother's side of the family were also engineers. "My great-great grandfather helped to build the harbor in Hamburg, Germany," Mora says. Despite the pervasive influences of his rich family history, Mora said he eventually elected to switch to something for which he felt he was more suited: architecture.  
Academics
Seeking to improve his language skills, Mora moved to the United States at the age of 20 and began his academic career at the St. Michael's College in Vermont. When the temperature dropped to 27° below zero, Mora decided to join a brother who was already living and attending college in Florida. "Miami was a beautiful place to live," Mora says. "I did very little studying but had lots of fun!"
After living, working and taking classes in naval design in Miami for several years Mora made a decision that ultimately would set the course for his life. His brother had heard that the University of Southwestern Louisiana (now UL-L) offered an outstanding program in agri-business with focuses on animal husbandry and agriculture, two sectors of the economy that were flourishing at that time. Mora and his brother decided to move to Louisiana and enrolled at USL to continue their studies.
Love At First Sight
Mora fell in love with Lafayette when he arrived. "It was 1964," he says. "This was a very small town; filled with extremely pleasant and friendly people. It was a much smaller community then. You could hear people speaking in French on the streets, and it was wonderful." Mora says he eventually learned to understand the language. He met and married his wife who hails from a French-Italian family in the town of Golden Meadow. "When I came to Lafayette, it felt like home," Mora says.
 Building Relationships
Mora quickly made friends at the university and became involved in student groups. The university reflected richness in multicultural diversity in both the student body and faculty. "At that time, there were more than 700 foreign students from Latin America alone," Mora says. Mora joined the Latin Student Association and became involved with on and off campus activities and events that both introduced and showcased Latin culture in Lafayette and the surrounding Acadiana area while enabling Latin American students to enjoy French and Cajun culture. 
Mora apprenticed at local companies before being hired by Exxon and accepting a job opportunity in Malaysia. He lived there with his family for 10 1/2 years, yet the ties to Louisiana were strong. Mora moved his family back to Lafayette and once again became active in Latin affairs in the community. Mora, along with 12 others, went on to co-found the Asociación Cultural Latino-Acadiana, popularly known as the ACLA. 
ACLA
The ACLA's mission statement reveals that it is "an organization at the service of the Acadiana community in general and its Latin American members in particular." Under Mora's leadership the ACLA purposes to promote among its members, their families and those within the Latin community fundamental values that place GOD, COUNTRY, FAMILY and FRIENDS at the center while preserving the Latin heritage.
Mora and the organization engage in fundraising activities to help them implement programs in the community designed to assist citizens of Latin descent living in Acadiana. ACLA purposes to help Latin citizens by making them aware of resources, facilitating their learning the language and apprising them of their obligations and rights. The overarching goal of the ACLA is to ensure Latin citizens develop into responsible and productive members of the Acadiana community.  
Mora says he appreciates the receptivity and helpfulness of the parish president, council members and residents of Acadiana. "The Acadiana Center for the Arts and the Louisiana Department of the Arts have been very helpful," Mora says. "We have been blessed with all the help and guidance they have provided."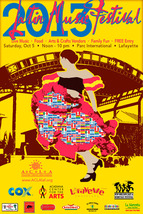 Latin Music Festival
In a quest to fuse the richness of the Latin culture and share in Acadiana's historic and diverse traditions, Mora and the ACLA launched the Latin Music Festival in 2002. The free Festival scheduled this year for October 5 from noon to 10 p.m. at Parc International in Lafayette spotlights the best of what the Latin culture has to offer via food, live music, folklore and art. "We want people to enjoy our culture and know what we have to offer," says Mora.
As with any non-profit organization, volunteers and donors are always needed and welcomed. "We always appreciate and welcome those who are willing to volunteer their time or resources," says Mora. "It's true; every bit helps." If you are interested in volunteering or learning more about ACLA or the music festival visit the organization's website at aclalaf.org.
New Iberia Connections Established 
In addition to his pioneering work in expanding the recognition and appreciation of Latin culture in Lafayette, Mora also holds the distinction of an active participant on the steering committee of El Festival Espanol de New Iberia says Jane Braud, who along with Ebrar Reaux, Dr. Catherine Segura, Becky Owens and Paul Schexnayder founded the Festival to celebrate the founding of New Iberia by the Spaniards from Malaga in 1779. Mora shared his experiences with co-founding Lafayette's Latin Music Festival and rendered valuable insight to New Iberia's festival organizers. The second El Festival Espanol de New Iberia is scheduled in downtown New Iberia for November 15-17.
Future Plans
Mora states that he intends to continue serving on the board of ACLA and facilitating the seamless fusion of Latin citizens into the Acadiana mainstream through charity work, Big Brother – Big Sister and Spanish immersion programs in area schools. "Studies show that students participating in immersion programs do better in school," Mora says. 
Mora also plans to continue enjoying the richness of the cultural diversity the area has to offer. He and his wife are the proud parents of three children; Luis, Jr., Margarita Elana and John Luis, and have three grandchildren.
Shop+Eat+Drink
,
Life+Leisure
,
Today
,
In Print
Acadiana LifeStyle
parc international
luis mora
latin music festival