Murder, Mystery and Mayhem
06/24/2013 08:00AM ● Published by Aimee Cormier
Reviews By Ray Saadi
FEAR In The SUNLIGHT By Nicola Upson (Bourbon Street Books, $14.95)
Noted crime novelist, Josephine Tey is celebrating her fortieth birthday in the village of Portmeirion, North Wales, with many friends and visiting Director Alfred Hitchcock, who wants to film her latest mystery. In nothing flat, two vicious killings occur, igniting the interest of vacationing Chief Inspector Archie Penrose. Years later when the movie set for Hitchcock's "Rear Window" is dismantled, three bodies were found in one apartment leading Penrose to find a connection to the incidents at Portmeirion. Hey, is it possible Hitch has something to do with the murders?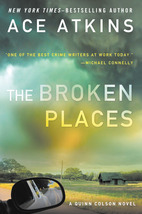 THE BROKEN PLACES By Ace Atkins (G.P. Putnam's Sons $26.95)
Quinn Colson, back from Iraq and now sheriff of Jerico, Mississippi, is furious that his sister intends to marry an ex-con who claims to have "found Jesus," built a church, and assumed the role of pastor. Meanwhile, Quinn's on the lookout for two armed convicts who've pulled off an "impossible' escape from Mississippi's Parchman prison and are headed his way. They're searching for the "preacher" who they believe has the loot from an armored car robbery and they'll kill to get it. To further complicate matters for Quinn, weather forecasts warn of an approaching major storm that could devastate Jerico.