Looking for a Good Read?

04/05/2013 08:09AM ● Published by Aimee Cormier
By Ray Saadi - Book Editor

JEFFERSON
By Jon Meacham (Random House $35)
Meacham's observations of Jefferson, as statesman, politician, author of the Declaration of Independence, and third U.S. President, are contrasted with his portrait of the man behind the historical figure; the farmer, gardener, architect, (especially Monticello) and horseman. Jefferson sent Lewis and Clark to explore the West, and oversaw the Louisiana Purchase. While abhorring slavery, he had some six hundred slaves, mostly inherited from his father and father-in-law. Jefferson bought only sixty, the others born on his lands. He was a Christian but rewrote the bible to suit his beliefs. This, in my opinion, is the best biography ever of Jefferson.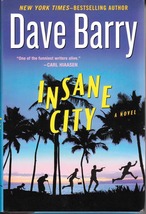 INSANE CITY
By Dave Barry (G.P.Putnam's Sons $26.95)
Seth Weinstein is on his way to Miami to marry Tina, an amazingly beautiful woman who is so far above him in money, education and status, he can hardly believe it. Traveling with him is his Groom Posse, three friends whose pranks are designed to upset the festivities, and succeed. In Miami, Seth rescues a Haitian refugee and her two children who, along with a "stripper" ordered up by the Groom Posse, become firmly ensconced in the lavish suite provided him by the bride's billionaire father. Add a sea battle between a Pirate ship and tour boat, an orangutan and giant python, and the insanities are only just beginning.
For a full list of reviews, pick up our April issue on stands now!
Life+Leisure
,
Today
,
In Print
book review
jefferson
insane city