Cosmetic Enhancements
04/05/2013 07:44AM ● Published by Christy Quebedeaux
By Lisa Hanchey
Spring is here, so now is the time to do a little freshening up. However, your home might not be the only thing that could use some retouching. With today's latest cosmetic enhancements, it's easier than ever to get a new and improved look.
Filler 'Er Up
"If you compare pictures of yourself when you were younger to today, you see that we start losing volume around the eyes and at the temples," says Dr. Jeffrey Joseph, board-certified facial plastic surgeon and board-certified otolaryngologist with Acadian Ear, Nose Throat & Facial Plastic Surgery Center who practices with Drs. Bradley J. Chastant and Jennifer Daigle Hanby. "So, what we are doing now is using volume replacement as well as fillers."
For replacing lost volume in smile lines around the mouth and lips, Dr. Joseph uses hyaluronic acids such as Restylane and Juvederm. Results can last for six months to a year.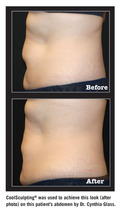 Freeze Frame
Have you tried losing weight but still can't get rid of those belly rolls, love handles, muffin tops or back bulges? What if you could just freeze that excess fat way? Now you can, thanks to Cool Sculpting, a noninvasive FDA-cleared procedure which uses cryotherapy, a targeted cooling process, to destroy fat cells. "It's a machine that literally freezes small areas of fat," says Dr. Cynthia Glass, board-certified plastic surgeon and owner of Coccolare Spa. "It is permanent fat loss."
Unlike liposuction, Cool Sculpting is completely noninvasive and leaves no scars or bruising. Cool Sculpting is not indicated for weight loss, but only to remove small areas of stubborn fat.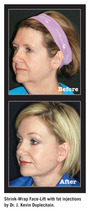 Shrink-Wrap Face Lift
Want to look 10 to 20 years younger but with better skin than ever? Try the Shrink-Wrap Facelift trademarked by Dr. J. Kevin Duplechain, board-certified facial plastic and reconstructive surgeon. This process combines laser resurfacing, fat grafting and a deplane face lift.
"We basically reshape the face in the way that it was maybe 10 or 20 years ago," he says. After performing the face lift, Duplechain injects fat harvested from the abdomen and spun to create a concentrated cell population. Finally, he uses a laser to "shrink-wrap" the face.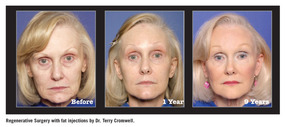 Regenerative Surgery
Regenerative surgery, which uses stem cells derived from fat to regenerate some types of tissue, is one of today's hot topics in plastic surgery. Dr. Terry Cromwell, board-certified plastic surgeon with Plastic Surgery Associates who practices with Drs. Darrell L. Henderson and Louis Mes, uses carefully-controlled fat injections to improve appearance. Through liposuction, he removes fat cells, then gently re-injects them into the area to be reconstructed. This technique is used primarily in breast reconstruction (post-lumpectomy), filling in defects from irregular liposuction and in face lifts.
To read the complete story pick up your copy of Acadiana LifeStyle at any of our locations.