More than a Citizen

02/16/2013 12:49AM ● Published by Mimi
My close friend, Phanat Xanamane, has been recognized as the Citizen of the Year by the Daily Iberian. I couldn't be more proud of him and the work that he has done to deserve this award. The Daily Iberian honored him on Wednesday, February 20  and while I am disappointed that I was not able to attend this ceremony, I feel moved to share my own personal experiences with this great man and provide a more complete picture of him as not only a citizen, but also as a colleague and a warm-hearted, generous and true companion.

I remember the day I met Phanat. We sat across the room from each other (because of alphabetical seating) in seventh grade biology class and discovered that we had a practically identical seventh grade schedule. During our Gifted and Talented classes our bond cemented in the openness of smaller classes that allowed us the creative freedom to fully express ourselves. Together we made the treck from Belle Place to Iberia Middle, but it wasn't until Freshman High (now Westgate) that we became true comrades. I remember that we used to joke around so much that our English teacher had to separate us; and I also remember the pure joy in discovering this young man's many gifts. 
I have many examples.
It wasn't uncommon for Phanat to be sitting at his desk, perched in silence while concentrating on an assignment... and gently starting to sing: "Feelings.... nothing more than feelings.... trying to forget my.... feelings of love..."

His acting talent became apparent when one morning before school he began to reenact a sketch from Saturday Night Live. Specifically, I believe it was a Cheerleaders sketch by Will Ferrell and Cheri Oteri. From that point on and all throughout high school, nearly every Monday began with a repeat of SNL.
I learned at prom that Phanat was quite the dancer.
During our senior year, we worked together on our Physics assignments. Science wasn't a particular strong suit for either of us, but our projects looked spectacular. The first time I visited Phanat's house was during the construction of our Rube Goldberg experiment. It was a profound experience for me to have been invited to the home of a family of Lao immigrants living on Hopkins Street. 
Of course I had no idea at the time that New Iberia's Asian population was such a unique cultural asset; in fact, I was barely aware of this sociological facet of my hometown until an encounter with a sociology graduate student in Seattle informed me otherwise. I asked him if he knew Phanat, and he didn't. But he did know about the immigrant enclave in rural South Louisiana, about the Buddhist Temple, about the banana trees gracing wide driveways from the West End of New Iberia to Coteau and beyond. 
Throughout this dialogue I learned a valuable lesson about New Iberia, because up until that point I thought everyone's experience of this town had been the same as mine. I was finding out the context of Phanat's life, learning about the history of the Lao immigrant community and why his mother was wary of him spending time with his adoring fans of white girls. 
After graduating from NISH, I found out that Phanat could throw a party. People still talk about that party: Handmade invitations wrapped in banana leaves announced the upcoming celebration. I remember a pig on a rotisserie, a swimming pool, leis, hula dancers, a warehouse transformed into a ballroom, and maybe some fireworks. 
After graduation, Phanat went to UL in Lafayette and I moved to New Orleans to attend Loyola. As we both transformed into adults, we saw each other less and less. I went to Germany, he went to New York, I went to Seattle, he went to Thailand. Eventually, through Facebook, we realized that we had both moved back home to New Iberia and agreed to meet for coffee.
Working with Phanat to realize the potential of New Iberia has rekindled our friendship in ways more meaningful than I would have imagined. He has been a true partner along every step of the way, revealing himself to be a man with integrity, honor, foresight, and generosity.
He has a warm, gentle heart. Even though he would prefer not to. 
He means everything he says. Everything.
To Phanat, life really is a musical. I've never seen him happier than when he is performing.
He has an enlightened world view, contagious enthusiasm, and an evolved mind. 
Phanat Xanamane is more than the Citizen of the Year. He is a gift to his hometown and those who have the pleasure of knowing and loving him. And if I know him at all, this is only the beginning-- not only for himself, but for New Iberia as well.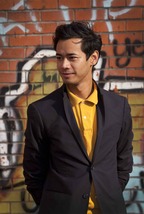 Shop+Eat+Drink
,
Life+Leisure
,
Today
,
Home+Garden
,
Health+Wellness
New Iberia
envision da berry
amelia cronan
phanat xanamane
citizen of the year
art
culture
entertainment
west end