The Tortoise Resort
01/31/2013 03:01PM ● By Aimee Cormier
These "Little Dinosaurs" Make Fascinating Pets
By Lynn Castille / Submitted Photos
What starts out small and ends up bigger than you think? Tortoises, that's what. Gregory Schmidt, D.V.M. and his wife Katherine love reptiles, but their particular passion is for tortoises. So much so, they started The Tortoise Resort in Vermilion Parish, a small family-owned farm ripe with turtles, tortoises, furred and feathered friends.
Dr. Schmidt says he always loved reptiles and had several as pets growing up. While in veterinary school he rescued an African sulcata tortoise and the rest is history. His wife Katherine also loves reptiles, especially their tortoises. She says, "We enjoy having them as pets; this is our hobby." Tortoises and turtles are both considered reptiles, the difference being those that live in water are called turtles, and those that live on land are called tortoises.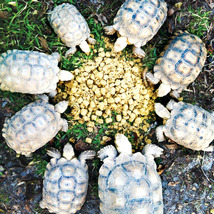 A Clutch Of A Different Kind
Katherine says a female tortoise can lay a clutch of about 30 eggs, three to four times per year. The female tortoise digs a narrow hole in which to lay her eggs and then uses her foot to push dirt to cover the nest. She then walks away. According to Katherine, "They are not very good mothers." After the eggs are laid, Dr. Schmidt and his wife dig up the nest and incubate the eggs inside. Not all the eggs will hatch. Katherine says the warmer the temperature during incubation the more likely the tortoise will be born a female. But it's very difficult to determine the sex of a tortoise. The female tortoises are less friendly and the males more friendly towards people, says the couple, however the males are often separated because they are aggressive towards each other.
Dr. Schmidt says a tortoise typically adds on five to 10 pounds per year after they reach 20 pounds in weight. He adds, "People don't realize how fast they grow." Katherine reiterates this by saying, "A tortoise starts out cute and small, but five years down the line it's not an indoor pet any longer." So, when deciding on a tortoise as a pet, space is a consideration.
The African leopard tortoise can grow to about 40 pounds, whereas the African sulcata tortoise can get as large as 200 pounds. That's a lot of turtle. And as far as longevity goes, Dr. Schmidt says sulcatas can live to be 50 years old with the potential to live much longer in captivity with the proper care. However, he says in their native environment only about one out of 20 survives to adulthood. Chester, the sulcata male, currently weighs in at 80-85 pounds, is very friendly and visits local schools with Dr. Schmidt for career days.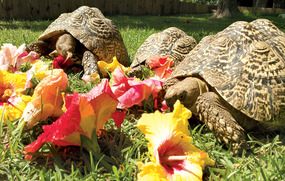 Inhabitants At The Resort
Usually tortoises graze on grass and weeds, but they can quickly turn a grassy area into dirt and mud unless their grazing areas are rotated. Tortoises also love hibiscus leaves, fruit and succulents, such as aloe vera. "They also love watermelon," say the Schmidts. The couple supplements the tortoises' vegetarian menu with the Mazuri tortoise diet, a pellet food, because tortoises do better on high-fiber diets. Fiber and sunlight are the two most important elements to keep tortoises thriving. Leopard tortoises graze the most and need pens rotated to new pastures often. The tortoise enclosures can't be see-through either, as they will bulldoze through it. "And each tortoise has its own personality," says Dr. Schmidt. "They are hand-reared and super friendly, because they associate people with feeding."
The Tortoise Resort inhabitants currently include a rescued red-footed tortoise, a native of South America named Barbiettie; a female sulcata named Franklin (who turned out to be "Franklinette"), Chester, a male sulcata; three rescued leopard tortoises; and nine of Franklinette and Chester's babies, fondly referred to as "the juveniles."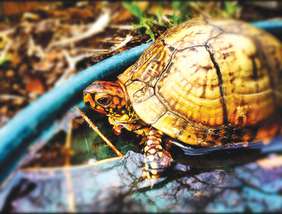 The Schmidts are also caring for newly-hatched leopard and sulcata hatchlings, as well as several incubating tortoise eggs. Incubation periods can vary from three to six months or longer, depending on the species. They also have a few Gulf Coast box turtles, native to Louisiana. The box turtle can live outside all year long because they are adjusted to the climate here and are low maintenance. Gulf Coast box turtles grow to about one to two pounds in size, but there are not many left in the wild because the native population has been depleted due to habitat destruction. "But now you can come get them from us," Katherine says, "they make a good pet."
The larger tortoises live outdoors at The Tortoise Resort most of the time. Most tortoise species are used to a warmer climate and therefore special living conditions must be accommodated for. During the summer, Franklinette, the female sulcata, likes to frequent her burrow in the yard. Dr. Schmidt says in their natural habitat, tortoises like to burrow into the ground. When the weather turns too cold the couple uses igloo shaped dog houses with heat lamps to house their tortoises. And the tortoises do know their houses. In winter, tortoises slow down because they are cold, so the couple checks each night to make sure every tortoise made it safely into their house. The three leopard tortoises are cohabitating in an igloo really well, with Chester and Franklinette living together in another, while the juveniles have their own igloo.
For those thinking about getting a tortoise as a pet? The Schmidts say, "People just love them; they are active and fascinating, not offensive pets with the appropriate care and food from you." Katherine adds, "It's like having little dinosaurs out there."
To learn about these fascinating creatures, their care and much more visit www.tortoiseresort.org. For more information and questions on relinquishing pet tortoises, or purchasing a tortoise of your own, email TortoiseResort@gmail.com.