Savvy Brides Combine Eastern & Western Customs

01/31/2013 10:25AM ● Published by ALS Editor
Gallery: Eastern & Western Customs Combined [8 Images] Click any image to expand.
Savvy Brides Combine Eastern & Western Customs
By Cheryl Robichaux
Today's brides have so many outlets to help them plan the wedding of a lifetime. They may search through magazines, Etsy, Pinterest, Facebook, etc. and download the latest apps to discover their true style. Read about how these two Acadiana brides merged Eastern and Western world customs to create their perfect weddings.
Exotic & Unique Touches
Amber Thibodeaux
& Jonathan Poche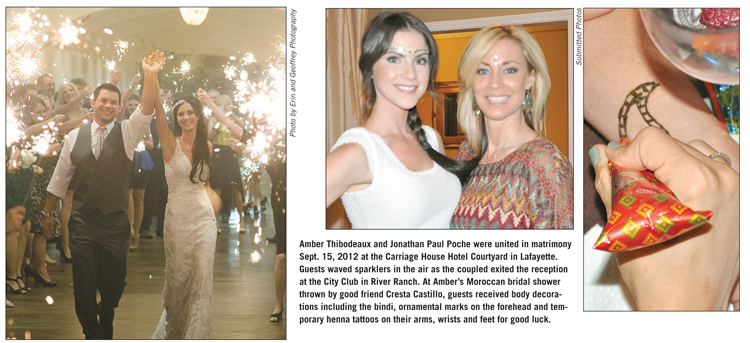 There was nothing ordinary about Amber Thibodeaux Poche's Moroccan-themed bridal shower. By the time it ended, Amber and her six bridesmaids all resembled beautiful Arabian princesses. Cresta Castillo, Amber's good friend, had previously resided in Abu Dhabi, which was the inspiration for the bridal shower theme. Silky linens purchased from local craft stores were used on all of the tables to provide just the right atmosphere.
Moroccan custom dictates that symbolic motifs be painted on the bride and bridesmaids' wrists, arms and feet as a lucky charm for her new life. "We all painted our own temporary henna tattoos with customized stencils that were presented to us," says Amber. "Our foreheads were decorated in sequins and paints."
Cresta presented silver necklaces to the bride and bridesmaids as a gift with each woman's name engraved in Arabic. The necklaces were each placed in elaborate, colorful Moroccan-style jewelry boxes. Amber chose two separate headpiece styles for her bridal portraits and the wedding day. The headpieces were actually the favorite parts of her whole ensemble. After extensive research, she purchased the bridal portrait headpiece from Etsy. The one she wore on her wedding day was a Swarovski crystal headpiece discovered at a bridal boutique in Palm Springs, Calif.
Her chic, romantic southern wedding was held outdoors in the Carriage House Hotel Courtyard in Lafayette. Amber and Jonathan didn't have the traditional bride's side and groom's side for their guests. "We simply had a sign at the entrance that said, 'As two families are becoming one, we ask that you choose a seat and not a side,'" she explains. "I purchased a 2x3 foot chalkboard online, got some chalk, handwrote the note myself and added a few embellishments on the border for an elegant touch."
Instead of a flower basket and a ring pillow, Amber's flower girl held an old copper tea kettle that belonged to her great grandmother and it was filled with flowers. The ringbearer held a sign that read, "Here comes the bride." Once the couple were wed and began to walk down the aisle after the ceremony, the ringbearer moved the sign to the opposite side which read, "The Poches est. September 2012."
The wedding reception held at the City Club featured Mediterranean-infused pasta dishes. Artist Alex Harvie created a live oil painting of the couple's first dance together as husband and wife. It is their most treasured memory from the wedding and also was actually their wedding present to one another.
At the reception Amber let her hair down, literally. She and her father each played the washboard with spoons alongside the live band. With a Cajun surname like "Thibodeaux," Amber and her dad entertained the guests, much to everyone's delight.
A special memory table was set up to honor Jonathan's father who passed away. There were cherished pictures placed on the table along with a memory candle burning, and a sign that read, "In memory of those who are forever present in our hearts."
Brooklyn Poche, daughter of the bride and groom, was the special guest. Throughout the ballroom for the reception, pictures of Amber and Brooklyn from their bridal photo session were displayed. 'She tagged along with me to take those special portraits since it was our big day as we all became a family," relates Amber.
As the couple departed the reception, their guests sent them off with lit sparklers—definitely more exciting than throwing rice or blowing bubbles. "Our wedding celebration turned out exactly the way I always imagined it, maybe even a little bit better," says Amber. The family resides in Youngsville.
Two Worlds In Harmony
Khanxay Philavong
& Chase Simmons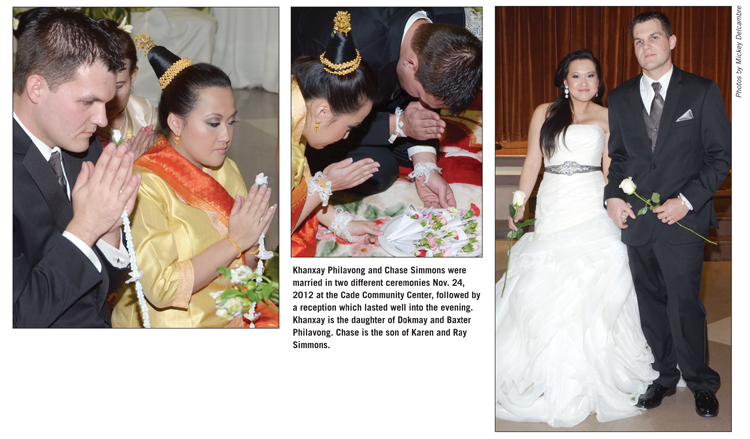 Khanxay Philavong Simmons wore three different dresses during her two wedding ceremonies. She and her groom decided to have two separate ceremonies because of their different cultures and religion. Khanxay is Buddist while Chase Simmons was raised Catholic, and their double weddings served to bring their families together with respect to their cultures. After all, not every bride can say she married the same man twice on the same day.
The Asian ceremony began at 5 p.m. on Nov. 24, 2012 at the Cade Community Center. According to Buddist and Laotian culture, everyone must take their shoes off in order to sit or walk upon the oriental rug. Khanxay wore the traditional Laos wedding dress which is called "Laos Sinh." The orange and yellow goldish dress was paired with the headpiece, or "pak pin gow." Her hair was upswept into a tight bun and adorned with a gold necklace, golden bun pins and decorations to match her dress.
A silver tray called "Khan" held money, gold and rings. Chase bought 4 ounces of gold as part of the dowry for his bride's hand in marriage. In addition he had to find and buy Khanxay's parents a cow. He ended up butchering the cow as well with a bit of assistance from his best man.
The couple knelt in front of two intricately-detailed green trees called "pak Kwan." They symbolized the bride's family and the groom's family and were decorated with white flowers. The white strings all around the tops of the trees connected to symbolize the joining of two families. The white string was long enough for both Chase and Khanxay to each hold one end. They lit the candles on top to begin the joining of their families with the elders' prayers and blessings.
The lovely paper bouquets which held money, flowers and candles were gifts bestowed upon the elders. "As Chase and I handed our gifts to the elders, they tied our hands with string and wished us luck, joy and happiness," explains Khanxay.
After she changed into her white, strapless Vera Wang wedding gown and let her hair down, the couple exchanged vows and rings during the American-style ceremony. Khanxay eventually donned a lace gown from the Vera Wang white collection.
The food, drinks and candy at the reception symbolized a bountiful life together.
The menu included Asian cuisine such as eggrolls, fried rice, fish soup, sesame balls, an Asian tossed salad along with roasted duck and roasted pig.
The American fare included tuna and chicken sandwiches, meatballs and cupcakes. Khanxay laughs and says, "Chase and I were so busy, we didn't even get to taste any of the food."
The entertainment at the reception was a combination of Laos and Thai music as well as American songs, and the dancing continued until very late in the evening. The couple, along with their two sons, Alex and Braydon, reside in New Iberia.
Life+Leisure
,
Today
,
In Print
cheryl robichaux
weddings
brides
wedding customs
reception