The Wedding Rings
01/31/2013 09:48AM ● Published by ALS Editor
Fitting Your Desire, Style & Relationship
By Barbara Gautreaux
The excitement and joy of being in love and wanting to spend the rest of your life together can be expressed through a couple's wedding rings. These enduring symbols of love are an opportunity to show the world the desire, style and unique elements of the couple's relationship. Future brides and grooms will search for those special rings that say to them, 'I want forever to start right away.'

Couple's Decision
Genee' Lanza and Brian Theriot of Lafayette dated for four years before selecting an engagement ring and announcing their intentions to family and friends. Genee' says the ring wasn't a surprise for her, because she helped pick out a style she loved. "I really didn't want to be surprised. I didn't want him to try hard to pick out a ring that I would like and then to maybe have to tell him that I preferred another one," she says.
Jewelers agree that today's couples make purchasing an engagement ring a mutual decision. "Engagement rings are much more customizable today, with different styles and budgets available," says Eric Armentor, of Armentor Jewelers. He has more than 41 years experience in jewelry sells, with locations in New Iberia, Abbeville and Lafayette. "When it comes to such an important piece as an engagement ring, the couple looks for something special and individual. There is more involvement in deciding on a ring, and we find it is more of a group decision."
Eric says couples today give their wedding rings more thought, and are generally "more worldly," using the Internet and other media to see what is available. Armentor Jewelers offers a custom signature collection designed by Eric's son, Michael Armentor. From their website, armentorjewelers.com, brides-to-be can save a Michael A. design to their Pinterest page.
"Today jewelers use a customizable program, where they sit down with the client and show them on the computer designs and patterns to see what their ring will look like. People are much more sophisticated," says Eric. "They want their ring to have a little bit more flair. They can have diamonds down the sides, or they can see what intricate engraving looks like instead."
Genee' is delighted with her decision to be part of the selection process. "I had my heart set on a ring style and I am very happy with what we picked out."
Fancy Diamond Styles
Paul's Jewelry, with locations in the Oil Center and River Ranch, has been providing engagement rings since 1954. Family member Patricia Naomi says engagement rings today are featuring vintage-inspired mountings and intricate placement of diamonds to highlight the center stone. "Rings have diamonds down the side, or around the diamond, which adds brilliance and makes the center stone look bigger. It is very popular," she says.
Currently, the most popular metal choice for engagement rings is white gold, finished with a polished, rhodium plating. This white gold is graded the same as yellow gold, and sold as 14 karat or 18 karat. With the addition of a silver-colored metal to yellow gold, the white gold is hard and strong, resisting wear. Patricia says European rings are almost always 18 karat, while rings in the U.S. are usually 14 karat. "For day-to-day living they both wear very well. The 18 karat is a richer look, it holds its luster and it is a higher gold content, so therefore the ring is more valuable."
For couples who wish to incorporate a family heirloom diamond into their own wedding ring, Patricia says the couple can sit down with a Paul's Jewelry designer and bring new life to those stones. A popular setting today for a marquise-shaped diamond, according to wedding websites, is to turn the stone, creating an "East-West" horizontal setting. Also rising in popularity are twisted or architectural bands, a band with both white and yellow gold, stacking eternity or half-eternity bands, and bezel settings. Colored stones including yellow diamonds and blue sapphires are showing up in local engagement rings, after being popularized by royalty or celebrities.
Says Patricia, "I feel a diamond symbolizes forever, and I don't think anything says it more beautifully than a diamond. However, engagement rings today reflect the individual and some people find colors very meaningful to them." She says Paul's Jewelry has set engagement rings with two different colors of diamonds, per the customer's request. "The sapphires, or aqua marines, pink and yellow diamonds, they find these stones to be a reflection of their individual tastes."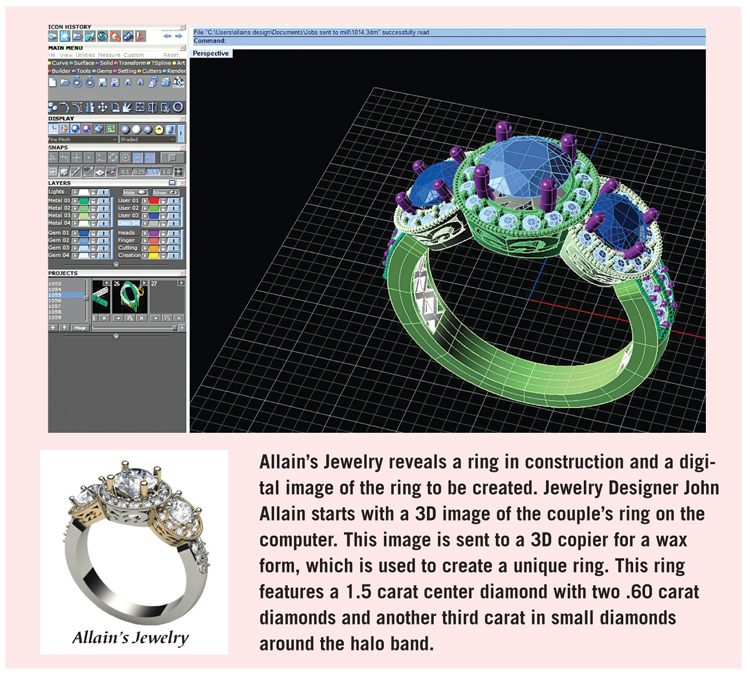 Modern Marvels
Allain's Jewelry in New Iberia offers couples seeking an engagement ring a high-tech design process that allows new options for creating a unique ring. In addition to designing a ring on the computer, Allain's has onsite a 3-dimensional printer that will create a wax model of the ring, which can then be used to form a finished product. "We are the only jewelry store in Acadiana that offers this," says Jere Cooper, a salesman and Allain family member, who works alongside his cousin John Allain, who operates the CAD design programs. "Anything the couple can think of we can design. If they have a sketch or a picture, we can start with that and have our in-house designer put the ideas on the computer in 3D. They can see the ring from all sides, in a digital picture."
"It only takes a few seconds for John to change the carat of a stone on the computer, so the couple can see the different sizes and different costs for making a ring that is right for them."
Once a design is finalized, the computer sends the data to the "grower" which builds the ring in wax. "We have the couple come in to see this rendering and have the bride try it on," says Jere. Once the ring is approved, it is cast in precious metal and the diamonds are inserted.
Jere says Allain's designers are only limited by a couple's imagination, which they see becoming more heartfelt and personal. Designs featuring the couple's names, or phrases such as "Forever" or "Always" can be engraved and enameled on the inside of the ring or on the sides. Popular styles from catalogs can be altered to create an individual ring, a one of a kind for that couple.
Color, Clarity, Cut & Carat
In addition to help in designing a ring, a jeweler should be helpful in explaining the four qualities in a diamond: color, clarity, cut and carat.
The highest grades are described as "colorless" and lower grades are white or lightly tinted. The clarity of a diamond is determined by the size and number of inclusions inside it, or anything that will interfere with the free passage of light, dimming its brilliance to the eye. This can also be influenced by its cut. If two diamonds of the same grade are side by side and one is slightly brighter than the other, the cut is the difference.
In a diamond, nothing is more brilliant than a round, with a standard round brilliant cut having 57 facets. Of all the factors of a diamond, the carat is easiest to understand. Smaller diamonds cost less per carat than larger ones.
Facts on purchasing a diamond can be found at the International Gem Society website, www.gemsociety.org, for anyone interested in gem stones.
His & Her Rings
The most popular wedding rings for today's brides is a round diamond with single halo, says Belinda Armentor with Ashley Jewelers. She has more than 44 years experience selling engagement rings to brides from her downtown New Iberia location.
"The engagement ring is often very petite on her finger. The center stone they want is 1 carat or better, but the halo and the stones around the shank—the band—are very tiny or micro set," she says. "They want that center stone to 'pop' and get the most attention." The small diamonds on the band are described as melee small diamonds, prong set. Belinda says the side view of the ring is also very important.
"Underneath the center stone is called the gallery. We can create a design to be seen from that side view. The popular design today is very filigree; it looks vintage. That is extremely popular today."
Belinda reveals that 90 percent of the rings sold by Ashley Jewelers are set in 14 karat or 18 karat white gold. "The bride that wants something different, what everybody else won't have, those are the brides that may decide they want color," she says. Belinda is joined in the family business by her daughter Jennifer-Ashley Armentor. The family-run business has built a reputation of trust with its customers, something couples new to purchasing jewelry should look for in a jeweler. "All these years I have almost felt like a doctor, because what my customers tell me stays in my store and they trust me. I have such loyal customers, and their children come here because they know me."
For the groom, Belinda says the men's camouflage wedding band is very popular. "We are such a hunting and fishing state, every man that lives here has a piece of camo clothing. The men actually love these and ask specifically for the camo rings."
The camouflage inlay rings are offered in several metals including tungsten and black zirconium. They have been available for more than a year. "I have sold camo rings to ladies that hunt," says Belinda. "This is the wedding ring that they wear to the camp. It is comfortable and fashionable for women or men."
Popular Diamond Shapes
David Stonicher of David's Jewelry Repair & Design says a bride fascinated by the cut of a diamond can have a setting custom designed for her. "Round diamonds, cushion, radiant, emerald and oval shapes are popular with brides that want to make their own engagement ring," he says. "The stones that brides see celebrities wearing are the cushion, radiant and oval. Anything that shows up in the magazines are going to be desirable stones."
Fancy cut diamonds are available in the square Princess cut, the rounded-corner Cushion cut, a heart, pear, marquise, radiant cut (stylishly square), the Asscher (square emerald cut), the Emerald and the Oval. A conversation with your jeweler will reveal what carat weights are available in these fancy cuts.
David has more than 33 years experience in designing engagement rings and stresses quality first. "We want our clients to see stones that are the size they want and also a high quality. If they have a little education about the diamonds, then they can decide what is important to their diamond."
David's Jewelry designs a ring from the client's imagination, creating the mounting perfect for the diamond. "We start from scratch and that design is unique." His jewelry store includes two mills and a work area near the sales floor. Customers can see David working in plain sight. "This is a trust based service industry. If you want to see the jeweler working on your ring, you should be able to. This way the customer has a better understanding of what is involved. It's a win-win situation."
Creation of a ring can take from three to four weeks, from conception to completion. He works with all metals, from platinum, to yellow gold to white gold. "I am seeing brides using their grandmother's rings to create a new engagement ring, and because gold is so valuable today, brides are choosing to have gold for their rings," says David. "If you want white gold, the combining of it with grandmother's gold is possible, but you can just use a little of that yellow gold."
See The Love
The ring a couple chooses for their engagement speaks to them, says Buddy Texada. He should know, since he began working with his father at the jewelry store when he was just 13 years old. Texada's Jewelry store in New Iberia will celebrate 50 years of business this year, and Buddy is still excited about the power of diamonds.
"Brides are interested in brilliant-cut diamonds because of their beauty. The center diamond can be any size the bride chooses and it can be enhanced with a halo mounting, which is very popular with brides today."
Today's sophisticated bride is interested in a diamond that is really made well, and Buddy feels the diamonds from Texada's are superior. "Some of these diamond rings feature an Ideal cut diamond that is so beautiful they talk to you, in a certain sense. They say 'Take me!'"
"A properly cut diamond will take the light and return it," says Buddy. "The couples can see the difference."
Cushion diamonds with their rounded corners are also full of beauty, he advises.
For brides wanting a special stone, Buddy will search for their dream. "We just selected an oval, peach-colored sapphire with white bagette diamonds on each side. A bride that selects a different color stone always wants to be unique."
What Buddy feels is a special part of selling a ring, is seeing the couples shopping together. "You see the love across the counter. You see that he and she care, and to see the reaction between them is undescribable. Love is still out there."
"We go out of our way to show we care because diamonds are memory makers and a sign of commitment."