Recycle, Reuse, Repurpose!
01/31/2013 08:20AM ● By Robert Frey
Blending Old And New To Create An Outdoor Haven
By Carol Stubbs • Photos by Mickey Delcambre
Necessity is the mother of invention. After getting wet one too many times when a sudden shower altered plans to grill outside, Robbie and Julie Bush decided it was time to cover their barbecue space. Putting a roof over the grill soon grew to a design for a new bar and grill and patio for entertaining. Sixteen years ago, when they moved into their house in Lafayette, the backyard was bare. Since then, they have gradually added landscaping, a covered porch, arbor and, most recently, a covered bar and grill with lights for night entertaining.
Julie, a multi-talented artist, designed each of the three entertaining areas in the back yard. To make room for the covered bar and grill, she removed six trees and flower beds and opened enough space for the bar and an expanded patio. She kept the design simple, adding a long bar with a place for the grill and shelves on one side to hold ice chests and supplies. A tile counter is the right height for bar stools, and landscape lights on a track under the metal roof provide the perfect lighting for nighttime. She embellished the front of the long bar with parts from an antique headboard. It's one of many things in her home she has repurposed to use in a more creative way.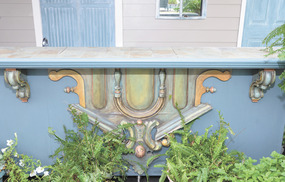 Before the bar project was started, Julie had bought an old walnut headboard to use its wood to build out a new mantel in the living room. She stored the remaining pieces and came up with a new use for them when designing the outside bar. The carved, Victorian style headboard was turned upside down and painted and antiqued in warm colors. New brackets and molding were added and painted to match. To balance the look, Julie found a smaller carved antique piece that complemented the headboard and added it to the design.
When determining how to reuse an antique, Julie's rule is, "If it has provenance or value, I don't paint it. However, if it has none of those things and can be repurposed into use, then I have no hesitation in cutting it down or painting it and giving it new life." When she buys an antique or old piece of furniture, she considers whether it can be repainted to fit with her décor or if parts can be used for other purposes. If she decides to alter it in some way, such as adding to the height or making it shorter, she may enlist the help of a carpenter.
"Repurposing is finding a new use for things," she says. "It can be an antique that is damaged or has little value in its present state, an interesting piece of furniture or an accessory like an old mirror or sconce." In using old things in new ways, Julie has made her house and patio into a unique and welcoming place for relaxing and entertaining.
Made For Entertaining
The Bush's bar and grill are located off the kitchen and back up to the garage. Julie added a side-yard gate entry for guests parking in front. When she bought the antique wrought iron gate, it had been painted metallic gold and opened from the center. She had the gate powder coated in black and had the center fused together so it opens from one side. Along the side of the garage, she added faux shutters to give the look of windows. Two shutters are set side by side in a frame and painted to match the shutters on the house. She repurposed old wooden four-pane windows that she had in storage by replacing the glass with mirrors and hanging them along the wall to reflect the greenery in the yard. Old pieces of ornate wrought iron hang on the garage, adding texture and interest.
The three entertaining areas wrap around the back yard. Pennsylvania Blue Stone tile flooring and paint colors tie the areas together. The tile surrounds the pool and the expanded patio area around the bar and grill. The next project includes adding the stone tile under the porch to complete the look. "We're doing this in stages," she says.
Southern Style
The first thing added to the Bush's backyard for this transformation, was a Southern style porch and arbor.
The expansive porch off the kitchen and keeping room has a beadboard ceiling and is supported with five, white square columns. There is an arbor attached that is covered in wisteria for summer shade.
The porch is large enough for a seating area and dining table and chairs. To create a coffee table, Julie reused a leather ottoman from the house, recovering it in Sunbrella® outdoor fabric to coordinate with upholstery on the wrought iron sofa and chairs.
Julie painted two glass-topped wrought iron tables and then created a smaller glass ledge on the stand under the table to hold a vintage ceramic architectural piece. On the wall, there is an old framed mirror from a hotel, which she painted, and it is flanked by hand-painted roofing tiles from Tuscany. Convenient to the pool, she placed an antique metal double washing tub, which she uses as storage for beach towels.
When the shutters on the front of the house were replaced, the old ones weren't discarded. Julie repurposed them into two folding screens on the porch to block the sun. The screen has since been moved inside where it conceals a sewing corner. Repurposing can involve bringing outside furniture inside, as Julie did with the shutters, or using inside furniture outside, as with the recovered ottoman.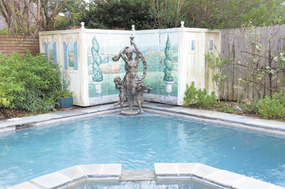 Julie's artistic talent highlights the pool area. Murals help disguise a fenced area that was built to hide pool equipment. "I painted the murals to add interest and depth," she says. "We also framed out the area to complement the fountain." The trompe l'oeil murals of an Italian landscape provide a beautiful and expansive backdrop to the pool. Windows with shutters are painted to match the shutters on the house.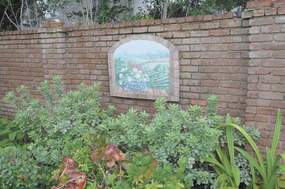 Along the back fence, she attached pieces of wood that she painted to look like arched brick windows overlooking an Italian villa. A gazing ball is set on a pedestal that was white, but is now painted to match the colors in the design on the bar.
With the addition of the bar and grill, Julie added room for more tables and chairs outside. There are three tables with combined seating for almost 20 people. To coordinate the look, all the tables were painted coordinating colors. "You can always paint things to make a matched set," she says. "Paint is inexpensive, it's easy to do and if you don't like the result, you can just repaint."
Painting Tips
For the backyard, Julie used warm, cool and soft colors with an antique effect. To transform a wrought iron table with a shiny metal finish, she sprayed it with a black primer and gave it an aged look by painting over it with a blue-green wash and wiping it off.
"There are two ways to age a piece of furniture," she says. "You can go darker by antiquing the surface or go lighter by adding a whitewash over paint and wiping it off." She has used both techniques outside, the darker effect on furniture, tables and chairs, and the lighter whitewash on shutters.
Paint and fabric are helpful repurposing tools. But mostly, repurposing is about looking at something and seeing it in a different way. For example, to create an interesting side table, Julie simply stacked two small antique pieces and added a glass top. Using furniture and accessories in unexpected ways can perk up an interior room or a patio. It takes something old and makes it useful for today.