Valentine Gift Guide

01/30/2013 03:31PM ● Published by Aimee Cormier
Suggestions For Men & Women
By Barbara Gautreaux
Celebrated for more than 1500 years, Valentine's Day is a chance to show that special person in your life how much you care. St. Valentine, an early Christian Church priest, lived during Ancient Roman times.
He got in trouble with the Emperor for performing marriage ceremonies when soldiers were supposed to remain single, for the good of their careers. Valentine thought love was important enough to risk death. His legend spawned the tradition of sending love letters, signed "From your Valentine."
In his honor, Feb. 14 has been St. Valentine's Day since 498 A.D. For sweethearts today it is another reason to say "I Love You," and to show how much you care—this time in grand fashion.
Schoolchildren may not appreciate the romance, but they want to make Mom or Dad a special card too, and they are always in the mood for a class party.
Acadiana LifeStyle takes a shot at playing Cupid this Valentine's Day, by providing a romantic Gift Guide to assist both men and women in selecting a perfect token of love. For those who feel this day of love should not be celebrated in material ways, compose a poem to your love and sign it—from your Valentine.
Plan Ahead For A Busy February
Some lovers plan far in advance, while others enjoy shopping for a Valentine gift at 5 p.m., on Feb. 14. This year in Acadiana, Valentine's Day will be two days after the culmination of Mardi Gras on Fat Tuesday. Don't let the celebration leading up to Lent put you in the dog house. Planning ahead is crucial to allow for delivery of flowers, reservations at restaurants or engraving of a special item.
Flowers are more expensive on Valentine's Day, but working women often expect a beautiful bouquet from their sweetheart. Flower stores are charged more by suppliers at this time, and must hire extra drivers to make the deliveries on the big day. Ordering on the holiday is acceptable for same day delivery, but only for a limited time. In the words of a New Iberia florist, "Yes, you can order on Feb. 14, if you can get through." They often do not guarantee a delivery time, if that is important to you.
For a special dinner on Valentine's Day, it is important to book in advance. By early January it can already be difficult to get a 7 p.m. reservation at popular romantic restaurants. If the couple is flexible about what time they are willing to arrive, they may be able to get a table at 5:45 p.m. or 8:15 p.m.
Engraving on jewelry or other items may take a week or longer. If it is important to you to see those words engraved, plan ahead.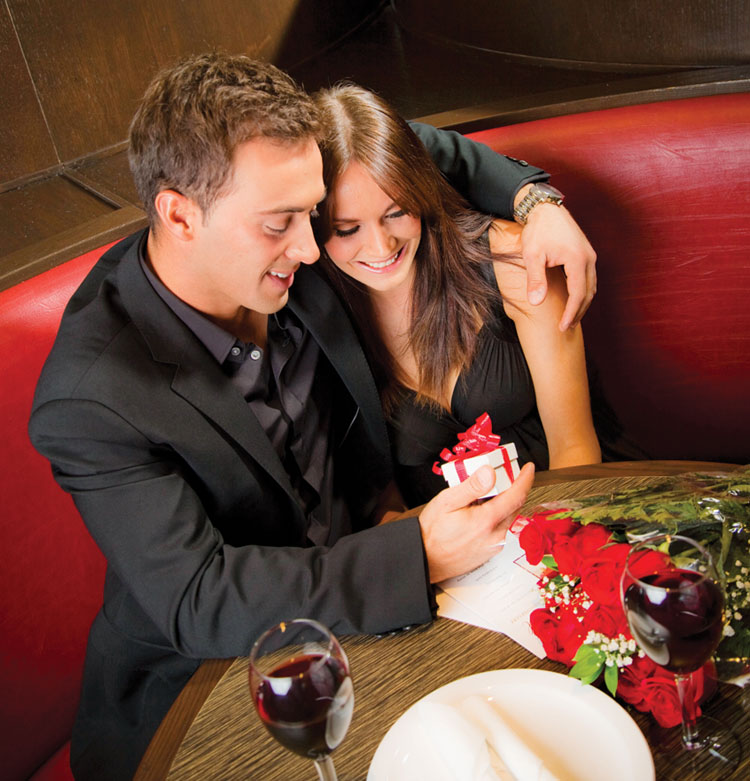 A Helpful Guide To Jewelry Shopping
The jewelry industry offers help for gentlemen who may be confused about what type of jewelry is not only wanted by their spouses but needed to accessorize outfits throughout the years. Acadiana LifeStyle suggests saving these suggestions and using it as a cheat-sheet for jewelry purchasing over many years. If you are unsure of what to buy, a time-honored choice is the watch. Never out of fashion are pearl necklaces and earrings. Additional jewelry choices should include both gold and silver necklaces and earrings, and the earrings should include diamond studs, as well as hoops in both gold and silver. A diamond tennis bracelet and a diamond pendant should also be considered.
Today's woman has lately been offered what jewelers are describing as "the right hand ring," which may contain a diamond or gemstone. For this special purchase, we recommend shopping together.
For Him On Valentine's Day
Women often find gifts for men that say "I love you" in fun, flirty and romantic ways. An unexpected celebration of Valentine's Day this year could be to turn the tables and surprise him with thoughtful gifts that are all about him.
If your true love hunts and fishes consider a Yeti Ice Chest, a new fishing pole or some camouflage outerwear from local hunter stores. Louisiana is a hunting and fishing paradise, and most men would appreciate this manly gear, even if their idea of "outdoors" is eating boiled crawfish. Getting them gear can include salt water necessities, ammunition or boots.
Want to show your support for his hobby by purchasing something he might not have considered? How about a wooden plaque commemorating the deer or boar head hanging in his man cave? It would list his name, the date of the hunting trip, location, and shotgun used, hand-engraved at a trophy shop.
If he is a car enthusiast, look for items that make his weekends more pleasant, including shop fans, padded six-wheeled creepers for rolling around the garage floor, or a new, shiny red toolbox. Many tool sets and accessories for his garage are in fact red—perfect for Valentine's Day.
Harder To Buy For
Often the man of the family says don't buy anything "silly" for him. Show him how much you love and respect him by purchasing safety gear for his work or car or office.
Look for work boots and cowboy boots handcrafted for custom comfort. Are his white shrimp boots leaking? Tie up a new pair with a bright red ribbon.
Want to be practical but loving? Consider installing new batteries in the smoke detectors for a loved one. Make an entrance safer, brighter and more energy efficient with reflective, anti-skid tape, outdoor lighting and aluminum weather stripping to keep out drafts.
While these may not seem very romantic, your loved one will remember you every time they walk through the door.
How to celebrate with loved ones that don't need one more knick-knack or sweater? Put together a gift bag of items for a special meal, such as eggplant, bell pepper, tomatoes, fresh pasta, olive oil and sweet Italian sausage. Amore!
Consider any special diet needs and avoid alcohol or sweets. Drop it off in person for them to use whenever they like.
If your loved one forgets Valentine's Day, give them the gift of understanding. Bring out the calendar, close your eyes and decide to celebrate it together at another date. Mark it so you both don't forget, and remember that love is special every day of the year.
Life+Leisure
,
In Print
candy
valentine's day
gifts
love
jewelry
cards
food
special someone
sweetheart