Another New Year
01/03/2013 08:37AM ● By Aimee Cormier
Brings Many More New & Wonderful Books
By Ray Saadi—Book Editor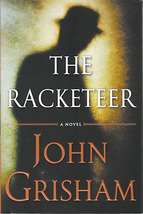 The RACKETEER
By John Grisham
Doubleday $28.95
Someone's murdered federal judge Raymond Fawcett and other than the killer, only one person knows who did it — and why. "The Racketeer," former attorney Malcolm Bannister, currently residing in a Federal Prison Camp having served five of his 10 year sentence, would be delighted to reveal all to the Feds – for a price: his freedom. And, that's not all; he demands total immunity, the $150,000 reward, a new identity and witness protection. The pages turn fast in this ingenious novel that'll have you cheering for the "bad guy." It's suspenseful yet lots of fun.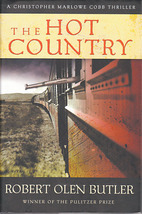 The HOT COUNTRY
By Robert Olen Butler
The Mysterious Press $25
Hot Country? You bet. The U.S. has invaded Mexico during its 1914 Civil War mainly to protect it from a German takeover. Christophe Marlowe (Kit) Cobb, American news reporter, is there sending dispatches to his paper, along with cables to his mother, an entertainer on Basin Street in New Orleans. In this seriocomic adventure, Cobb attempts to enlist the aid of bandit, Pancho Villa, to side with the Americans. He arrives only moments before a German official who came ashore from a German ammunition ship in the middle of the night.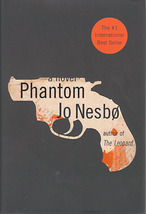 PHANTOM
By Jo Nesbø
Knopf $25.95
Harry Hole is more conflicted than ever as he hurries back to Oslo when he learns that Oleg, the son of Rakel, the woman he loved and lost, is jailed and charged with the murder of a drug addict. Harry, a recovering alcoholic, had, in addition to losing Rakel, lost his job with the police force, now must take on the challenge of proving Oleg's innocence independently. Trouble is, he has to contend with antagonistic police officers, drug lords, and even Oleg himself. Expect twists at every turn and an unbelievable surprise ending.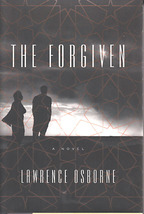 The FORGIVEN
By Lawrence Osborne
Hogarth Books $25
Dr. David Henniger and his wife Jo, an unhappy couple who spend much time arguing, are on their way for a wild weekend with his college friend, Richard, when in the middle of still another argument, David hits and kills a young man on the dark and dusty Moroccan road. Not knowing what else to do, they put the dead boy in the back seat of their rental. When the father appears to retrieve his son's body for the funeral, he invites (in effect demands) that David return with him, which he does while dreading what compensation will be demanded of him. Soon, both he and Jo are seeking forgiveness.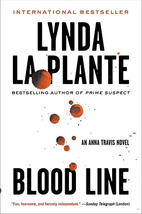 BLOOD LINE
By Lynda La Plante
Bourbon Street Books $14.99
Police investigations of murder are often tedious, boring and frustrating, as Detective Anna Travis experiences in this case. When Alan disappears and the bed he shares with his fiancé, Tina, is soaked in blood, police are sure he was murdered, and his fiancé the number one suspect. Only one problem: there is no body. Is it possible that Alan is the actual killer and he's running for his life? Anna's efforts to solve the case are further complicated when her Superior, who also is her past lover, is looking over her shoulder.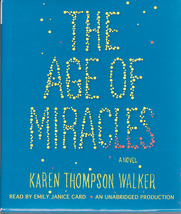 The AGE OF MIRACLES
By Karen Thompson Walker
Random House Audio $35
One day the earth's rotation mysteriously begins to slow, and days and nights, continually get longer and longer. The whole world is affected but we are mostly concerned with the effect on pre-teen, Julia, who really, really, doesn't need this, on top of her boyfriend problems, and the erratic behavior of her parents. How does it end: With a bang, or a whimper? I won't tell. Beautifully read by Emily Janice Card.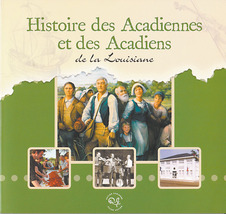 HISTOIRE des ACADIENNES et des ACADIENS de la Louisiane
By Zachary Richard, et al.
UL Press $24.95 Softcover
Lisez Vous Francais? Even if you can't lisez (read) French, you'll find this book delightful. With just my modicum knowledge of French, I was able with the photos and illustrations to understand a great deal of the history of the Cajun people. It will surprise and please anyone interested in Acadiana, especially those who can lisez en Francais.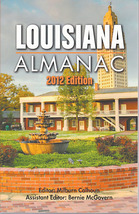 LOUISIANA ALMANAC 2012 Edition
Edited by Milburn Calhoun
Pelican Publishing $24.95
It's as regular as a New Year: the arrival of Publisher Calhoun's annual compendium, updating all manner of facts and figures for our beloved state. From the tallest buildings, the longest bridges, the hottest elections to the oldest Oak Trees, which incidentally, are members, and officers, of the Live Oak Society. This is a must-have volume for every Louisiana home library.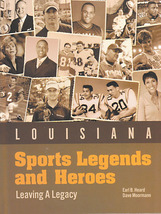 LOUISIANA SPORTS LEGENDS & HEROES
By Earl B. Heard & Dave Moormann
Bic Media Solutions $25
Sports fans will find much to like in this book since it features legendary heroes, coaches and players alike, past and present. Just a few highlighted in this book are Skip Berman, Drew Brees, Dale Brown, Billy Cannon, Glen "Big Baby" Davis, Kent Desormeaux, Paul Dietzel, Dave Dixon, Johnny Robinson, Shaquille O'Neal, and many, many more.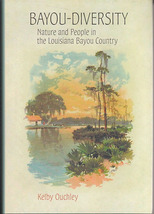 BAYOU-DIVERSITY
By Kelby Ouchley
LSU Press $19.95
If you have any interest in flora and fauna at all, you'll find an abundance of both in our bayous, teeming with Bald Eagles, Bald Cypress, Poison Ivy and Purple Martins. Ouchley, a former biologist and manager for the U.S. Fish & Wildlife Service, creates fascinating vignettes to illustrate the amazing array of plants and animals found throughout our state. This compact guide is thoroughly enjoyable and educational.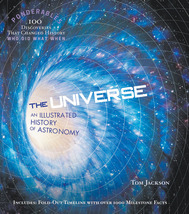 THE PONDERABLES
By Tom Jackson
Shelter Harbor Press $24.95 each
Three extraordinarily beautiful books that answer questions readers have pondered for years—actually centuries. Each volume: "The Universe," (cover shown here), "The Elements," and "Mathematics," explore "200 Discoveries That Changed History" is absolutely fascinating, and features a 12-page foldout timeline to further illustrate its subject.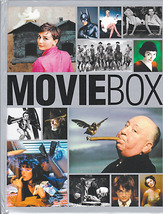 MOVIE BOX
Edited by Paolo Mereghetti
Abrams $29.95
In this ingenious book that's disguised as a box, you'll find a collection of 400 photographs of 450 actors and directors taken by 100 acclaimed photographers. If you love movies, you'll enjoy opening this "box."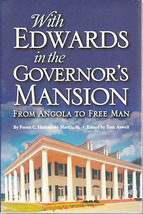 With EDWARDS in the GOVERNOR'S MANSION
By Forest C. Hammond-Martin, Sr.
Pelican Publishing $18.40
A heartwarming and uplifting story of a young, promising athlete, who took a wrong turn in life and ended up in Angola, charged with murder. A model prisoner, he several years later became a servant in Governor Edwards' mansion, and within a year won his release, became a model citizen, father and grandfather and, author of this book. Outstanding.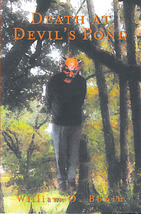 DEATH AT DEVIL'S POND
By William O. Bonin
CreateSpace Publishing $15
Bonin returns with another story of murder, this time set in his hometown of New Iberia where a movie company shooting a horror film turns horror into reality. When a man who had opposed the production is found hanging from a tree wearing a devil's mask, his widow and law partner sue the city and the movie company, both of whom are successfully defended by an extraordinarily beautiful new lawyer just arrived in town. Bonin's legal citations add additional credence to the plot.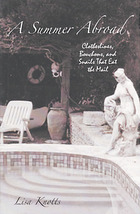 A SUMMER ABROAD
By Lisa Knotts
CreateSpace Publishing $13.95
A light, breezy, chatty chronicle of the author's summer in the South of France with husband and three children. I especially empathized with her description of the climb up to the Benedictine Abbey atop Mont St. Michel (it will definitely take your breath away, literally.) They headquartered in the small town of Carro from which they traveled around the country including Paris. Later, they visited Rome and saw the pope waving from his popemobile. It's an enviable summer, vividly described, even without slides.