T'ai Chi In Cajun Country

01/03/2013 08:35AM ● Published by Aimee Cormier
Chinese Tradition Is Exercise In Motion
By Barbara Gautreaux
T'ai Chi, translated from Chinese in its formal use t'ai chi ch'uan, means "supreme ultimate fist." Perhaps not the description expected from this graceful form of exercise that has been practiced since the 1880s.
If you are looking for a way to reduce stress, sleep better, and increase energy, balance and strength, t'ai chi here in Cajun Country may be right for you.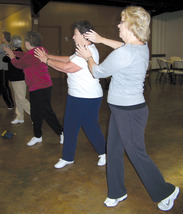 Classic Moves Develop Core Strength
Nell Gauthier wanted an exercise class at a good time for her, three days a week, near her home in Iberia Parish. Since there wasn't a class for her, she created one. She now teaches an exercise class at Iberia Parish Recreation's Willow Wood Multi-purpose building three days a week for a dozen or so participants. She volunteers to lead the t'ai chi class, which she has evolved to include light weights and resistance bands.
The classes have been held since 2004.
"I first started taking classes at the Methodist Church in New Iberia and the class was taught by a physical therapist. I found it very relaxing. It made a big impression on me," says Gauthier. "Next to yoga, it's the second best exercise."
The Mayo Clinic suggests t'ai chi can be used to reduce stress and for a variety of other health conditions. Meditation in motion, its gentle, flowing movements promote serenity. The series of movements are performed in a slow, focused manner and are accompanied by deep breathing.
The practice is self-paced gentle physical exercise that can be practiced indoors or out, in a group or alone, with no additional equipment needed. T'ai chi is low impact and puts minimal stress on muscles and joints making it generally safe for all ages and fitness levels. Women who are pregnant or people with joint problems, back pain, fractures, severe osteoporosis or a hernia should consult their health care provider before trying t'ai chi. Modification or avoidance of certain postures may be recommended.
"T'ai chi is great for anybody of any age, but especially for senior citizens," says Gauthier, 68. "I don't like to say that word, because to me, everybody is ageless. I don't consider myself a senior citizen."
Getting Fit And Staying Fit
Gauthier is trim and fit and an inspiration to incorporate daily exercise into your life. She has four grown children that have followed their mother's example of staying active through regular exercise. "T'ai chi is known to keep you young!"
The Mayo Clinic has some evidence that indicates t'ai chi may also enhance quality of sleep and the immune system, lower cholesterol levels and blood pressure, improve joint pain, improve symptoms of congestive heart failure, and reduce risk of falls in older adults.
There are books and DVDs about t'ai chi, however guidance from a qualified t'ai chi instructor is advised, not only for proper techniques but the social aspects as well.
Gauthier's t'ai chi class is reminded several times to slow down breathing and movement, focusing the mind on the self. Gauthier selects a CD of nature sounds that is played during the class. Near the end of class everyone has worked up a sweat and the fans are turned on. Then, they talk and move freely through the remainder of the class.
"I encourage a lot of deep breathing so we don't talk during this part of class. We catch up on each other's day at the end of class when we will walk laps around the inside of the building."
Gauthier currently serves as a board member for IREC. For information on other programs at Willow Wood, including water exercise classes during the summer, call 365-6197 or email klandry@iberiagov.net.
T'ai Chi At Progressive
Sifu Danny Terrell, owner of Progressive Martial Arts Training Center in New Iberia, has been teaching martial arts for almost 40 years. He teaches Yang-style t'ai chi, the classic practice poses, twice a week at his studio on Center Street.
"It is called t'ai chi chuan, the grand ultimate, because it fulfills so many needs. It is a defensive martial art if used properly. It is good for your heart and your breathing." Terrell says the benefits include health, strengthening the joints at the knees, hips and ankles, strengthening the leg muscles and the core of the body. The core needs to be strong to maintain posture, continence and balance. "As people age the core gets weaker. T'ai chi strengthens this core area by holding it still while moving the arms and legs. You maintain your balance, keep your posture, and this strengthens the core," says Terrell.
Rather than thinking of this exercise as simple and easy, Terrell suggests that if exercisers put dedication into their workout they can achieve the highest level of satisfaction. "Ask yourself what do you want out of it? Consider this: if a practitioner needs to reconnect neural pathways in the brain, from a stroke or accident, t'ai chi would be an excellent place to start."
Terrell describes the practice of t'ai chi as "euphoric" because of its positive, relaxed movement and because the breathing makes the participants feel better. The philosophy of t'ai chi is if one uses brute force to stop brute force, both sides are certain to be injured at least to some degree. However, if the person instead meets an incoming force with softness and follows its motion while remaining in physical contact with the incoming force, the attack exhausts itself or can be redirected safely.
The soft and pliable will defeat the hard and strong. Practitioners of t'ai chi are expected to show virtue and heroism, to protect the defenseless and show mercy to one's opponents.
"I would recommend t'ai chi to anyone, especially someone that has not been exercising. If you are obese it is a very good way to start a daily exercise program. You don't need any equipment, there are no requirements, there are no black belts in t'ai chi, but it is very effective," Terrell says.
A January special at PMATC offers t'ai chi classes for $60 a month. For more information visit the pmatc.com website, or call 337-376-6509.
Life+Leisure
,
Today
,
Health+Wellness
,
In Print
pmatc
progressive
staying fit
mayo clinic
nell gauthier
strength
chinese exercise
iberia parish recreations willow wood
tai chi