An International Star Visits Home
01/03/2013 08:33AM ● Published by Aimee Cormier
The Acadiana Center For The Arts Presents The Koresh Dance Company
By Anne B. Minvielle
Photos courtesy Koresh Dance Company
Those who appreciate the art of dance, as well as those who simply wish to be entertained by professionals who always leave a lasting impression on their audiences, have a treat in store. On Thursday and Friday, Feb. 14-15, the Acadiana Center for the Arts will present the Koresh Dance Company from Philadelphia in two evening performances. The treat will be even more enjoyable for locals who know one of the principal performers, Alexis Viator, from Lafayette.
The history of the Koresh Dance Company is quite interesting, according to Dara Schmoyer, company manager. She explains the company was founded in 1991 by Israeli-born choreographer and artistic director Ronen (Roni) Koresh. He trained as a young boy with his mother, who was a folk dancer. When he was 17, he began more comprehensive studies and became a member of Martha Graham's Batscheva 2 Dance Company. Koresh immigrated to the U.S. in 1983 to pursue a career in dance. Today he is known for his unique blend of ballet, modern dance and jazz. His work is considered highly technical. He does not follow a particular technique, but has his own signature style.
The Koresh Company has bi-annual seasons in Philadelphia and performances around the country. According to Schmoyer, "Koresh has received much local and national recognition. This renowned dance group has also been hailed internationally, touring to destinations including Spain, Turkey, Israel, South Korea, Mexico, and Guatemala."
The Koresh performances are considered unique and dazzling. "Over the years, Roni has developed a vast repertoire of work that ranges from explosive and passionate, to intimate and restrained. The company also presents work by guest choreographers, including Ohad Naharin, Robert Battle, Donald Byrd, and Paul Selwyn Norton," says Schmoyer.
Mission Accomplished
The Koresh Dance Company has three ways in which it fulfills its mission: performance, instruction, and community outreach. Its performances are its creative and emotional presentations, one of which Acadiana will enjoy.
The instructional aspect of its mission is important as well. In 1993, the Koresh School of Dance opened and today has daily classes for children and adults, both beginners and professionals. Dance styles taught include jazz, ballet, pointe, hip hop, modern, and tap. According to Schmoyer, "The Koresh School of Dance serves as the company's home and remains dedicated to its goal of being a dance training center for the Philadelphia community."
Involvement of the community in the art of the company is also important to the Koresh Company. The underserved youth in Philadelphia receive free arts education through the Koresh Kids Dance program. The Koresh performers go into the schools to lecture and demonstrate to interest young people and answer their questions. Future members of the adult community learn the importance of the arts.
Another example of the company's outreach is Koresh Artist Showcase. The showcases present work of local choreographers alongside dancers in the company, offering them free exposure. When the company visits Acadiana, some type of community outreach and classes will be a part of the dancers' experience as they spend three days in the area.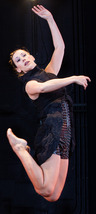 Principal Dancer Alexis Viator
Of the 10 principal dancers in the company, one, Alexis Viator, will have no problem identifying with the people and places she visits. Viator describes herself as "a true Cajun," having been born and raised in Lafayette. She has relatives in New Iberia, Breaux Bridge, and Avery Island, and looks forward to spending time with friends and family and sharing her talent with them once more.
Viator's talent is no secret to those who know dance in Acadiana. She grew up dancing because her mother and aunt owned Morgan Street Dance Company in Broussard. Viator began lessons at the age of 3, and recalled that by 10, she knew she wanted dance to be her career. At that young age, she was already studying dance year-round, taking classes in Houston and New Orleans, often studying and practicing from 9 a.m. until 4 p.m. daily during summers.
High school years were not typical for Viator in that she wasn't involved in the many activities that usually capture the interest of teens. She says, "I tried to become involved in other things, but dance always conflicted, and I would end up having to quit the other things. I was at the studio every day after school until 9 or 10 at night and on weekends; so that was my life."
Viator continued her formal education at the University of Arizona at Tucson from which she received a BFA in Dance. After graduation, she accepted a contract to dance on a cruise ship of the Royal Caribbean line. She performed twice a day for nine months and considers the time a good experience in that she met many people of different nationalities and visited new places.
Ready for different challenges in dance, Viator headed to Chicago. She continued her training on scholarship at the Lou Conte Dance Studio. At that time, she had to maintain three jobs, and she was "paying to dance." According to Viator, "I really worked hard. The life of a dancer is not always glamorous. You are a real artist and you have to be prepared to struggle."
While in Chicago, Viator met a girl who danced with the Koresh Company who told her about an upcoming opening and suggested that she audition. Viator left for Philadelphia and was surprised to learn that the audition was a one-on-one audition, instead of the usual, with many dancers performing before the director. She says, "I auditioned for 2 ½ hours. It was intense, emotionally and physically grueling. At the end, I got the job and moved to Philadelphia." It was May of 2007 and Viator was 24 years old.
As a professional dancer, Viator must make a tremendous commitment. She explained, "Dancing means taking care of your body. It is very rigorous. You have to train, eat right, and make sure that you are preventing injuries as best you can, especially if you want to prolong your career."
Among other forms of training, Viator mentioned that she and others in the company go to the gym, and take Pilates classes and yoga to keep their bodies strong. "We are professional athletes," she emphasized. Audiences have agreed that the athleticism of the Koresh dancers is obvious and exciting in the performances.
Just like many professional athletes, the dancers go beyond physical pain to obtain their goals. Viator laughingly recalled, "I danced a whole show once with a dislocated bone in my foot, and I had no idea I was in excruciating pain. I just had to keep going. I don't think people realize how tough we dancers are!"
The Hidden Language Of The Soul
Perhaps the reason Viator is so consumed with her dance, even beyond physical pain, is because her performance is coming from somewhere other than her body. The great American modern dancer and choreographer Martha Graham once said, "Dance is the hidden language of the soul." Alexis Viator seems to be an artist who speaks from her soul, using her body. What a treat it will be to see her in her hometown!
Acadiana is fortunate that the Acadiana Council on the Arts is sponsoring the Koresh Dance Company performances. What critics are saying about past presentations give indication of what is in store for local audiences.
According to Philadelphia City Press, "Koresh dancers have long been known for their exceptionally fine-toned physiques—and the caliber of their movement execution is simply marvelous, regardless of the technical requirements. It's as if the outfit has been injected with a jolt of crisp energy."
The Denver Post described the Koresh group as, "… a vibrant ensemble of 10 that offered non-stop dynamism throughout its performance." The LA Times says, "The expression and performance proved fresh, urgent and deeply persuasive."
Viator herself says the Koresh Dance Company is known for its intense, very energetic, technically sound performances. "When you come to see our show, it takes you on a journey," she added.
Koresh Dance Company is internationally known and acclaimed, and Acadiana can welcome home one of its stars when the Acadiana Center for the Arts presents 2 performances at 7:30 p.m. on Feb. 14-15. It promises to be an evening of unique entertainment.