Jeanerette Farmer's Market Opens
12/06/2012 03:07PM ● Published by Gail Garcia
Fresh produce available at Jeanerette's Farmers Market
When you live in a rural community you can enjoy products you won't always find in a large store. Products such as  fresh farm produce and homemade jellies are now being sold at the Jeanerette Farmer's Market.
 The Farmer's Market began this fall when the Jeanerette Chamber of Commerce decided to give farmers and local crafters an opportunity to sell their items at market.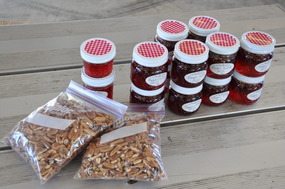 "The market is an excellent opportunity for farmers and residents to sell the products that they take pride in growing and making," said Katheryne Landry, Chamber Coordinator. "We hope to build excitement in the community and to give residents something they can look forward to. We also wanted to provide something that would bring people from other communities to our city." 
The Farmer's Market is held the second Saturday of each month from 8 a.m. to noon at the Jeanerette City Park. Vendors expected to exhibit at the events will have produce such as sugar cane and other vegetables, preserves, homemade candy, crackling, pepper sauce and homemade items including quilts and homemade jewelry. 
"This will be an excellent opportunity, not only to purchase great produce, but to shop for homemade items that make great gifts," Landry said. The market will continue throughout the year and has become a favorite of vendors who previously displayed their items at other events, she added. New vendors are always welcome and can apply by contacting the Chamber office at 337-276-4293. For more information you can visit the Chamber website at www.jeanerettechamber.org.