Develop A Giving Spirit
12/05/2012 03:51PM ● By ALS Editor
Broussard Community Prepares The Way of the Lord
By Anne B. Minvielle
Since the first Christmas, and the story of the Magi and their gifts of gold, frankincense and myrrh, presents tied up with ribbon and bows or hidden within the tissues of a seasonal gift bag have been a primary focus of the season. In fact, before the orange and black decorations of Halloween were off the shelves in local stores, workers were busily making room for displays of toys, cosmetics, and the latest in high technology.
Bright colored baubles and blinking lights abound. In fact, many might agree that the hustle and bustle of preparations for the big day in terms of family get-togethers, gift exchanges, and large meals, leave little time for reflection on the reason for the season.
Perhaps we all need look to the Magi, for they are the Wise Men. They journeyed before they gifted. And they did not celebrate along the way. They looked, and they waited patiently. They focused; they followed a star with faith. Undoubtedly, they were quiet as they crossed the barren desert.
Focus On Others
Advent is a season of waiting, of expectation, of quiet, of listening. As far back as the 4th century, Christians fasted during this season of waiting, their way of sacrifice. Advent linked them to those who had waited so long for the promised Messiah. Today, we find it hard to wait. We are rushers. We have microwaves, drive-through take out, text messaging. What can we do to slow down, to think about the coming of Christ at Christmas and His Second Coming?
St. Cecilia School in Broussard and parishioners of Sacred Heart Catholic Church Parish there have a wonderful suggestion. When we turn our focus away from ourselves and instead on others who are more needy than we, we open our hearts, souls, and minds. We can see the needs of others and we can pray for them. We can actively seek to meet their material needs, and in so doing, prepare our hearts for the coming of Christ. We can better wait when we can focus. The needs of others can be our star.
In his poem "Kneeling," the Welsh poet and pastor R.S. Thomas tells us, "The meaning is in the waiting." Glenda Serio, Religion Administrator at St. Cecilia School endeavors to teach the 500 students there just that each year during the Advent season. Christmas celebrations do not begin during Advent. Instead, the students focus on projects and prayer.
According to Serio, she plans projects for the students in order to give them opportunities to develop a giving spirit and to provide times for families to join together in serving the poor.
"We want to help students develop a sense of gratitude and thankfulness for their blessings and to develop servant hearts in our students," she says. She adds that it is often difficult in the secular world, with its emphasis on materialism, to keep the students' minds and hearts focused on the richness of their faith and preparation for the Solemnity of the Nativity of Our Lord.
For many years, the students have collected coats that are used but clean and still serviceable for the local "Coats for Kids" drive. Serio reports that the students are quite responsive to the invitation to share what they no longer need with those less fortunate. She says that she and parents make several deliveries to drop off locations. "We see these acts of charity as a way of bringing the Advent message of patient waiting and transformation to all. It's a way for children to change their hearts and become aware of others," she says.
Kenyan Children Foundation
Students will also join others in supporting a mission in Africa in a unique way, and they were inspired by stories of a school in Kenya visited by Sr. Carmelita Latiolais of the Sisters of the Eucharistic Covenant who works with Sacred Heart Parish in Broussard. Sr. Carm, as she is known, visited Kenya in 2007 and 2012. She learned of the needs of children who are orphans, who are not in school, who have HIV/AIDS, and of the work of Kenyan Children Foundation. The KCF is a non-profit organization whose mission is to provide compassionate care for Kenya's street children," Sr. Carm explains.
The KCF reports there are an estimated 1.7 million orphaned children in Kenya and 600,000 are living in the streets. Fifty percent of Kenyans live in poverty. Children may thus be sent out to steal, look for food in garbage dumps, or even prostitute themselves.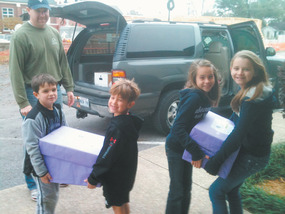 While in Kenya, Sr. Carm visited a school named St. Secilia, which is now partnered with the school in Broussard. The students at St. Cecilia in Broussard have been taught about their brothers and sisters at St. Secilia School in Kenya, and they have exchanged photos and letters.
Students in the Kenya school consider themselves fortunate to be there because so many of their age groups are street children. According to St. Carm, "It's like they have won the lottery! They get fed at school, if only a bowl of rice with carrots and beans. They even get to wear a uniform."
According to Sr. Carm, "I returned from Kenya concerned about the inadequate school shoes of students at the school. Students walk miles on rough terrain to get to school." She describes the shoes many wear as poorly fitting, with holes, and barely covering their feet. One child she remembers had to pick thorns out of her feet when she arrived at school because the shoes she had barely protected her bare feet.

After questioning those who might be able to help the children given adequate funds, she learned that for $20 a child could receive a new pair of school shoes. Students at St. Cecilia and anyone else interested can now focus this Advent on helping a child make a journey to school, and in so doing, become wise men, prepared to find the new born Christ Child. For a $2 donation, students at St. Cecilia can wear any pair of shoes, instead of uniform shoes, with donations used to help buy pairs of school shoes for the students at St. Secilia in Masai.
Sr. Carm welcomes others to participate in the project. She said donations of any amount would be helpful. Checks can be made out to Kenyan Children Foundation. Check Memo: Masai School Shoes. She says checks or cash can be left at the Broussard Sacred Heart Church office for her or can be mailed to: Kenyan Children Foundation, P.O. Box 631116, Highlands Ranch, CO 80163.
Local Christmas Basket Project
The Broussard community really comes together to assure that their needy neighbors have a joy-filled Christmas day through the Christmas basket project. Students at St. Cecilia and other generous members of the parish and community volunteer to provide a turkey, a loaf of fresh baked bread, fresh fruit, and canned food to some 150 needy families.
The immense job of coordinating the requests for baskets, matching needs with food items, and assigning delivery teams is in the hands of Colette Anzalone, Director of Ministries at Sacred Heart Church. She explains that early in November she begins to receive requests from needy families or those who know of families who will not have the blessing of a Christmas dinner to which so many are accustomed.
Anzalone coordinates the collection of food items from St. Cecilia School and other sources, purchases fruit and accepts fruit donations, accepts monetary donations, and coordinates the efforts of about 54 ladies who together make loaves of bread for the food baskets. She explained that the Ladies Auxiliary reserves several hours to enjoy fellowship and the fun of baking, while making Christmas dinner special for each of the 150 recipients of the food baskets.
On the weekend before Christmas, the work of assembling the baskets, which are really decorated boxes, and delivering them takes place.
Anzalone is well prepared with each recipient matched with a delivering family and a map and directions. Students from St. Cecilia and parishioners from Sacred Heart assist in assembling boxes according to the needs of the each recipient. If the family to receive has elderly or babies, for example, special considerations are made when filling that family's boxes.
According to Anzalone, the task of collecting food, filling boxes, and delivering might seem overwhelming, but the actual day of delivery involves only 2 hours of work. "We have an amazing group of people here. We always have people who are willing to help," she says. The church parish is made up of 2800 families, and there are 42 ministries in which parishioners might be involved. Anzalone added that watching the filling and delivering of the food baskets really shows the Advent spirit in action.
The entire experience of collecting food for the baskets and delivering them to the needy families has proved to be worthwhile for both the students of St. Cecilia and their families, according to Glenda Serio. She explains that she has students and their parents participate in the delivering. Ashlyn Templet is a 6th-grader who has experienced the joy of helping others through the project. She says, "I think I experienced what it means to have the light of Jesus inside. I really felt grateful for what I have. I learned to appreciate all I have been given."
Michael Benson, a 5th-grader, both collected food and delivered food to a needy family. "When I saw that one family didn't even have a Christmas tree, I realized how much what we had collected was needed. I was glad we were able to help them, and now I want others to help with our project. I have learned that the real meaning of Christmas is celebrating Jesus' life and love for us," he says. Michael's father, Darrel Benson, adds, "It is a wonderful experience to be able to give back to people in need."
All those in Broussard involved in the service projects of the Advent season have much on which to focus. Their journey has begun. They have heard the cry: "Prepare ye the way of the Lord." For them, on the Feast of the Nativity, there is sure to break forth, "a new and glorious morn."
Note: For more information on the needs of the school or the orphanage visited by Sr. Carm: http://www.kenyanchildrenfoundation.org or contact her directly at Sacred Heart Church: 837-1864. To make monetary or food donations to the Christmas food basket project, contact Colette Azalone at Sacred Heart: 837-1864.