Win 2 Free Tickets To Ride The Cajun Food Tour Bus And Enjoy Fabulous Cuisine!

12/05/2012 03:03PM ● Published by ALS Editor

Get A Taste Of Acadiana On A Cajun Food Tour
By Carol Stubbs
Everyone loves the food of Acadiana. We even have awards to prove it. Last year Lafayette was named Best Food City in the Rand McNally/USA Today Best of the Road Rally and this year was named the Tastiest Town in the South by Southern Living magazine. The awards were just the extra incentive Marie Ducote-Comeaux needed to begin her business, Cajun Food Tours.
"With the awards, I think there's a renewed pride," says Marie. "We always knew our food was the best, but to know everyone else knows is great." Cajun Food Tours taps into the enthusiasm by providing a way for tourists and locals to visit several restaurants over the course of a few hours and taste the food and experience the hospitality of Acadiana. For tourists who are only here for a few days, it's a great way to visit more restaurants. For restaurant owners, it's a unique way to introduce their food to more people. For locals, it's a fun way to celebrate a special occasion, experience new restaurants and meet new people.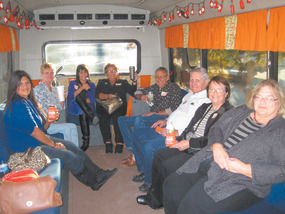 Cajun Food Tours has been running for less than a year, but the idea developed over several years. Marie had taken food tours in other areas of the country and kept wondering why someone didn't start a food tour in Lafayette. A walking food tour in Baltimore was her favorite. "It was the best tour," she recalls. "It was a historic tour, and you got to eat!" When she travelled to conventions, she looked for food tours. "Each time I did that I thought, 'surely someone's doing that in Lafayette'," she says, although she realized a walking tour would not be possible in our area. Last year she took a tour in Louisville, Ky. and it was on a bus with perimeter seating. It was a revelation, and the realization that she could be the one to start a food tour in Lafayette.
"I didn't sleep at all that night, and I haven't slept since," she says as ideas for a food tour began to grow. "I worked on the idea for five months and didn't tell anybody," she says. "I was a history teacher for 14 years and then assistant principal at St. Cecilia Catholic School. I loved the school and loved the kids, but I had been looking for other options and had been praying about it. This just came from left field, but it really has been a good fit for me. In telling the history of the Cajuns and Lafayette, I can kind of be a teacher again."
Marie took her idea for a food tour to the Louisiana Small Business Development Center at ULL, thinking they may talk her out of the idea. Instead, they encouraged her and gave her ideas on how she could expand the business. She joined Lafayette Convention and Visitors Commission and sought help with marketing and tourism. She credits EatLafayette, an organization dedicated to promoting locally owned restaurants, for helping get the word out about the great food in our area. And that gave her a starting place for contacting locally owned restaurants.
Restaurant owners are key to the food tour business, and Marie has developed good relationships with owners, many of whom take time to interact with the groups, talking with them and/or demonstrate cooking techniques. For example, at Chop's Specialty Meats, tour groups enjoy talking with the manager and seeing how cracklins are made before they eat them. All this adds to the fun and the camaraderie that develops within each tour group. "I have about 18 restaurant partners on board with me now," Marie says, and she continues to add new restaurants to the list.
Her bright orange tour bus decorated with food icons is a travelling advertisement. Inside there are TABASCO® lights hanging and a specially designed rack for tourist brochures to make groups feel welcome and give them ideas of things to do in Acadiana.
Marie's husband, Mike, is her biggest supporter, and he helped in designing the bus and getting it ready to roll. Before she took out her first tour group, Marie tried out her tours on her family, taking them along on practice runs. "I ran those routes for weeks before I started to check the traffic flow," she says. Since then, her groups have included a reunion of Korean War veterans, tourists from other states and countries and locals celebrating birthdays or just out to experience the fun and food of Acadiana. Nametags and perimeter seating on the bus help promote interaction within the group, and Marie's enthusiasm sets the tone for each tour. Groups range from a minimum of six to a maximum of 14. "The more people on the bus, the more fun it is," Marie says. Local residents can check her Facebook page for last minute opportunities to join a group that hasn't quite filled up.
Ca C'est Bon!
On Tripadvisor, an online site where travelers can leave unbiased reviews, Cajun Food Tours rates 5 stars and receives glowing reviews from tourists. Online comments include, "Best tour we've ever taken," from a couple from North Carolina; "a must-do in Lafayette," from a visitor from Canada; "highlight of our trip," from Tennessee; "fantastic Cajun food culture tour," posted from Missouri and "a spicy taste of history," from a Youngsville resident.
The Cajun Food Tour is proving to be a great idea. There are so many great restaurants in our area that it's hard to find the time, whether you are a tourist or a local, to try them all. The concept for the food tour is simple: visit six or seven restaurants for a taste of special foods, all the while learning about the history and culture of the area. Food stops may include Cajun traditions like king cake at Poupart's Bakery, crawfish étouffée at T Coons and cracklins at Chop's Specialty Meats in Broussard. In finding restaurant partners for the tours, Marie says she looks for local favorites and restaurants that use traditional ingredients. "I really like to show off the cultural diversity here," she says. "Don't eat before you come, and wear stretchy pants," is the helpful advice on the website. Good advice because making room for six or seven delicious samples of food will fill up the heartiest eater.
The regular tour, offered at 10 a.m. and 3 p.m., includes pick up at local hotels and a visit to a variety of restaurants with authentic Cajun food.
Sometimes this even includes a stop at the Cathedral of St. John for pictures by the oak tree. Custom tours for groups of 10 or more can be designed to include plantations, Cajun dancing, crawfish ponds, cooking demonstrations and more. For the future, Marie is considering a tour called "Around the World in Acadiana" to showcase award winning chefs in international cuisine. The tours are designed for all ages. Tour groups have included children, and Marie took her 89-year-old grandmother, Ivy Ortego of Ville Platte, on the tour. One family planned a surprise birthday for their grandmother. Marie picked up the family first and then all went to the grandmother's house to surprise her with the tour. "It's fun for me to be a part of their celebrations," Marie says.
The food, of course, is delicious, but what makes Cajun Food Tours so fun is Marie. Her enthusiasm in sharing her Cajun heritage is infectious, and she loves telling stories and anecdotes and adding in a few classic Boudreaux and Thibodeaux jokes. She enjoys getting to know the people on her tours and helping them experience Acadiana.
"I'm trying to learn as much as I can about tourism," she says, "and let people know not only what they can eat, but things they can do the next day. All these challenges are fun to me. I know more Boudreaux and Thibodeaux jokes than I ever did. I never could remember jokes and now it's my job!"
The restaurant stops people enjoy the most are the ones where the owners come out to welcome the group and talk with them. "I've learned it's not about the food so much as it is the hospitality," Marie says. "In my marketing and advertising, I use the words 'Cajun hospitality.' It's the part of me that made me want to do this," she says.
Marie says she loves her job and the opportunity to meet people from all over and introduce them to Acadiana. "It's varied, and it's exciting," she says. "Every day it's fun to wake up with a challenge. I so enjoy having the people on the bus and sharing the things I love with visitors.
I love Acadiana, and I'm so proud of Acadiana. Every morning I just put it in God's hands."
For information and/or to book a tour, visit www.cajunfoodtours.com
Just in time for Christmas, gift certificates are available. What better gift than a fun, food experience in Acadiana!
Shop+Eat+Drink
,
Life+Leisure
,
Today
,
In Print
Cajun Food
cajun food tour
marie ducotecomeaux
wwwcajunfoodtourscom