Skate-opia
12/02/2012 10:08AM ● By Mimi
Friday night, my thirty-something friends and I went for a bike-ride and ended up in Bouligny Plaza's ice skating rink. We realized it was probably a bad idea to charge drunk people to fall down on ice sheets. But we hadn't been drinking and we were looking for something to do. Unfortunately the rink was closed so we couldn't go ice skating, but instead we went to a nearby skate park in the West End where a friend of mine built a ramp with the help of other local skaters. Now there's a safe place for people to hang out and socialize without getting into (much) trouble. They ride at their own risk, have their own system for making and following rules, and work on projects together.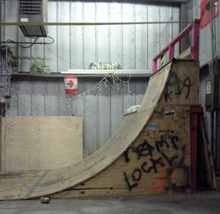 Don't get me wrong. I've never understood the allure of skating, or why anyone would want to put themselves on wheeled planks and roll up and down inclines. However, I realize that everyone has different activities that challenge them and keep them from being bored. I respect people who have a craft or hobby they are passionate about and I enjoy watching people get in their flow. 
That being said, I would like to applaud my friend's efforts to make New Iberia better by building infrastructure. I'd also like to invite people to take initiative on their own improvement projects. Is there anything else happening like this park around town? Are there more private citizens building the kind of community they'd like to see?
I'm on a quest to incite healthy and positive additions to our city. What else is going on out there? What else could/should be out there?