The NILA Report: Welcome
11/14/2012 01:26PM ● By ALS Editor
nila report
Welcome to my blog, y'all.
Some of you may see me around town walking Rosie, my big white dog. Or riding my red bicycle.  Or you may remember me from my younger days when I was a nerd with a big mouth. The good news (or bad news depending on how closely you are related to me) is that I'm pretty much the same, plus or minus a few hard knocks. Before you ask-- my mom 'n them are good.

I'm from here. I grew up here, my family's from here and is still here.  I left New Iberia to go to college because I aspired to great things because I was inspired by great teachers. I travelled a lot of places all across the globe and came back because I want to bring some of those great dreams back home. 

So that's what I want to do in this blog. I'm going to (humbly) suggest some things that would make New Iberia better. I come from a place that is unlike any other and its grounded my personal faith, outlook and observations as I've travelled the world. 

So this is what I believe.  I believe in art. I believe that art is a good thing for people of all ages to learn about and get involved in. 

I believe that games keep you sharp. Work hard and play often, but never forget that its just a game. 

I believe that we are all connected as human beings and that technology enhances our ability to collaborate in ways that we never before thought were possible. 

I believe in people. I believe that people can accomplish great things when they work together. I believe in politics. I believe it is possible that self-interests align with the common good. I also believe that people can overcome their weaknesses and be better people. People need one another to when times are tough. It is in times of despair that humanity reveals its deepest beauty.

I believe in putting my money (or time) where my mouth is and setting out to accomplish great and small things. 

Most importantly, I believe in New Iberia. I truly believe that great things will happen here again, and I am excited to be a part of it. 

I believe in the future, the past, and above all, the present. Here's to making history.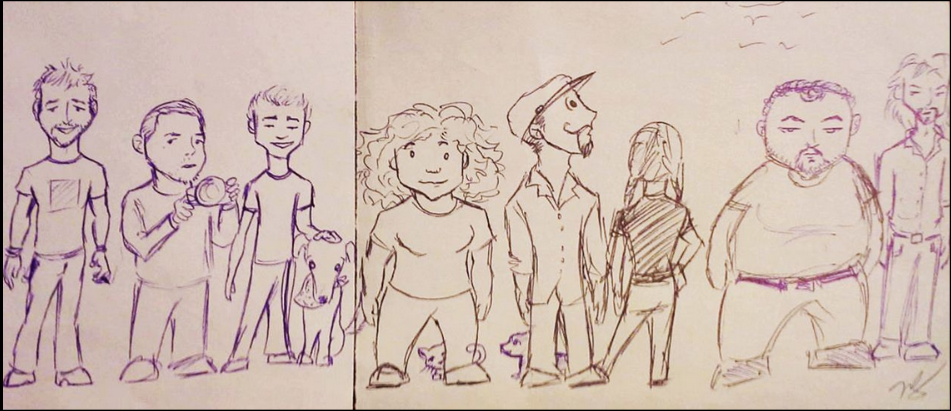 Drawing by Vanessa Valez, 2012