Magic On Main Dec. 2
11/07/2012 03:54PM ● Published by ALS Editor
Presented by Teche Area Builders Association
By Cheryl Robichaux
It's the most wonderful time of the year and some of the most beautiful homes in New Iberia will be open for public viewing during "The Teche Area Builders Association's Magic On Main" event Sunday, Dec. 2 from 4-7 p.m.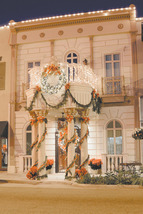 This is the third year historic downtown New Iberia will be lit up for the Magic on Main Holiday Tour of Homes, and each year it gets bigger, brighter and more spectacular. Teche Area Builders Association is on board this year as a major sponsor and proceeds from the tour benefit Shadows-on-the-Teche, a National Trust for Historic Preservation Site. Tickets are $25 and available by calling Shadows-on-the-Teche at 337-369-6446.

According to Director Pat Kahle, "We'll have Jeff Jolet cooking gumbo in the Shadows' gardens and visitors can come by and enjoy a hot cup of gumbo (which is included in the price of each ticket). The Bunk Johnson Brazz Band will be performing, and we'll have two trolley cars and two buses taking visitors to all of the homes." In addition the Sliman Theater has been reserved for performances by the Jolie Leblanc Studio for the Performing Arts. Public restroom facilities will be available at the Shadows Visitors Center and the Sliman Theater.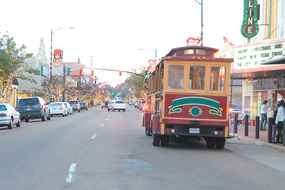 This special "Magic on Main" event features 11 distinctive locations in New Iberia's historic district. These include private homes, historic buildings which exemplify preservation's adaptive reuse for business and historic houses of worship.
Private homes include:
Mr. & Mrs. Tribbey Thornton on East Main
Mr. & Mrs. Vic Segura on West Main
Mr. & Mrs. Bud Cestia on French Street
Mr. & Mrs. George Sikes on East St. Peter
Mr. & Mrs. Michael Barras on Lee Street
Schwing Insurance Agency which was built as New Iberia's Post Office in 1903 and the Sliman Theater which features brick walls from an earlier era as a movie theater will be open during the Tour of Homes. Church of Epiphany, Congregation Gates of Prayer Synagogue and St. Peter's Church Rectory will all be featured during this tour. At Shadows-on-the-Teche, a Living History Tour with performers will depict Christmas preparations in the 19th century. Additionally, those who attend this tour can enjoy a reception at the Shadows and holiday music and treats at the Sliman Theater.
Tickets are $25 per person and can be purchased in advance at the Shadows Visitors Center at 320 East Main Street, New Iberia.
The Shadows-on-the-Teche Visitor Center and shop will also be open throughout the day for your stocking stuffers and early Christmas shopping.
There is a separate holiday event especially for children before the Tour of Homes begins. A Children's Christmas Tea will be held from 1 p.m. until 3 p.m. at the Sliman Theatre for children ages 3-10 (tickets $20) and adults (tickets $30). "Christmas Best" outfits are encouraged. Visit ShadowsontheTeche.org for more information or call (337) 369-6446.