Born on the Bayou- Chris Grisaffe & Louisiana's Leroux Part 2 of 3
11/01/2012 11:23AM ● Published by Chris Grisaffe
Louisiana's Leroux performs to a jam packed River Ranch crowd.
The journey to the Louisiana's Leroux show begins where the good food and home style atmosphere ends, and the business of making music begins.
The ride to River Ranch is a quick one, only getting turned around once before we got out of the neighborhood. After being detoured into a parking garage, we walk toward the gazebo, where a buzz of activity fills the square. As we approach the bandstand, The Danny Airhart Project is warming up the crowd with some funky, down home rendition of Bill Wither's tunes, much to the crowd's delight. I quickly notice Matthew Schlenker, a Baton Rouge photographer working with Leroux. I remembered Matthew from the pre party earlier that day. We talked briefly about some musicians and people we both knew. He mentioned that he was going to Houma on Saturday to see Leroux perform at The Voice of the Wetlands Festival. The voice of the wetlands festival is an awareness event that Tab Benoit is the spokesman for. Elvin Bishop and Mickey Thomas are also scheduled to appear. It is an excellent organization, broadcasting the word about coastal erosion in Louisiana.
I also get the opportunity to meet Mike Shepherd, the Executive Director of "The Louisiana Music Hall of Fame." A man with many irons in one very large fire, Mike conveys some of his thoughts on Louisiana Music and musicians. "The guys in the Capitol building in Baton Rouge have no idea about the number of musicians in Louisiana. They say the number is less than four hundred. I asked them," In to which neighborhood were they looking?"." An eloquent spokesman, Mike is not afraid to speak his mind to those folks at that Capitol building. His most recent project is working with Louisiana Hall of Fame Musicians celebrating Louisiana's Bicentennial. The live show schedule is quite busy, and the roster of talent is legendary. The vast amount of players and opposing festivals and gigs make the never ending musician shuffle a daily occurrence. He has also recently produced a CD entitled "Louisiana Artists for the Bicentennial", a hopping, twenty-one song disc covering a wide range of Louisiana talent in every genre and era. With artists as diverse as Jimmie Davis and The Boogie Kings, to Lucinda Williams, and Chubby Carrier, this disc is a must for any true Louisiana Music fan. Mike informs me of the upcoming show Sunday at Festival Acadien, and an appearance at the Baton Rouge State Fair.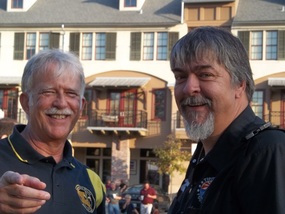 While chatting and getting to know Mike, the opening act has completed its set, and the stage is abuzz with guys rolling up wires, loading and latching cases, and hauling things off the stage. Other guys are bringing things onto the stage. I am able to talk with Louisiana's Leroux's Rod Roddy about some early incarnations of the Band. "I was in a band in Houma called "The Levee Band." Our original lead singer, Jeff Pollard, was in a band called "Okra."The Levee Band eventually would become Leroux, and also would produce another singer for the hugely popular seventies band Toto. Bobby Kimball." He would sing for the Levee Band, and eventually go on to sing for Toto, where he enjoyed a great amount of success.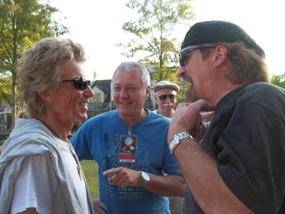 Qucickly slipping away, Rod joins the rest of his band mates on stage. Last minute adjustments are a necessity. Guitar player Tony Haseldan appears to be having trouble with his equipment on the floor. A quick re-routing of wires appears to have solved the problem. The "CHECK 1-2" guy is busy checking one and two. The drummer is slowly starting to get a few licks in. You can hear Leon Medica bumping on his bass guitar, as he turns the knobs on the amplifier to the sound he likes best. With no real musical content or direction, each player quietly gets his little "test fire" of the system. One and two are checked a few more times. Then all is quiet. The faint clicking of two drumsticks keeping perfect time is interrupted only by those familiar lines in perfect harmony…
"Take a ride on a riverboat …gonna leave and that's all she wrote"….
 The rest is exactly what you would expect. A powerful Leroux show with Keith Landry holding down the vocals for a strong eleven song set that ended with "New Orleans Ladies". That one, sure to please crowd favorite. To close the show, former Lead singer Fergie Friedreckson came out to perform the closing four number set, showcasing his talent and time with the band.
Tonight also gave me the opportunity to meet more "behind the scenes" people in the music industry here in South Louisiana. It's not just one guy or a band that you see on stage. There are record producers, sound technicians, road crew, music store owners, equipment repair guys, venue owners, radio personalities, and so many more different people who put the music in front of the crowd. My goal here in this forum is to recognize these people for what they bring as well. Without them, the front guy would not be there.
 With a wild night had, and meeting some good people, this show produced some good times and an invite to Houma on Saturday to the Voice of the Wetlands festival. Now I got to get to the Eight Track file and hunt for the Elvin….