The Candy Bomber
11/01/2012 04:15PM ● By Aimee Cormier
An Act Of Kindness By A U.S. Airman
By J.R. "Bill" Bailey | Submitted Photos
Victory in Europe—VE Day—was celebrated on May 8, 1945, when the German Wehrmacht (Armed Forces) lay down their arms and surrendered to the Allies. Germany was then divided into four Zones of Occupation: United States, Britain, France and the Soviet Union. Berlin, the former German capital, was well within the Soviet Union Zone of Occupation and was also divided into four zones.
On June 5, 1947, the Marshall Plan, named after General of the Army George C. Marshall, was adopted. This would allow American Assistance to all European countries, including the Soviet Union and other Eastern European countries.
On June 24, 1948 the Soviets, hoping to force the Allies out of Berlin, severed all road, rail and barge traffic between the non-Soviet zones and West Berlin. There were only three permissible air corridors, Hamburg, Bueckeburg and Frankfurt, that the Western Allies (U. S., Britain and France) were allowed to fly supplies into the beleaguered Allied section of Berlin.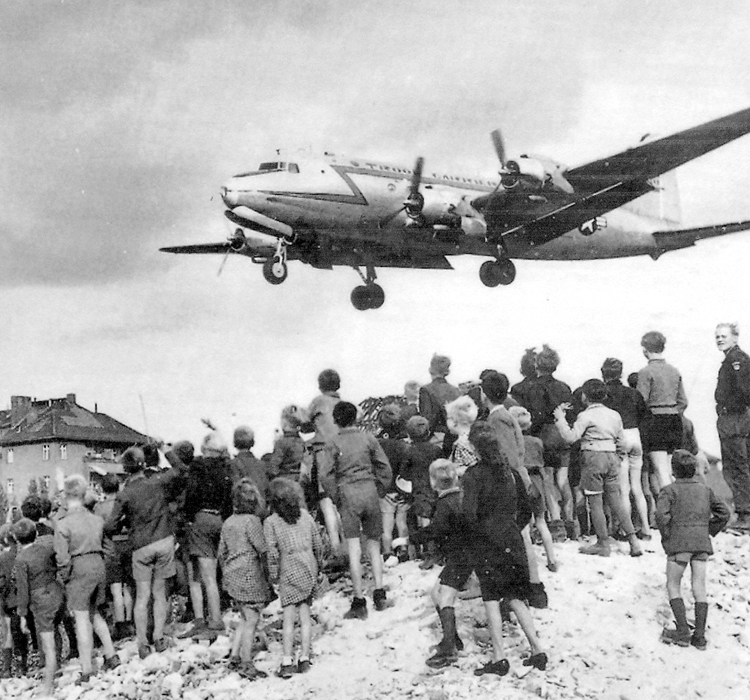 The Berlin airlift began on June 25, 1948 with 32 U.S. Air Force Douglas C-47 "Skytrain" twin engine transports hauling food, milk and medicine into Allied controlled West Berlin. For reference, the U.S. Army Air Force became the U.S. Air Force on Sept. 18, 1947. Three days later the British effort began and by the second week, aircrews were hauling 1,000 tons of supplies a day into West Berlin's three major airports.
U.S. Air Force 1st Lt. Gail Halvorsen, from Garland, Utah, was a veteran of the North African and Italian campaigns during World War II. He was now attached to the 17th Military Air Transport Squadron at Mobile, Ala., and when he received his airlift orders he was given less than an hour to park his Chevrolet under a tree, hide the keys, pack a small bag and report to the squadron. Halvorsen thought that the airlift would only last a week or two. However, he was wrong and he never saw his car again. He flew three round trips daily after the start of the Berlin Airlift with seven hours off to sleep.
War Hardest On Children
U.S. Air Force Lt. General William Tunner took command of the operation on July 27 and named the airlift "Operation Vittles." He did away with the smaller twin engine C-47 transports and began using the larger four engine Douglas C-54 "Skymaster" transports. There would be 14 USAF squadrons and two U.S. Navy squadrons involved in the airlift.
German children in the Allied section of West Berlin watched as the airlift of supplies flowed into the city. The war had been particularly hard on the children and they were living under extremely difficult conditions. Halvorsen began to give a few treats to the children around Tempelhof Airport. A candy bar or a stick of gum was a real luxury. Halvorsen began to make regular runs into Berlin and promised the children that he would drop them candy. With an airplane arriving every 90 seconds, the children did not know his airplane. He told them that he would wiggle the airplane's wings to identify himself.
Halvorsen was worried about the safety of the young people, so he began tying string to the corner of handkerchiefs to make a parachute for the candy. Halvorsen and his crew also realized that it was against regulations to drop anything from the airplane. They decided to go ahead with the candy drop and Halvorsen would accept full responsibility.
The pilot and his crew dropped the candy to the children, which was a great success. The candy drop could not be kept a secret as mail began arriving at Tempelhof Airport addressed to Onkel Wackelflugel (Uncle Wiggly Wings) or Schokolade Flieger (Chocolate Flyer).
The reaction of the candy drop was so favorable that it was not long before Tunner learned about it. He thought that it was a great idea and made an exception to the regulations allowing the candy drop to continue. He also gave it the name, "Operation Little Vittles." In a short time other pilots began dropping candy to the children and they became known as Rosinenbombers (Raisin Bombers).
Soon, word got out in the U.S. about the Berlin candy drops and before long candy manufacturers donated large amounts of candy to "Operation Little Vittles." Social groups, women's clubs and school children prepared candy with parachutes and shipped it to Halvorsen. He received a box of 525 handkerchiefs which came just in time as he and his crew were running short of handkerchiefs.
Halvorsen's Sweet Legacy
The German children drew pictures and sent letters until the volume of mail got so large that Halvorsen had to get a German secretary to help read and answer the huge amount of mail. He set up a service where boys and girls in the U.S. could find pen pals in Germany to exchange letters.
Halvorsen visited German children in orphanages and hospitals, always with boxes of candy and gum. Many of the children, however, had never heard about bubble gum. The visits always ended with a comic demonstration of how to blow bubbles with this fascinating new gum.
When the Berlin Airlift officially ended on Sept. 30, 1949, the Anglo-American airlift had delivered a total of 2,324,257 tons of food, fuel and supplies to the beleaguered city of West Berlin. There were 278,228 flights to Berlin for a total of 92 million miles. Tragically, there were 101 fatalities, with a plane landing every 90 seconds. Halvorsen and his crew dropped 850 pounds of candy while the other 25 plane crews dropped 23 tons of chocolate, chewing gum and other candies. Every year a wreath is laid at the Berlin Airlift memorial at Tempelhof Airport. Halvorsen was wrong about the time that he would be deployed for the Berlin Airlift, as he was there from July 1948 to January 1949.
In 1948 Halvorsen was presented the 1948 Cheney Award for his part in the airlift. The Cheney Award is awarded by the USAF in recognition of valor, extreme fortitude or self-sacrifice and having a humanitarian interest.
Halvorsen took part in the re-enactments on the 20th (1968), 40th (1988) and 50th (1998) anniversaries of the Berlin Airlift. Promoted to Colonel, Halvorsen was Commander of Vandenberg Air Force Base (California) from 1968-1970, and returned to Germany as Base Commander of Tempelhof Central Airport from 1970-1974. In 1974, he was decorated with the "Grosses Bundesverdienstkreuz" (Grand Cross of the Order of Merit of the Federal Republic of Germany), one of Germany's highest awards. He retired from the U.S. Air Force on Sept. 30, 1974. He then served as Assistant Dean of Student Life at Brigham Young University.
The Berlin wall, which was constructed in August 1961 and completely cut off West Berlin from East Germany and East Berlin, came down on Nov. 9, 1989. German reunification was formally concluded on Oct. 3, 1990. In 1993, Halvorsen participated in the closing ceremonies for Tempelhof Airport.
In 1995, Halvorsen and his wife Alta went to St. Petersburg, Russia to serve as missionaries for The Church of Jesus Christ of Latter-day Saints. They trained teachers and visiting institute classes plus worked with youth groups. Earlier, during the 1980s Halvorsen and his wife had served as missionaries for the church in London, England.
On Feb. 8, 2002, Halvorsen carried the German team's national placard into Rice-Eccles Olympic Stadium during the Winter Olympics, and in 2008 Halvorsen was honored as Grand Marshal of the German-American Steuben Parade in New York City. He has had the pleasure of meeting many of the people that he dropped candy to during the Berlin Airlift, thanking him for the "Little Vittles" that came to them by small parachutes. He has worked with one of the recipients of "Operation Little Vittles" on an "Airlift of Understanding" that exchanges high school students between Berlin and Utah, Halvorsen's home state.
Halvorsen turned 92 on Oct. 10, 2012. The U.S. military continues to model some of his actions by dropping toys, teddy bears, and soccer balls to the children of Iraq.
Editor's Note: J.R. "Bill" Bailey would like to thank Elizabeth Belliveau Caulking for her help with this article.
November 11 is Veterans Day. Would you like to salute a veteran? Feel free to list the name of the veteran or currently listed individual, branch of the U.S. Military, rank and special accomplishments below.