Exceptional Teachers
11/01/2012 04:10PM ● By Aimee Cormier
Iberia Parish's 2013 Best And Brightest
By Barbara Gautreaux / Photos by Fusion Photography
Nurturing, tech-savvy, a leader. Compassionate, fair and creative. These six words just begin to describe the teachers selected as the Elementary, Middle School, and High School Teachers of the Year for Iberia Parish. Praise for their skill in providing lessons that engage young learners in the educational process is given here, with our heart-felt thanks for the future. Your love of learning will last them a lifetime.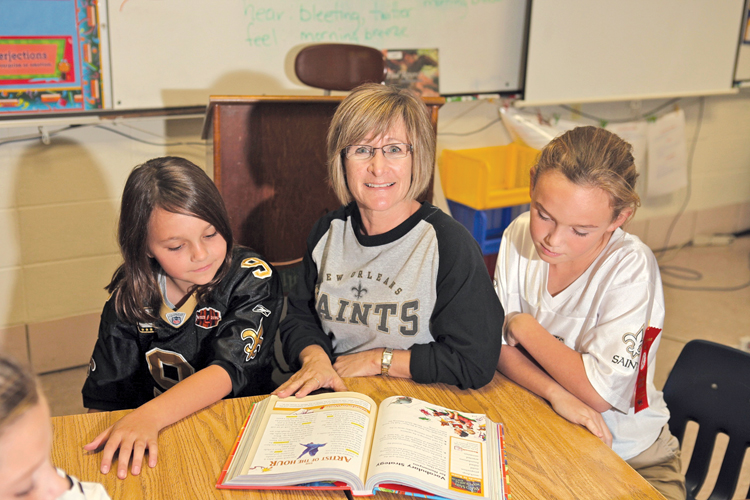 Fran M. LeBlanc-Lanclos
Loreauville Elementary School
English/Language Arts 5th grade
Fran Lanclos feels teaching is a commitment to putting the students first. A teacher must always remember that parents are entrusting them with their greatest gift, their child. Students should be praised for their strengths, share their laughter and be appreciated. Lanclos has 19 years experience teaching, and says that communities participate with teachers in instilling the importance of education, especially reading. "My message would be unity achieved through forming meaningful partnerships within schools and communities. It does take a community to raise a child. Through partnerships with all stakeholders, students will know that we take pride in the values and goals we set before them," says Lanclos. "They will also know that we genuinely care about their futures."
Lanclos came to the teaching profession after working in retail management for many years. Her father, an educator, encouraged her to go back to college and major in education. She says, "He once told me that teaching is the only profession in which you can evaluate your performance each year and make modifications to improve your effectiveness. I ultimately owe my dad for leading me in the right direction."
Once Lanclos reached the student teaching phase of her education, she could not wait to begin. "I am still just as nervous and excited to begin each school year as I was my first year of teaching! I know this is a sign that I have made the perfect career choice," said Lanclos.
Lanclos has felt rewarded by working with teachers throughout the Parish on aligning the Comprehensive Curriculum, mapping the ELA curriculum and selecting the Academic Vocabulary.
She has also contributed in selecting the skills, scope and sequence of objectives tested on the three Benchmark Assessments. "These contributions to parish-wide initiatives have had an impact on the effectiveness of my teaching in the classroom. I have a greater understanding of my curriculum and I am able to use various levels of questioning to improve my performance in the classroom," she says.
A contributing factor to Lanclos' success in the classroom is her personal mission statement, which is also her philosophy of teaching—know them, love them and respect them. "Know them does not only include evaluating each child's strengths and weaknesses according to collected data, but actually knowing the child. This can be the deciding factor in reaching that child academically. For example, how many siblings does the child have and what order is that child in the family? Do they live with both parents or one parent? Many questions can be answered about a child's behavior or academics if teachers would take time to find out about a child's family dynamics," said Lanclos.
Lanclos will attend students' extra-curricular activities such as sporting events or dance recitals. This sends a message that you care. She says, "My students' eyes light up when they see me at one of their afterschool activities."
Mrs. Lanclos is a devout Catholic who serves as a teacher and volunteer. Her principal describes her with words such as energy, enthusiasm, willingness, patient, understanding, responsible, knowledgeable and devoted. Fellow teachers say she is always willing to lend a helping hand. Lanclos returns the complements replying, "Lean on your fellow teachers for guidance and support."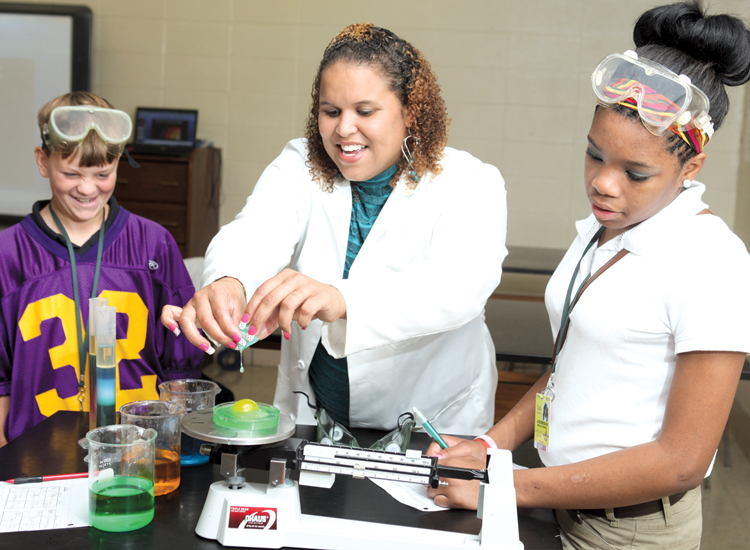 Mercedé Tatiana Hardy-Boutte
Anderson Middle School
LifeScience/Earth Science
grades 7th-8th
Mercedé Boutte earned the reputation of a caring individual when she was just 9-years-old, taking care of animals and children in her neighborhood. What she calls her "outlet to happiness" led her to Veterinary School. To make extra money, the veterinary student began to substitute teach, where she realized she wanted to be involved in shaping youthful intelligence for the betterment of humanity.
"I reflected on the two people that had made the biggest difference in my life, which were two teachers, Mr. Kirk and Mrs. Vincent. Even though my life was difficult, they encouraged me to go to school every day and do my best. It was then that I decided to change my major to Elementary Education," said Boutte.
Boutte is a graduate of the University of Louisiana at Lafayette, and Nicholls State University. She has taught at J.H. Williams Middle School in Vermilion Parish and at Hopkins Elementary School. She has been a Mentor Teacher for the UL Educational Program and served on the Parish Wide Academic Vocabulary Committee, as well as many other committees and projects. She is married and the mother of three children, ages 15, 11 and 9.
"I truly believe that if there is one person that can give hope to a child, their life can turn around for the better." She seems to bond with students that are more challenging to other teachers. "It is these students that I see so much potential in and try to encourage them on a daily basis."
For instance, a student she taught her second year at AMS came to her classroom to show his report card. His words were, "Mrs. Boutte, I am 17-years-old in the 7th-grade and never have I ever come so close to making honor roll. You are the first person who ever cared whether or not I passed or failed and that is why I am trying so hard to make honor roll, to make you proud." Says Boutte, "That statement will stay with me for the rest of my life, because he reminded me of myself. He needed someone to be proud of him, a little motivation and I was able to give him the motivation to pass that year."
Mrs. Boutte's contemporaries and supervisors say she is "one of the best teachers in this state" and "she is very giving and compassionate when it comes to working with our at risk population. She delivers her lessons with such power, passion and conviction that her students are captivated and hang on her every word."
Community service is another area where Boutte is active in helping. She orchestrated a school-wide food drive to benefit St. Francis Diner, going door-to-door asking for donations and collecting more than 3,000 canned goods herself. She volunteers with the Vermilion Football League reviewing report cards for 26 football teams to confirm eligibility. She tutors players to improve their academic skills. "These programs are important because they give these children—at a young age—the realization that education is vital for success," said Boutte.
Boutte says her greatest strength is her passion for science and the enthusiasm she brings to the classroom. "I work in Middle Schools because that is where the battle becomes more intense, but also where I can still reverse opinions that have already been formed in the students' minds." She believes a teacher must convey the truth that what is being taught is valuable to their lives. "I convince them with engaging hands-on activities with lots of enthusiasm. I believe it is impossible to learn when you are bored, so keeping students motivated is the key to understanding and learning. When planning a lesson, I always incorporate critical thinking skills, problem solving strategies, and activities."
Boutte teaches so students learn to think on their own. "I am preparing my students to be successful young adults with the proper tools to accomplish more in life."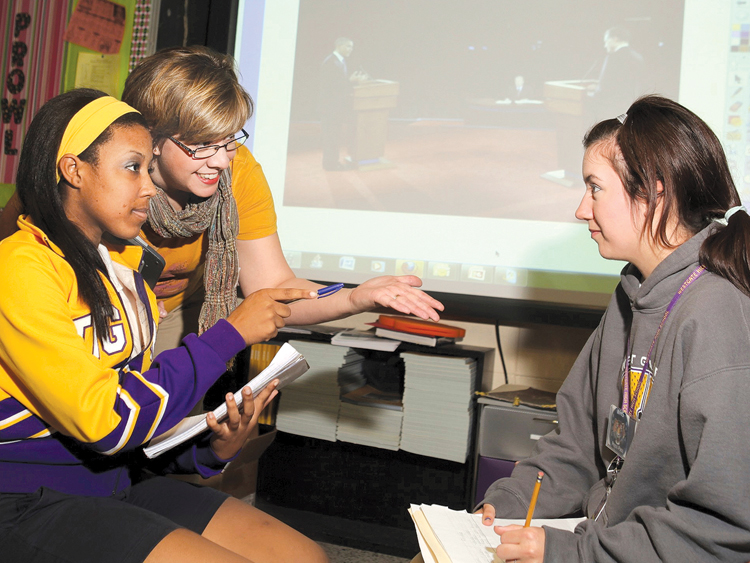 Melissa Robertson Gates
Westgate High School
English/Language Arts
grades 10th-12th
English Teacher Melissa Gates has taught math, computer literacy, Spanish, English as a Second Language, and English to students in public school and parochial school. Throughout her career she has been given the title of persistent. "My greatest accomplishment as a teacher, regardless of the course I have taught, has been my unwillingness to see one of my students fail and watching those most 'at-risk' succeed. I am persistent, often to the point of becoming a nagging mother figure to many of my students."
In Houston, Texas, Gates taught amidst gang shootings, teenage runaways, homeless students, high pregnancy rates, drug-addicted students and/or family members and kept going. "My persistence about completing a literary analysis essay often seemed fruitless. To bolster my resolve, I became a counselor in the Student Assistant Program, where I counseled 10 students on a daily basis."
Persistence reached new definitions and limits for her when she made home visits to one-room apartments with no electricity or accompanied students to jail to visit a mother or father. Gates reported to the school board on how those students, even in the face of such hardship, were passing the 9th-grade.
During this time, Gates learned about a literature program where students selected books they wanted to read. She approved of the program with one small concern. What if students didn't know what they wanted to read? If they chose a random book would their reading experience improve at all? She needed to make sure that the students connected emotionally with their books, so she and a colleague created a series of lesson plans combined with activities from Teaching Tolerance that found out the students backgrounds, families, beliefs, concerns and goals. "Despite naysayers, the students shared their innermost hardships and most beautiful dreams," says Gates.
"Using this information, we compiled a list of novels that related to the students' personal adversities, experiences, and hopes. The result was earth-shattering for me. Our test scores on the state exam shot through the roof and we had created a new generation of possible bibliophiles!"
Gates now has a mantra for her style of teaching: any student will perform if given the right motivation. She has used this program in all of her classes, at every place she has taught and passed the information along to other teachers. "Many of them use the program and have commented on how unbelievably successful their students have become," says Gates. After seven years of field testing, Gates is submitting her findings to the academic journal "Reading Research Quarterly" with the anticipation of sharing her book reading program to help other English teachers motivate at-risk students with little or no reading interest.
In addition, this graduate of Northwestern State University and ULL will pursue a doctoral degree to further study the book program as part of her dissertation. "Only when I go back to my school and into the community and vocally support my peers, touting the great programs we have instituted to bridge achievement gaps and motivate our students, am I a successful, effective teacher. That is the purpose of all my extra-curricular involvements. I want our students, parents and community members to hear "teacher" and think "leader," said Gates.
Mrs. Gates has served on literary and technology committees and been a mentor teacher on three occasions. She assisted with the creation of a student counseling program, and is a member of the Positive Behavior Interventions and Supports committee. She is the Literary Rally sponsor and the Westgate Beta Club sponsor. Gates is committed to showing her students how to be philanthropists, locally and internationally.
Persistent, Gates continues to focus on the individual student, not the class or group. Says a former student, now an LSU math major: "Mrs. Gates not only taught me the skill she was hired to teach, but she taught me the context, the usage, and how to continue using it within any subject. She achieved that which all teachers seek to achieve: she taught me how to learn."
Do you have a favorite teacher? Tell us in the comment section below how they've made an impact in your life.