Tacky Sweater Craze
11/01/2012 03:59PM ● By Aimee Cormier
New Holiday Tradition Has Everyone Wearing Outrageous Knits
By Barbara Gautreaux / Submitted Photos
Now that it is time to unpack those winter clothes from storage and prepare for cold weather, consider taking another look at any holiday sweaters stored away. Are they festively sewn in red or green? Could they be just a tad too decorated with all the traditional holiday trappings of greenery, winter wonderland animals and religious themes? Perhaps these sweaters were gifts or spur-of-the-season purchases more suited to "someday" rather than a work day? If so, dear reader, you may be looking at what has become the newest holiday craze: the Tacky Christmas Sweater.

The fascination with wearing an ostentatious ensemble can be traced back to 2001 and the popularity of the movie "Bridget Jones's Diary," a re-telling of the well-loved novel "Pride and Prejudice," complete with a Mr. Darcy love interest. Renee Zellwegger's "Bridget" teases Colin Firth's "Marc Darcy" about his Christmas "jumper" sporting a large reindeer head.
What Is Tacky?
While some school teachers and grandmothers may realize their winter shirts are now valuable commodities, Thomas Gotte, Community Relations Assistant Coordinator with the Iberia Parish Library, says the TCS outfits are fun, not risqué or only for adults. "The cornier the better. The TCS is for everyone because they can be made for a few dollars with anything Christmas-y from a dollar store."
Gotte attended his first TCS party three years ago in Lafayette while attending UL Lafayette. He bought a winter-themed sweatshirt for $5 and craft pom-poms, using a hot glue gun to attach them to the sweatshirt. He also formed a permanent bow-tie from holiday ribbon and attached it to the neck. "It was a hit, more so than just buying one," Gotte says. "I wear it every year. Each year I add something to it, and this year I may add some Christmas ornaments."
Adding colored skinny jeans to the outfit can complete the "elf" look.
Kristie Trahan, IPL director, says the TCS phenomenon is nationwide. "It is fun, funky and up with the times. Everyone is trying to show up everybody else and with this trend the cheaper the better." She warns that it may be awkward to be the only one wearing the TCS, so be sure to notify everyone at an upcoming event that a TCS is a must.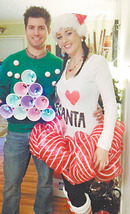 Over The Top Fun
New Iberians Dixie and Ryan Boutte were invited to Erin and Wess Robison's house party last December for their annual "Tacky Sweaters" party. The couple has held this type of themed party for three years, and has seen the evening's tackiest sweater contest become a serious competition. "The sweaters have animation, lights; people started adding accessories to the sweater and it had to become a tackiest sweater and ensemble contest," says Wess.
"This party was the first time I had ever heard of the Tacky Sweater," says Dixie. However, she was able to make her husband a winning outfit. He wore a lighted, red, retro vest over a Christmas turtleneck shirt. "It was possibly a ladies turtleneck because I borrowed it from my friend's grandmother," confesses Dixie.

Making the sweaters for the party was fun and got her competitive juices flowing, she says. "I made it for about $5 or less. I got the sweater at Goodwill, and the string of lights and the plastic Christmas tree outline at the dollar store."
While the Bouttes both have responsible jobs, they were willing to risk ridicule to win. "Ryan was not going to wear the tacky sweater and I pushed him to wear it," says Dixie. "I told him that he would win, because it is a tacky Christmas sweater, and the ornaments on the sweater's Christmas tree were thumb tacks. Actual tacky ornaments."
The Robisons included in their invitation the fact that participation in the contest cost $5, which creates a cash award to be divided up between the first and second place winners. Ballots were cast in writing and ties were determined by a dance off between finalists.
Tacky, all the way around, but enjoyable holiday fun.
Do you have a Tacky Sweater to wear this holiday season? Did you buy one at a resale store or create it yourself? Upload your Tacky Christmas Sweater photos to our Facebook page!
Editor's Note: Everyone interviewed for this article denied wearing a tacky sweater out in public.