My Cup Runneth Over
11/01/2012 04:10PM ● Published by Aimee Cormier
Stories of Thanksgiving
By Barbara Gautreaux
Do you have more than you need? The King James version of the Bible offers from the Book of Psalms 23:5, a list of blessings from the Lord and states, in part this idiom, 'My cup runneth over.'
Here in south Louisiana, blessings arrive in many forms, and for each person that blessing may be different. To celebrate the season of reflecting on our bounty, Acadiana LifeStyle asks several Teche Area residents to add to this issue what makes their hearts full and their cup overflowing.
Winning A Home
As New Iberia's 12-year-old Danielle LeCompte pulled the winning name of the Lydia Cancer Association's first "Home for Hope" on Sept. 8, it was the culmination of more than a year of selling tickets to be able to award a brand-new home to one lucky person.

Ronald Landry, co-founder of LCA 10 years ago with the late James Frawley Jr., says the organization's first home raffle gave the Lydia non-profit the publicity that it needs to continue providing services to people affected by cancer.

"We service four parishes and you would be surprised at the number of people who have never heard of us. Unless they have cancer."

Dianna Prince of Lydia bought the winning ticket the day of the drawing. She and her family have been volunteers with the American Cancer Association and then the LCA for more than 18 years. Dianna and her family members are part of the Pam Reaux Family and Friends booth that has sold quail wrapped in bacon during the LCA Food Fest for the past 10 years.

According to Landry, when the drawing was held, Dianna had already gone home for the day with her husband, Kenny. "We called her right then and there and told her she had won. There was definitely a lot of hugging and crying and tears of joy. She was ecstatic. She was in disbelief," he says.

The first Home for Hope was valued at $375,000 and is part of Phase 1 of Mon Jardin Subdivision in Broussard, which is being developed by Rusty Broussard, Rajun Cajun Construction and John Romero. Landry says local vendors and contractors donated materials and labor for the 2,000 square-foot house. "It is gorgeous," says Dianna. "We never expected to win. We bought the ticket as a donation. It was surprising and unexpected."
LCA sold 4,200 tickets at $50 each for the Home for Hope. "Our member Rusty Broussard went to a lot of trouble for us and was able to get donated about 60-70 percent of the house's materials and labor, by individuals that he contracted to do the work, or supply the material. That came to about 55-60 companies that actually made donations to LCA. We were fortunate to get major donations from Cargill Deicing and Morton Salt, who always support us so much. Some of the biggest givers were the people that knew Rusty and were helping to put the house together."
The Prince family is one of many that have been affected by cancer, losing loved ones to the disease. Dianna says they are not members of LCA and have not received services themselves.
LCA assists between 40-60 clients a month in Iberia, St. Martin, St. Mary and Vermilion parishes. They provide funds for food, medical expenses, prescriptions, transportation and utilities. Its volunteers organize blood drives, food drives and cancer education events.
"This house put our name out in the public and hopefully they know a little bit more about LCA," says Landry. "We need the support of the parishes to keep helping people. Our volunteers are what keep us going. We have no paid staff. We are so fortunate. Now we are recruiting the younger generation to look at what we are doing and to join us. We are making a difference."
Finding Peace Through Inner Truth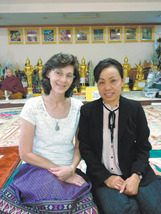 Vanna Kattaviravong knows about trying to have it all, about working hard and living the American dream. As a Laotian refugee who came with her family to the U.S. in 1979, Kattaviravong and her family worked to better their lives first in Texas, and then here in South Louisiana. The cold weather in northern Texas had the family looking for a home more like the Southeast Asia country they left to escape communism.

"When my dad moved over here, he liked it here. The weather is very similar to Laos, almost like our country. There was training for welding, he became a welder and worked at the Port of Iberia," says Kattaviravong.

After her father passed away, Kattaviravong's mother, Kaisone Phayarath, was saddened and lost, choosing to live at the Buddhist Temple in Coteau. Her mother became one of the women living as a maenun (nun) in the temple. "When my dad passed away, my mom could not accept that at first and she missed him a lot. She didn't know what to do with herself. She came to the Temple to live with Buddha and it helped because you have to think about real things in life, to come to peace with the fact that, if you are born you are going to die."
While living at the temple, Kattaviravong says her mother read the writings of Buddha and studied his teachings. "And she got better and better as she began to understand more about life. She learned how Buddha can help you solve problems in everyday life."
Kattaviravong, during this time, traveled between the two nurseries she owns in Elmer and Forest Hill and her home near the temple grounds. "My mother really helped me too. Before this time, all I really thought about was work and getting what I wanted, and if you made a lot of money, you could buy what you wanted."
Kattaviravong says her involvement with the Temple was to attend only on special occasions. "Even though it is part of my life I didn't think about it all the time." Her mother kept studying the teachings and eventually reached her daughter, allowing their religion to give her hard-working daughter a life more centered on peace.

"My mother would turn on the lessons at home, kind of loud, and even though I don't want to listen I can hear what the teachings are, and eventually, it gets into me and starts making sense."
A retreat with visiting nuns from Thailand and the lesson is learned. "Now I don't live and work as hard as before. I don't fight as much with myself. My personality is not to accept what I don't like. But now, instead of being sad, I am a lot better. I can take in frustrations and it doesn't affect me the way it used to," she says.
Kattaviravong doesn't live to work anymore. "I changed a lot. Before, even though I was tired, I would keep working, because of all the things that I wanted. Those things are never going to be fulfilling. It is never going to be enough."
How is her relationship with her mother? "Very good," she says. "We are always together and talk about the teachings. For me I don't have problems anymore because this is the world and you accept what happens."
Heddy Nunez, a godmother to Kattaviravong and a family friend for more than 20 years, sees Kattaviravong as being very strong now. "It is nice to see her this way. She worked so hard all of her life. She is the backbone of the family, the anchor."
Seeing A Child Smile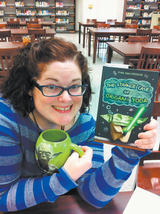 Linda Fairchild is a busy young English teacher who took on the role of a Court Appointed Special Advocate more than three years ago. She was living in New Iberia and signed up to be a voice for children in the court system. CASA volunteers represent the best interests of abused or neglected children during juvenile court and child protection proceedings. They are trained then appointed by a judge to serve as a child's voice in court.

CASA of the 16th Judicial District Court was created so that abused children would not "fall through the cracks" of overworked and underfunded juvenile justice and child protection systems. They do not replace lawyers or social workers, but they do provide the judge with, in Linda's words, "a long report on what is going on with the child. I talk to the parents, the police, the Department of Child and Family Services, and make sure the child gets the right representation, and that all parties are on the same page."
Why would Fairchild take on the responsibility of assuring the best outcome for children in foster care? "Because of the children," she says. "It is almost becoming a mom, caring for those children, wanting the best for them. I had the most amazing childhood and I want other people to have that. Every time I get a new case I go home and thank my parents." She is the daughter of Marvin and JoNel Fairchild of Erath.

Fairchild says being a teacher is one place she can influence younger teachers to always look for the good in people. "I have a student teacher, and it is very rewarding to pass along my love of English and helping people."
As a CASA, Fairchild keeps the saying "you catch more flies with honey than with vinegar" when dealing with the court system and child protective systems. "I have to compartmentalize the information I have been given, and almost forget that part when I meet the child, or the biological parent, because you won't get anywhere if you go in ready to fight. I use what I know to make it easier for the child. I bring it back to what is important."
So far, Fairchild has helped seven children go through the system, and one of her first cases, who "aged out" of the foster care system, is a 19-year-old that Fairchild is still close to. "Raven talks about her story now, she wants to one day be a CASA, and she will be a good one."
If a child does not have a CASA, that does not mean they are not getting the best service possible. "A lot of children do go through the foster system in a good way," says Fairchild. "However, CASA makes sure that the child is totally the focus. We keep bringing it back to the child."

Fairchild hopes more caring volunteers will come forward to help this area's children in foster care. "We need more volunteers because we don't have enough advocates. We are nowhere near the number we need." For information, contact CASA at 337-359-9016 or email speakup@casajdc.org.
Care From The Heart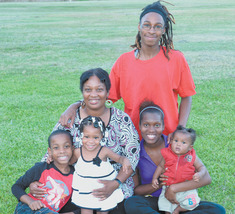 Beverly Guidry hopes she can share with other people some of the paths she has taken to finding happiness for herself and her young family. She is open and friendly, quick to mention how she can help other people and appreciative of those who lift her up spiritually.

A single mother to 7-year-old Clarence Guidry III, Beverly also has two children ages 21 and 20, and a grandson and granddaughter. She has been a client of the Disch-DeClouet Social Service Center in New Iberia for two years. Beverly, a caregiver, sought out the Catholic Center for counseling, prayer and support. "They make me feel good; all of the volunteers there are caring. They help you 100 percent. In the morning, they read a scripture and they talk to me, individually," says Beverly. "I tell them things I go through, how I'm doing with this or that. I love all of them at the Center."
The Social Services Center can help clients with a variety of assistance, from rent and utility payments, to medicine, uniforms for work or school, or food. They help not only on the outside, but they give care to the inside of their clients, help that says, 'We see you as a blessing from God.'
The Center encourages their clients to go to the church of their choice. Center volunteers offer counseling on reducing expenses, increasing income, tackling homework and other children's issues. Then, they listen. It is a lesson that doesn't go unnoticed by the clients.
Says Beverly, "I have asked other family members to go and I have even suggested to one of my friends that it would help her to go, too." Beverly says seeing other people hurting over life's troubles makes her want to help them, in the only way she knows how—prayer. "We all go through troubles and just talking to people can help. I convinced my friend to come with me to my church, Israelite Spiritual Church of Christ #2 in Four Corners. My pastor, Bishop Jules Anderson and his wife pray with me there, too."
Going to church helps Beverly, especially because of family illness and worry. She says seeing young people struggle with addiction and violence leaves her sad, but not hopeless. "I ask myself what I can do for these people, and I want to go to them and tell them God is in their life." The power of prayer can uplift anyone in doubt, says Beverly. "I would ask that everyone pray for the teenagers in the world who need guidance and understanding. That is the most important thing."
To celebrate the season of reflecting on our blessings, Acadiana LifeStyle asked several Teche Area residents, "What makes your heart full and your cup overflowing?" If you'd like to add what you are thankful for, post your comments below and Happy Thanksgiving!