Get Your Body Back On Track
09/27/2012 10:35AM ● By Aimee Cormier
Controlling Weight With Protein And Movement
Text & Photos by Jeanne Claire Solis
Say the word "diet" and most Americans cringe. The connotation is just 'pas bon.' Turn the talk to energy foods, healthy eating or nutrition supplements and the topic is easier to swallow.
For Acadiana residents of all ages, obtaining a normal body mass index (BMI) is a growing challenge, especially around the waistline.
There's a mind-body connection to maintaining a proper weight, according to local experts. So what's the painless solution for getting our bodies back on track?
Fads For Fighting Fat
The latest trends in American weight control include a hearty list of fad diets sprinkled with a handful of reliable, evidence-based programs. At the top of the doctor-driven heap are the Atkins, Dukan and 17-day Diet plans. Eat Clean is another popular option. The potential for short-term weight loss may be good with these programs. The long-term challenge is keeping off the weight.
Before committing to an alternative nutrition plan or trendy diet, speak with your doctor about your situation. Medical professionals lean toward a combination of proper nutrition, food supplements and physical activity.
"Obesity has become an epidemic that is a result of overeating," says Jesus R. Garcia, M.D., a Fellow in the American Academy of Family Physicians and the American Geriatric Society. High protein diets can provide a healthy jump start to weight loss, according to Garcia.
"If you are obese, you are hitting the carbs that keep hunger going," Garcia explains. Simple carbohydrates in white bread and pasta, fruit juice, cake, cookies are among the foods that cause insulin release in our bodies. The result is a weak and lethargic feeling.
Garcia tells his overweight patients that the only diet that works is the one that keeps you from eating the large meal in front of you. That's a protein-based diet. Protein satisfies the hunger feelings, he says, but does not stimulate the pancreas to create extra insulin the way carbohydrates do.
C'est Bon Pour Nous
The recently released "Dukan Diet" book has become a best-seller. The diet plan creator is a mild-mannered French doctor who says it's not a fad diet. Fighting obesity is Dukan's life mission. Like Garcia, he looks to high protein intake for weight control among patients.  
England's Kate Middleton helped to launch the Dukan craze when word got out before her wedding to Prince William that she was following Dukan's diet plan. Hollywood celebrities like Penelope Cruz, Nicole Kidman and Jennifer Lopez reportedly have lost weight following the Dukan plan as well.
Like the Atkins diet, the Dukan plan allows dieters to eat lean meats with limits to other kinds of foods. But each day, Dukan dieters must drink six glasses of water, walk for 20 minutes and eat at least 1-1/2 tablespoons of oat bran.
The Dukan diet has four phases. The "attack" phase facilitates rapid weight loss by eating only lean protein and oat bran culled from the husks – not rolled oats or oatmeal. The "cruise" phase adds vegetables, but not starchy potatoes or fatty avocadoes. The third phase, "consolidation," is the most critical, adding one serving of fruit and two slices of whole wheat bread per day. The final phase, "stabilization," lasts for the rest of one's life. Participants eat whatever they want as long as they return to eating only pure protein for one day a week.
High-Protein Science
News flash for Acadiana: protein may help to satisfy hunger better than fats or simple carbohydrates! A recent study reported in the Journal of Nutrition showed that a high-protein diet combined with exercise enhanced weight and fat loss, and improved blood fat levels. In another published research study, the higher-protein diets helped people to control their appetites and calorie intake.
Researchers believe this may occur because high-protein diets and less simple carbohydrate consumption cause the brain to receive lower levels of appetite-stimulating hormones. But according to the American Dietetic Association, more research is needed before experts can make sweeping recommendations for people to boost the protein in their diets.
How Much Is Enough?
We need protein at all stages of life for a variety of bodily functions. It's the major component of all cells, including muscle and bone. It's needed for growth, development, and immunity to fight off infections. But is it possible to eat too much protein?
"There are no dangers associated with higher intakes of protein for people with normal kidney function," says Dr. Garcia. But it is not good for people with kidney disease. Following his own advice, Garcia embarked on a high-protein diet nearly three years ago as a natural remedy for his knee and shoulder ailments. He added more high-protein fish and lean meats to his diet, supplemented by the Ideal Protein program. It worked, he says, and he no longer has the joint pains.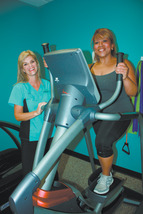 Adding In Physical Fitness
Contrary to the 20th century workout wisdom of "no pain, no gain," the Body Sculptors Fitness Center in Broussard promotes a modified health leadership motto: "not fun, not done." The incredible results are evident with a stroll past the Center's Wall of Fame. Before and after photos are proudly displayed of women who have succeeded with weight control through monitored physical activity, protein product use and a strong emotional support network.  
"I see a positive change in attitude among the clients," says owner Kim Minyard, a 30-year veteran of the fitness industry. At first, many clients are embarrassed about what they have allowed their bodies to become. But over the course of weeks or months, the clients become more positive about themselves and life, Minyard observes.
"It's exciting to see the changes happen through a process that is natural, not surgery." Minyard is the owner of Body Sculptors Fitness Center.
It's more about body mass and being in a healthy zone, explains Minyard. Her programs monitor body mass indicators on a regular basis. This includes body fat, weight, gender, age, height, hydration levels, basal metabolic rate, caloric intake, bone density and muscle mass.
"Switching to a high-protein diet can be shocking to the body," says Minyard. It forces the body into ketosis, the initial transformation phase of changing ones carbohydrate and energy levels. The timeline varies per client. Still, dieters should stay on a monitored high-protein diet and fitness plan to reach at least 80 percent of their fat reduction goal. Weekly "let's talk" sessions encourage clients to stay motivated about making healthy choices for their weight control.
Minyard's message is simple: learn your body, be ready for change and stick with it.
Using the Ideal Protein protocol alone, it's about a 10-week commitment to see desired results. The monitored physical activity at Body Sculptors Fitness Center using gym equipment is phased into the process. It's a pattern Dr. Garcia supports when monitoring patients for weight loss. He also advises focusing first on calorie reduction and losing weight, followed by a physical fitness regime that gradually leads up to strenuous levels.
Feeding Children For The Future
"Teaching children how to make good eating choices, and setting a positive example for a healthy lifestyle is very important to a child's overall health," explains Dr. Garcia. Most children simply follow their parents' and grandparents' eating and exercise habits, which can unfortunately lead to health problems down the road if proper nutrition is not met.  
Garcia emphasizes the importance of allowing kids to make the right food choices by providing them with access to the right food and nutrition education. Making healthy nutrition choices and participating in fun, daily exercise will build healthy lifestyle habits as children grow.
"Environment and culture often create health problems," says Dr. Garcia. In other cities, for example, restaurants distinguish themselves by unique food varieties, flavors and presentation. Here, he observes, the distinguishing factor is the amount not the quality. That can lead to obesity.
Eating Clean For A Healthy Life
The Eat Clean Diet, created by Tosca Reno, promotes healthy living by "eating the way nature intended."  It also promotes feeding the body wholesome foods with little to no preservatives or added sugars. Eating Clean focuses on lean proteins, complex carbs and essential fats.
The success of Eat Clean, like the Ideal Protein, Dukan and Atkins diets, lies in adopting a healthy way of life. By eating clean and nutritious foods, the body is given exactly what it needs to thrive. Clean eaters notice physical changes, like stronger hair and nails, and clearer skin, along with higher energy levels.  
"It's as much mental as physical to be healthy," says Minyard. The better you look, the better you will feel, inside and out, from a healthy diet and exercise."