Cook 'Em! World Championship Gumbo Cook-Off In New Iberia
09/26/2012 03:26PM ● Published by ALS Editor
The 23rd Annual World Championship Gumbo Cook-Off
By Barbara Gautreaux
Returning champions and fearless newcomers will compete in the 23rd World Championship Gumbo Cook-Off, to be held three days in October in downtown New Iberia.
Members and employees of the Greater Iberia Chamber of Commerce, their sponsors and supporters, will welcome more than 39,000 visitors and gumbo enthusiasts to New Iberia Oct. 12-14. The theme this year, "Cook 'Em," is based on the catch-phrase of alligator hunter Troy Landry, as seen on the "Swamp People™" television series. He says "Choot em!"
"Cook 'Em," says the GICC President Janet Faulk-Gonzales. "We are anticipating swamp themes, alligators, duck weed, moss, camouflage, boats and other props and decorations highlighting the Louisiana swamps."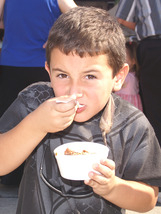 The cooking booths will be set up Friday, Oct. 12, and musical entertainment will be 5th Avenue performing at the Steamboat Pavilion in Bouligny Plaza. The gumbo cooking will begin at dawn on Sunday, Oct. 14. But it is the Saturday between these two dates that the GICC is hoping to expand on by hosting an appearance by the two stars of the "Swamp People™" television series, Troy Landry and his son Jacob Landry.
The idea was developed by the Gumbo Cook-Off committee members to increase participation on Saturday afternoon and the gumbo weekend overall. Gonzales says the Chamber received a grant from the Louisiana Tourism Recovery Program via the Iberia Parish Tourism Community Development fund, which is administered by Community Foundation of Acadiana. These funds were made available through BP, and allowed the GICC to promote the Gumbo Cook-Off to areas around and outside the state, including Mississippi, Texas, Central and North Louisiana and even into parts of Arkansas.
"This allowed us to leverage the World Championship Gumbo Cook-Off as an economic engine for Iberia Parish. Because of these extra funds we were able to promote the event and bring people in for the entire weekend."
Committee members are aware that the "Swamp People™" television series is the number one show in cable networks, with 4.75 million viewers. "Troy is very popular among the alligator hunters featured," Gonzales says.
Saturday To Remember
2012 Cajun Food Fest and Shopping Extravaganza will be held Saturday, Oct. 13 from 10 a.m. to 10 p.m. The day begins with the On Tap 5K Roux Run at 8 a.m. Saturday's musical entertainment starts at 11:30 a.m. with the Joel Martin Project till 2:30 p.m., followed by Grammy Award Winner Chubby Carrier and the Bayou Swamp Band from 3-6 p.m. Zydeco musician Chris Ardoin will play from 6:30-10 p.m.
From the food booths, approximately 50 teams will be selling anything BUT gumbo, including a wide variety of Cajun favorites such as jambalaya, corn and crab bisque, fried fish, red beans and rice, desserts and much more. Debbie Romero, the chairperson of the Gumbo Cook-Off for 14 years, says "This Saturday is going to be a Saturday to remember, something that puts us over the top."
While the downtown area is full of music, food, refreshments and shopping, the GICC Gumbo Committees are trying to eliminate any "down times" when crowds thin. "We are competing against several festivals in the area," says Romero. This competition, she says, is drawing visitors to the area; they are checking into New Iberia hotels and also visiting Lafayette and Abbeville all in the same weekend. "We feel we promote the city, the parish, the region and the state," Romero says.
To see Troy and Jacob Landry, the Chamber says to be sure to be in the downtown area. Bring a camera to possibly have your photograph taken with the pair.
In addition to the TV reality stars, be prepared to see a whole alligator being cooked rotisserie style by a Baton Rouge cooking school.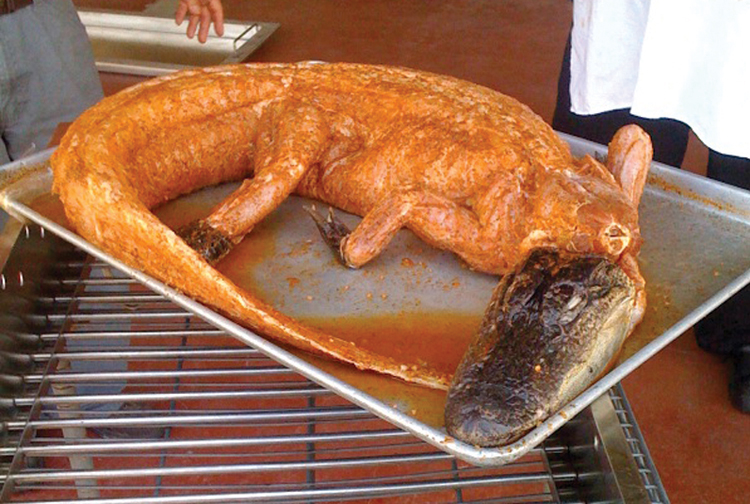 "Colt Patin, Certified Executive Chef and Chef Instructor of Louisiana Culinary Institute, will have a team of students cooking alligator for us," says Romero. In addition to fried alligator bites, students of LCI will showcase a complete chicken-and-alligator-sausage stuffed alligator slow-cooked whole in the downtown area. "It will be sold to the public. We will definitely have alligator!"
Coincidentally, LCI is currently promoting on its website that students entering the culinary school who are interested in sharing their stories, could be part of a "new documentary series on a major national cable TV network."
"It is a challenge each year to come up with that 'over the top' idea to bring people here on the Saturday," says Romero, the owner of Fire Boss of Louisiana. "The only way we are successful is our gumbo committee members have a long list of helpful backgrounds, and they are able to bring those resources to the table."
Saturday at 9 a.m. will be the judging of the Best Decorated Booth and Showmanship Competition, which includes skits and team spirit. Food tickets will be available at ticket booths in the downtown area in increments of $1.
It's A Gumbo World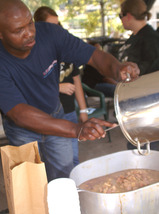 The World Championship Gumbo Cook-Off official information is online at www.iberiachamber.org, with band schedules and sponsor names. Anyone interested in competing in next year's competition can be placed on a waiting list. "We are at our max capacity," says Romero. With just over 90 booths, the gumbo entries are over 100, as some teams prepare both a seafood gumbo and a chicken and sausage entry.
The Chamber's Legacy sponsor is TABASCO® and corporate sponsors are BP and Feet First in Acadiana with Dr. Amy Blackwell Schunemeyer, APMC.
Sponsors receive extensive promotion by sponsoring the event, and they possibly could receive national or international recognition. According to the Chamber, the October 2012 issue of Food Network Magazine featured a four-page spread of the Gumbo Cook-Off in its "On The Road" segment.
"The estimated impact to Iberia Parish is $2 million," says Gonzales, who measures the Gumbo's importance to the community. She says the estimates are conservative, and that total Iberia Parish School Board Sales & Use Tax analysis shows that taxable sales in October 2011 were up $5.6 million over September 2011. The Chamber tracks hotel rooms booked (635 out of 757), Return on Investment (59 percent), plus where visitors come from (20 states, Canada and the United Kingdom) and how many hits they have on their website (10,232).
"This year we will have a cooking team from Japan," says Gonzales. The Japanese Team is called "Sapporo Buddy Buddy" and the team members are from Hokkaido, Japan. They will arrive in town Saturday, cook seafood gumbo Sunday, and depart Monday. A visit to the www.buddybuddyjp.com website reveals several English words including GUMBO, HOT SAUCE and JAZZ.
Best of luck to all the competitors!
Do you know how to make a roux? What's your favorite type of gumbo to eat? It's time to "stir the pot!" We welcome your comments below!