Two New Faces
08/31/2012 11:01AM ● By Aimee Cormier
Head coach Ananias Johnson (Jeanerette Senior High)
Johnson And Antoine Take Over Head Coach Positions
By Barbara Gautreaux
Personnel changes at the top position for two area football teams have been firmed up and the proof will be in the pudding. Head Football Coach Ananias Johnson will walk the sidelines at Jeanerette Senior High this fall, while Athletic Director and Head Football Coach Ryan Antoine will be in charge of gridiron work for the Westgate Tigers in New Iberia.
Both of these men have experience coaching at the school they now call home. Both want to see the support of the community, not for themselves, but for the students who sign up to play football during their formative years.
As high school mentors, these coaches will be shaping young people's futures with their own experiences and ideas. After talking with both of them, it is clear that helping to form a better whole person is their goal, while also teaching how to block and run. The young football players will be able to look to these men for more than how to run the ball.
Best of luck to both of these Tiger teams, which play in different divisions. Jeanerette is Division 2A, Westgate is Division 5A, in the Louisiana High School Athletic Association.
Johnson Brings Experience To 2A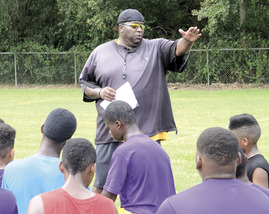 Coaching in the National Football League means having everything done for you, everything at your fingertips to produce winning results. Ananias Johnson says he may have served as an intern one summer coaching for the Houston Texans, but now he is in charge of the Jeanerette Tigers. "Now you might find me out there cutting the grass, getting things ready," he says. Johnson is anticipating a growing year at JSH, but he started working with the players in late June, building their confidence along with their defense.
Johnson is a 1996 graduate of New Iberia Senior High. His parents are Ananias Sr. and Theresa Johnson of New Iberia, and he has a 9-year-old son, Ananias III. He played football at NISH and Grambling, where he earned his degree, worked at DeRidder High, went back to Grambling for his Master's Degree, worked at Ruston High and spent a year at JSH coaching three sports, before making the move to college, both in Georgia and Little Rock, Ark.
Being able to live near family and to raise his son were motivating factors bringing him back to the Teche Area. "I wanted to come back home, I got kind of homesick," he says. "College ball wears you down with a lot of on the road schedules."
Johnson was able to work with NFL defensive coordinator Wade Phillips as a Houston Texans summer intern, and he was asked recently to serve another summer internship with the Oakland Raiders. Johnson has been a defensive coordinator at the college level and he is a defensive type of coach. "My defensive style is discipline, learn the plays. I started working with the players in late June, where we ask them to learn their defensive plays. We expect them to be disciplined, but with swag, to have the confidence to make the plays."
The team will have five seniors returning. "It's a young team. We expect some excitement on the field. We don't expect a lot this year, we have a lot of babies and new players, but by the time they are big kids, seniors, they will be able to produce."
Johnson says he has a strict program for keeping players eligible, one that includes no disrespect for teachers, attendance at off-campus religious services, and a study hall. That involvement off the football field started Aug. 5. Says Johnson, "I don't care what you achieve in life, if you don't have God, you don't really have anything. After they put in the time at church they can go do what they want."
Attendance is optional, but players were invited every week to attend a different church service for the month of August. They go as a team and wear their jerseys.
Football coaches hate to see the best players miss out on a world of opportunity through a lack of discipline. Players become distracted and look to other role models. Administration at JHS is counting on Johnson to be their coach for years to come. The previous Head Coach, Terry Lewis, left for health reasons, and moved back to Memphis. The new JSH Athletic Director is Jack Franks II, a Louisiana Football Coaches Association Award Winner, who has coached in Franklin and Abbeville.
"We hired Coach Johnson not only because of his experience in college and the NFL, but because we wanted him to be a good role model for his kids," says Principal Heath Hulin, who has attended a church service with the team. "He chose to come back and coach at the high school level, which shows that for him, it is about the kids. With the merger this year, we have 7th and 8th graders on campus and for him to be able to work with them is a great opportunity."
Johnson expects Senior Quarterback Antonio Gage to lead his team, under the guidance of new offensive coordinator Edwin Pierre. "He is one of my good friends; he knows what I like, to be aggressive, to be disciplined, and to play hard. We will run to the ball every play."
Antoine Offers Team Complete Package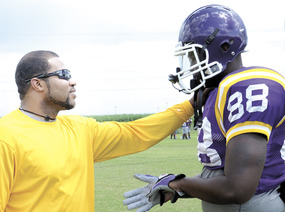 The return of Ryan Antoine to Westgate High School in New Iberia fulfils a goal the former WHS Defensive Coordinator thought about when he served under former Head Coaches Craig Brodie and Brian Fine. "Those coaches were my mentors. I am stepping into the role of first black head football coach and I know my staff and players are going to support me. The students out there today can one day come here and take this same spot."
Antoine says being a role model is something he wants to see from every teacher, and especially from coaches who can expose players to colleges and the wider world beyond high school. "If they can see themselves one day being a college student, not be stuck without choices, if we can show them the world beyond their home town. That is available to every student."
As Athletic Director, the management of every sport at WHS will fall under the authority of Antoine. He has the football knowledge and the expertise in promoting his players that other coaches must be watching closely. For the last three years, Antoine was the head coach and athletic director at West St. Mary High School in Baldwin. Despite being a small school, Antoine was able to produce highlight videos of his players and get those to coaches at the college level. It helped get his players noticed, and it didn't hurt him either.
"I know that now I will have more coaches, I will have more assitance, it will be less traveling time, and I will be able to spend more time with my two daughters. I still have a soft place in my heart for West St. Mary."
He coached the Wolf Pack to win more football games than they lost, and WSM must have been sorry to see Antoine leave.
But daughters Bailey, 12 and Riley Grace, 5, will get to spend more time with their dad now that he works in New Iberia. "The atmosphere around Westgate is a family atmosphere. Many of our coaches have families and we have to allow our children to see what we do, what being a coach means," says Antoine. "We spend more time with other people's children than our own and we need to show them how important they are to us."
Antoine says he is a defensive-minded coach. "Coach Fine was my mentor. I relied on him for his guidance. We have the same philosophy regarding football." Former WHS head football coach and athletic director Brian Fine resigned in May after five years at the school. He moved to North Louisiana to coach his grandsons at a football program he is starting at the D'Arbonne Woods Charter School. In his five years at Westgate, he reached the Class 5A semi-finals three times.
When Antoine took over the Director reigns in late June, he was certainly aware that winning is a tradition for WHS fans. He intends to use his experience to not only coach the individual positions on offense and defense, but the whole team. The team's offensive line includes LSU-committed player Josh Boutte, and Antoine is known for making the offensive productive.
"We have a unique group of kids, they are really something, they never give up," he says.
"That is what I want people to see. These kids do well. All they ask for is a chance. They will play well for you any day of the week, but if you show them their roles and give them a reason to shine, they will do this out of love for the game and their school."
Antoine says the fans will see both the coaching staff and the players giving their all. "We want the support of the community at all times for these kids. That is the most important thing. They don't have to do this sport, they volunteer for this. We are going to be giving our all for this team."
Tell us below about that special High School or Jr. High Coach who always listened and encouraged you. Get your friends to vote for your comment and show Acadiana which Coach has the most love! 
Tell us below about that special High School or Jr. High Coach who always listened and encouraged you. Get your friends to vote for your comment and show Acadiana which Coach has the most love!