Café Jefferson-Restaurant Review
08/31/2012 10:27AM ● By Aimee Cormier
Café Jefferson [4 Images]
Click Any Image To Expand
A Leisurely Lunch At Rip Van Winkle Gardens
By Cheryl Robichaux             /           Photos by Barbara Gautreaux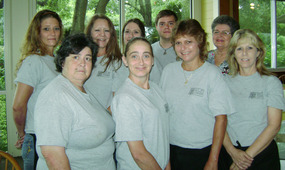 For great authentic Cajun cuisine with a view that cannot be matched, visit Café Jefferson at Rip Van Winkle Gardens in New Iberia. The restaurant is situated in a grove of a dozen ancient live oak trees, offering a breathtaking view of the gardens and Lake Peigneur.
Rip Van Winkle Gardens at Jefferson Island has been called the most beautiful place in south Louisiana. Bursting with luscious color year-round, one can be inspired to imagine that this is indeed the Garden of Eden. Husband and wife owners Mike and Louise Richard transformed the special property into the splendid paradise it is today and they enjoy sharing it with others. The couple also owns Live Oak Gardens, LTD which is nearby.
It truly is a family affair—Mike has the "green thumb," Louise puts the magic in the food, daughter Michelle creates the homemade desserts and son Michael, Jr. contributes to the menu as well. The family takes pride in everything they do and it shows.
Café Jefferson offers upscale dining that's comfortable and relaxing without being pretentious. Upon entering the main dining room a sign on the left proclaims, "This is not a fast food restaurant. Everything is made to order. Thank you for your patience." The friendly wait staff showcases down home Southern hospitality coupled with excellent service and attention to detail. Cajun music softly plays in the background while locals and tourists discover one of New Iberia's best kept secrets.
In the past, most guests requested to be seated in the glassed-in porch. However, six months ago the restaurant was remodeled and the wall which previously separated the two dining areas was removed. It's open and airy and the gorgeous view can now be enjoyed from every table in the house. Guests also have the option of dining al fresco on the wraparound porch.
According to Café Jefferson's Manager Dinah Boudreaux, "When first-time visitors come in we always hear them say, 'Oh look!' They're just amazed when they see everything." Dinah and Louise are good friends so it was natural for her to step in and manage the restaurant.
Over the last couple of years the menu expanded quite a bit as the recipes evolved. Traditional Cajun dishes are either cooked over the stove or baked in the oven. You won't find anything fried or grilled on the menu.
"They're old-fashioned people who don't espouse to the theory of cutting corners," says Dinah. "They use only the finest, freshest ingredients."
Once visitors see the seafood, they often don't believe their eyes. The shrimp are absolutely enormous. The entrée "to die for" is the Crabmeat Au Gratin featuring jumbo, succulent chunks of lump crabmeat in a creamy sauce served with Caesar salad. This is not your typical lump crabmeat because each lump is almost as large as the spoon itself. The Crabmeat Au Gratin is heavy on the cream and butter and melts in your mouth.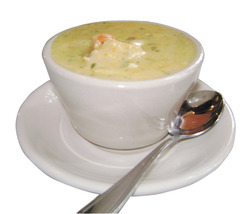 The Seafood Cream Bisque is another homemade favorite with Louisiana crawfish, lump crabmeat and large shrimp served with a fresh roll. It's satisfying but not too heavy.
The Seafood Gumbo boasts large shrimp, Louisiana crawfish and crabmeat served with rice on the side. It has a soothing aroma with an orange patina to the brown color.
The Crawfish Cardinale (in season) is a divine cream soup with Louisiana crawfish, mushrooms and fine cognac served with a fresh roll. It comes from a very old recipe and can be eaten as an appetizer. The fancy flavor is courtesy of the cognac and you'll feel like French royalty once you try it.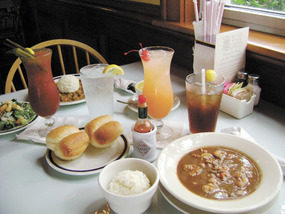 The Crawfish Etouffee is a Blue Ribbon Etouffee with Louisiana crawfish (in season) served with Caesar salad. Children especially like it because there's little bit of spice but it's not overpowering.
The Seafood Heaven is requested by wedding reception or private parties quite often. The creamy basil sauce is chockfull of jumbo shrimp, crabmeat chunks, and crawfish over angel hair pasta served with a side of Caesar salad.
A fairly new offering that's become very popular is the Eggplant Michelle, a wonderful casserole made with chopped eggplant, shrimp, crabmeat, oysters and mushrooms served with a side Caesar salad and fresh rolls.
Weezies Chicken & Sausage Gumbo is a smooth but hearty blend of boneless chicken, smoked sausage, fresh pork sausage and tasso served with rice on the side. On the lighter side choose from the Chef's Salad, Chicken Caesar Salad or Jean Lafitte Salad. All of the dressings are served on the side. The menu includes a variety of items such as Sandwiches and Poboys, Italian Muffulettas, Lasagna, Rip's Chili, Hot Dogs, Spaghetti and Chicken Sauce Piquant.
The two top-selling cocktails are the Mimosa and the Bloody Mary. The light and ladylike Mimosa is made with champagne, orange juice and garnished with cherries. The Bloody Mary, the world's most complex cocktail, has a bold, masculine flavor with generous fixings including lemon, spiced green beans and okra, celery and green olives.
Be decadent and have a homemade dessert to complete your dining experience. Michelle makes her Lemon Icebox Pie from scratch and she pushes it to the limit, making it the very best. You don't just get a piece of pie; you get your own individual, complete pie with whipped fluffy meringue that's the right color.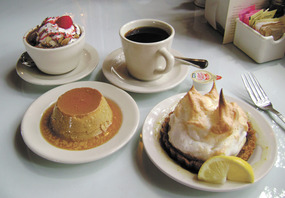 When you eat the Chocolate Mousse With A Kick, make sure to dip your spoon in all the way to the bottom to savor all the flavors mingled together. The dark chocolate mousse is made with Kahlua Liqueur (that's the kick) and topped with whipped cream, chocolate shavings and raspberry drizzle.
After lunch guests are always welcomed to stroll about admiring the grounds. Meander down to the expansive pier on Lake Peigneur and sit for a spell. Find the Jean Lafitte tree, so named after three buried treasure chests were found there in 1928. Legend has it that the treasure was buried by the notorious pirate himself. Take a tour of the Joseph Jefferson Mansion which is open seven days a week.
Rip Van Winkle Gardens is a favorite spot for bridal and engagement portraits, weddings, receptions, private functions, conferences, corporate luncheons and retreats. Amenities include the Bayless Conference Center and Acadian style Bed and Breakfast cottages.
Let the surreal beauty of Rip Van Winkle Gardens capture your senses and cleanse your soul.
Are you a foodie? What's your favorite place to dine in Acadiana? Tell us below.